It's that time of year: the biggest game in football. This year, the Denver Broncos will be taking on the Seattle Seahawks. The great thing about the Super Bowl, though, is that it brings people who really don't even care about football together. It's like Thanksgiving, really. A national holiday. We've rounded up some of our favorite spots to watch the big game -- most aren't overtly sports bars, some are having specials, some aren't. Check out our suggestions after the jump and let us know where you'll be watching (and eating).
See also: America Totally Loses It Over Budweiser's Adorable Super Bowl Commercial
Join the potluck at iTap Soulard. | Theo Welling
International Tap House Soulard (1711 South Ninth Street; 314-621-4333)
iTap doesn't usually serve food, so the Soulard location is hosting a potluck for the Super Bowl. iTap's "Super Share" starts at 3 p.m. Guests are encouraged to bring a rare brew or even home brew to share and a food item for the potluck if you'd like. Super Share is also kicking off the week-long celebration of iTap's fifth anniversary.
Molly's Beef Burgundy over barley risotto and roasted root veggie. | Steve Truesdell
Molly's (816 Geyer Avenue; 314-241-3200)
Molly's will have the game on multiple screens, including the huge projector screen, as well as food and drink specials all afternoon, starting at 3 p.m. A DJ will also be playing after the game. Enjoy 50 cent wings, appetizer specials, $5 bombs, $25 for a beer bucket and four bombs or $15 domestic buckets.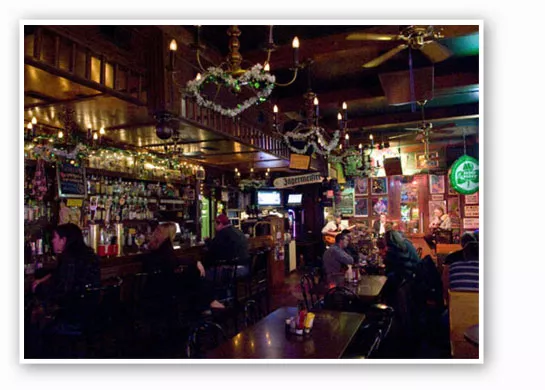 Hammerstone's (2028 South Ninth Street; 314-773-5565)
We named Hammerstone's home of the city's best drink special this week, so of course they're having some killer deals for the Super Bowl. Starting at 4 p.m. there will be raffles, games and 50/50 drawings to benefit the Leukemia and Lymphoma Society.
Schlafly Bottleworks. | Sarah Rusnak
Schlafly Bottleworks (7260 Southwest Avenue, Maplewood; 314-241-2337)
Schlafly is always a go-to for a great brew. The Super Bowl will be on, with audio, in the front bar with special appetizers. It's also just released the American IPA, but you can enjoy your old favorites, too.
Inside Flying Saucer. | Jennifer Silverberg
Flying Saucer (900 Spruce Street; 314-932-1456)
You're going to want to wear your eatin' pants to Flying Saucer. There will be a $10.99 unlimited chili bar starting at 5 p.m., plus $3.50 "Missouri-born pints" like 4 Hands, Schlafly, Six Row, Charleville, Civil Life, Urban Chestnut, Boulevard, O'Fallon and Perennial. The Super Bowl will be shown on the big screen with sound, so you can enjoy the crunch of every tackle, not to mention the commercials.
Gut Check is always hungry for tips and feedback. E-mail the author at nancy.stiles@riverfronttimes.com or follow her on Twitter.
---