Sidney Street's Anniversary Extravaganza | Jon Gitchoff
Sidney Street Café (2000 Sidney Street; 314-771-5777), the esteemed Benton Park restaurant, celebrated its tenth anniversary this past Monday with a celebrity chef-studded celebration. This gathering of culinary greats, entitled "Ten Years, Ten Chefs," featured notable St. Louisans, as well as chefs from San Francisco to Washington DC, all contributing to an over the top anniversary dinner.
Gut Check was lucky enough to snag a seat to the sold-out event. If you missed it, take a look at some behind-the-scenes shots of the chefs hard at work and get a peek at the menu.
See also: Slideshow: Chefs Convene for Sidney Street Cafe's Anniversary
Chef Kevin Nashan hard at work. | Jon Gitchoff
The restaurant was packed with a sold-out crowd of Sidney Street's admirers who were there not only to experience an amazing meal, but also to pay their respect to the venerable house that owner Kevin Nashan built.
The evening began with a cocktail and appetizer hour, with small bites prepared by Nashan, together with local chefs Josh Galliano (the Libertine), Kevin Willman (Farmhaus) and Patrick Connolly (Basso). From sea urchin to charcuterie, Nashan and company set a decadent tone for the rest of the evening.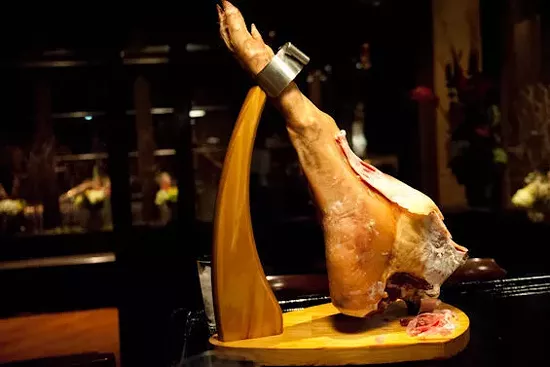 Prosciutto, with hoof still attached. | Jon Gitchoff
The main event was an eight course tasting menu, with eight chefs taking responsibility for their own individual dishes. Just arrived from DC, John Shields (formerly of Chilhowie, Virginia's Town House and Chicago's Charlie Trotter's and Alinea) kicked off the dinner with a supremely decadent presentation of herb-cured scallops with butter, mustard, and an elderflower gelee. The scallops, golden in color, were so creamy that they pleasantly lingered on the tongue long after the first bite. It was like biting into silk.
One of our favorite dishes, the scallops. | Jon Gitchoff
For the third course, Chef Gerard Craft (Niche) took cauliflower's blank canvass and imbued it with a rich lamb jus, then accented it with fleur de vallee cheese, lemon brown butter and crème fraiche. An over easy egg topped the dish, it yolk serving as a rich sauce.
Nashan and company know how to throw a party. While no one was worried that the food would be anything short of fantastic, pulling off such and intricate dinner for a large crowd can pose challenges. The Sidney Street team made it look effortless. Whatever chaos was going on behind the scenes (there always is), diners received perfectly plated dishes, hot food, prompt wine pairings and impeccable, unhurried service.
Cauliflower by Gerard Craft and team. | Jon Gitchoff
Click through to see more behind the scenes photos and read the menu in its entirety.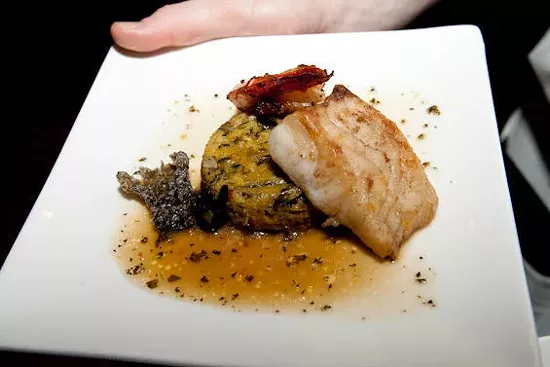 Memphis chef Kelly English's butterfish. | Jon Gitchoff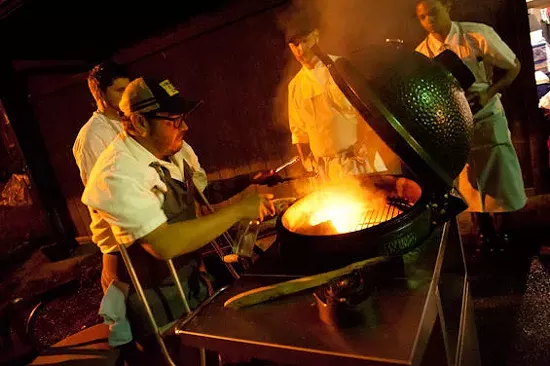 Charleston's chef Sean Brock at the grill. | Jon Gitchoff
Chef Brock's contribution. | Jon Gitchoff
Too many cooks? Never. | Jon Gitchoff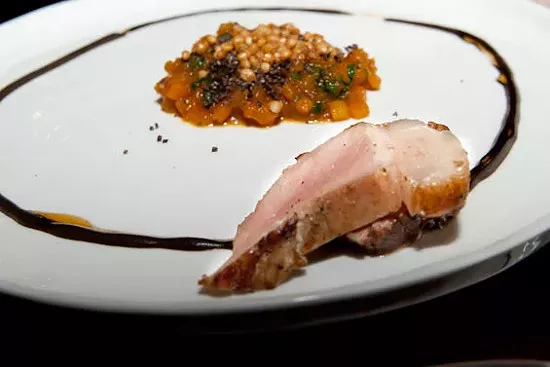 Swabian hog with heirloom pumpkin, slowly cooked in its juices, black truffle, and crunchy farro. | Jon Gitchoff
Click here to view the entire, mouthwatering slideshow by photographer Jon Gitchoff.
After the jump, read the full menu.

Sidney Street Cafe's Ren Years, Ten Chefs Anniversary Dinner

Passed Appetizers

Kevin Nashan Kevin Willmann Michael Sullivan Josh Galliano Patrick Connolly

First Course (John Shields, Washington, DC) Scallops cured in herbs, butter, mustard and elderflower Brunn Gruner Veltliner, Austria 2012 Second Course (Randy Lewis, San Francisco, CA) Oysters: Bay, pasture and earth Schramsberg Sparkling Demi Sec, North Coast, California 2008 Third Course (Gerard Craft, Niche Restaurant Group, St. Louis, MO) Cauliflower, fleur de vallee, lamb jus, lemon brown butter, crème fraiche, egg Schafer-Frolich, Brockenauer Riesling, Kabinett, Germany 2011

Fourth Course (Patrick Sheerin, Trencherman, Chicago, IL) Grains, brassicas, sesame, tofu and hoisin Domaine Pierre de la Grange Muscadet Sur Lie, France 2011

Fifth Course (Kelly English, Restaurant Iris and Second Line, Memphis, TN) Butterfish, gulf shrimp, cornbread and collard pudding and potlikker Harford Court Chardonnay, Russian River Valley 2011 Sixth Course (Michael Hudman and Andred Ticer, Andrew Michael Italian Kitchen, Memphis, TN) Scarpinocc, Hanna farms massa, smoked guanciale, chicken liver and sorghum Michael Chiarlo Barbera d'Asti, Italy 2010 Seventh Course (Sean Brock, McCrady's & Husk, Charleston, SC; Husk Nashville, Nashville, TN) Swabian hog with heirloom pumpkin, slowly cooked in its juices, black truffle and crunchy faro Bergstrom Pinot Noir, Cumberland Reserve, Willamette Valley 2011

Eighth Course (Bob Zugmaier, Sidney Street Café, St. Louis, MO) Shiitake, Satsuma, pistachio and truffle Le Tetre Du Lys D'Or Sauternes, Bordeaux, France 2007
Follow Cheryl Baehr on Twitter at @CherylABaehr. E-mail the author at Cheryl.Baehr@RiverfrontTimes.com.
---