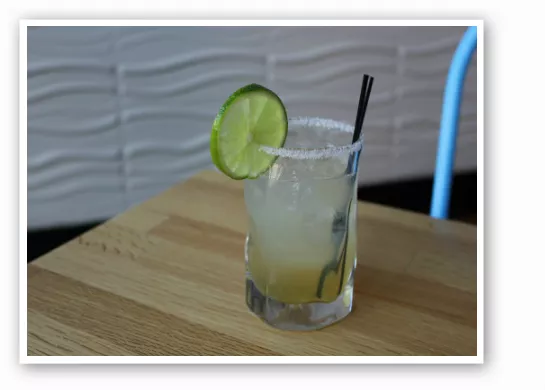 An instant "Classica.". | Zach Garrison
As we've previously noted, Gringo is the perfect place for daytime drinking and they make a killer margarita -- the perfect way to pretend that it's a balmy 60 degrees outside. Barkeep Brandon Monterusso makes us a "Classica with a Twist," adding his own favorite tequila and a splash of something special at the end.
See also: Juniper's "Mississippi Punch" is a True Southerner's Drink
There's a shelf at Gringo that is filled with tequila -- all kinds of tequila. The sunlight streams in through the wall of windows, bouncing off the brightly toned tables and chairs, and there's a very warm and easy-going feeling in the room as we step to the bar. Sure, it might have something to do with the fact that we just tramped through snow and plunging temperatures, but nevertheless, Gringo offers a welcoming, beach-like setting for our Hump Day drinking pleasure.
Monterusso bills the "Classica" as a "smooth and simple drink." He combines Espolon, an even and smoky "drink-alone tequila" with lime juice, simple syrup and Cointreau. Then he adds a generous splash of Grand Marnier. After a thorough mixing, the contents are poured into a salted glass filled with ice, and we're off.
A shelf of tequila. | Zach Garrison
As Monterusso predicted, the Espolon is prominent -- peppery and biting. Rather than the sugary taste that some lesser margaritas have, the "Classica" is bold and powerful, and will knock you back a step or two. There's just enough simple syrup to offer a hint of sweetness, but the Cointreau adds the bittersweet flavor that carries the drink. The Grand Marnier jumps in right before the finish line, giving the drink another level of zest. A bourbon or scotch is always welcome on a frigidly cold day, but sometimes you just need a margarita to remind you that the arctic winds are temporary.
After the jump, how to make the "Classica with a Twist" at home.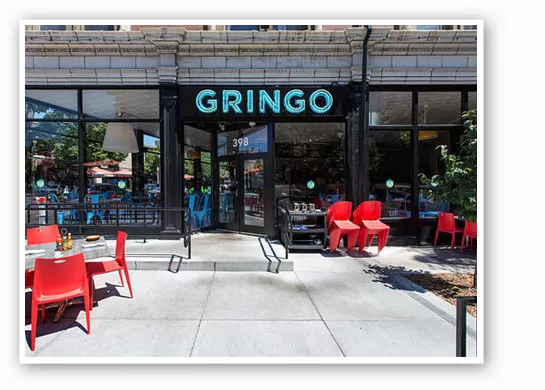 "Classica with a Twist"
1 1/2 oz. Espolon tequila
3/4 oz. limejuice
1/4 oz. simple syrup
3/4 oz. Cointreau
3/4 oz. Grand Marnier
Shake and serve over ice with salt and a slice of lime.
Gut Check is always hungry for tips and feedback. E-mail us!
---