Sai Qua with Naam Prik Nuum. | Jennifer Silverberg
Editor's note: It has come to our attention that some of the language in the recommendations below was excerpted from previous Riverfront Times' articles without giving proper credit to the writer who originally reviewed the restaurant. RFT is working on correcting this oversight and ensuring that it won't happen again.
The flavors of Thailand are abundant here in St. Louis, as evidenced by the many restaurants around town that offer regional variations and escalating levels of spice. It's difficult to narrow it down to just one, but here are six of Gut Check's favorite Thai restaurants to get you started.
See also: The Nine Best Chinese Restaurants in St. Louis
Fork & Stix (549 Rosedale Avenue; 314-863-5572)
Sai oua is grilled pork sausage with a powerful lemongrass note. It's delicious by itself, but adding naam prik nuum takes it to another level entirely. Naam prik nuum is a coarse sauce of roasted green chiles with garlic, cilantro and shallots. It's brightly flavored and -- fair warning -- devilishly hot and the perfect accent to the earthier pork.

Vegetarians among you: Do not fret. You don't need to order the sai oua to enjoy the naam prik nuum. An order of the sauce comes with steamed vegetables; add a side of sticky rice for a nominal cost, and you have a complete appetizer or small meal. -- Ian Froeb
Read the full original post here: Fork & Stix's Sai Oua with Naam Prik Nuum: One of 100 St. Louis Dishes You Must Eat Right Now
Blue Elephant (7816 Forsyth Boulevard, Clayton; 314-862-0500)
Nestled in downtown Clayton -- serving as a go to for lunch and takeout -- Blue Elephant offers balanced curries, like roasted boneless duck breast with red curry (a house specialty with crisp skin and a sauce that provides a nice, not-too-spicy counterbalance to sweet chunks of pineapple and tomato). The Thai barbecued chicken is a solid choice, and the heat in the salmon in green curry sneaks up on you. A fan favorite are the "Snowbird Dumplings": pockets of minced chicken and herbs, molded into the shape of songbirds, complete with carrot beaks.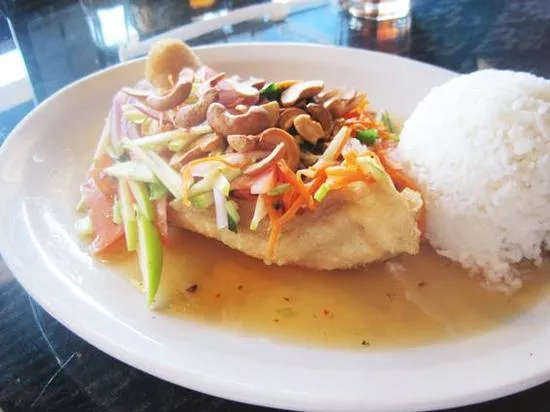 Pla Song Kruang. | Ian Froeb
Basil Spice Thai Cuisine (183 South Grand Boulevard; 314-776-1530)
Indeed, pla song kruang might be best described as a salad that just happens to be served atop fried fish. The colorful jumble includes slivers of green apple, red onion and carrot as well as cilantro and whole cashews in a dressing of fresh lime juice spiked with a mild chile heat. (You can crank up that heat, if you like, though I don't think this dish needs it.)

The dressing is exceptionally tart, a smack to the palate, yet the dish as a whole maintains a lovely balance of sweet and sour, sharpness and savor.

-- Ian Froeb
Read the rest of the original post here: #42: Pla Song Kruang at Basil Spice Thai Cuisine
Pearl Café (8416 North Lindbergh Boulevard, Florissant; 314-831-3701)
This little gem has gained accolades for its "King of Spice" challenge: a series of four dishes, ranked from "Level 25" to "Level 100," each spiked with an increasingly more potent blend of hot chilies (including the fearsome, scorching ghost pepper). With a mouthful of fire, you might want to down a craft beer from the impressive tap list. But beyond spice, this is a terrific restaurant that offers popular dishes and house specialties -- from the straightforward red and green curries to the feisty "Drunken Noodles" to the Thai chili squid -- each expertly prepared and beautifully presented.
The glorious massaman curry. | Ian Froeb
Simply Thai (2470 N. Highway 67, Florissant; 314-921-2179)
Simply Thai is exactly what the name suggests -- straightforward Thai dishes that are absolutely delicious. Standouts include the rich, fiery green curry -- though you'll want to specify your spice level. Tom yum and tom kha soups are perfect for rainy days too -- or try the gang jued tofu, a clear broth with tofu, ground meat, cilantro and scallions. If you're looking for one, must-try dish, go with the massaman curry. Coconut milk serves as the base with a mix of spices and chilies. Choose from pork, beef, chicken, duck or seafood (or go vegetarian). Cashews provide for a stratifying crunchy finish.
Thai Pizza (608 Eastgate Avenue, University City; 314-862-4429)
Recently renovated, this staple of the Delmar Loop takes pizza in an entirely different direction, which for the adventurous eaters is always a good thing. The pies are either a thick, doughy crust or a matzo-thin one, and come with a range of unique toppings, including chicken satay, hoisin sauce, peanut sauce, green onions and assorted other Thai staples. To go with your pizza, try the noodle bowls (some with curious ingredients like barbecued ribs) or the traditional pad thai. Bonus: you can try your favorite combo without breaking the bank.
Gut Check is always hungry for tips and feedback. E-mail us!
---