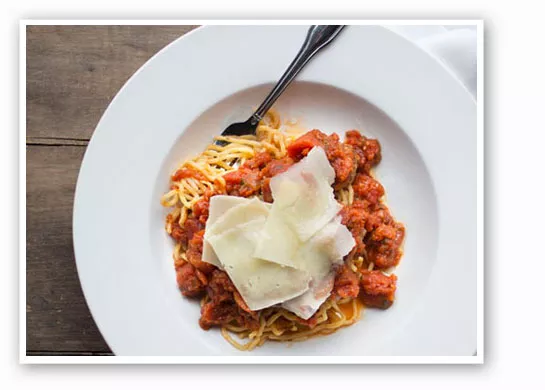 Spaghetti with Neapolitan meatballs, toasted pine nuts. | Jennifer Silverberg
This week I visit Katie's Pizza & Pasta (9568 Manchester Road, Rock Hill; 314-942-6555), the new osteria by Katie Lee, formerly of Katie's Pizzeria Cafe. Lee gained quite a following for her handcrafted pies at the original location -- so much, in fact, that she financed the new concept through a Kickstarter campaign, exceeding her $40,000 goal. See Also: Katie's Pizza & Pasta Finds a Home in Rock Hill
Here is a sneak preview of my thoughts -- the full review will be online tomorrow and in this week's issue.
Two otherwise delicious appetizers suffered the same problem. The beef and pine nut Neopolitan meatballs were straightforward, tender and tasty. I must commend Katie's on its ability to capture the simplicity of Neopolitan sauce: nothing but tomatoes, olive oil and salt. But I found myself wanting to sop up the sauce with crusty bread, which was not offered. Katie's charges for bread service -- a rosemary and olive oil flatbread - and while I don't have a problem with this on principal, in this instance a few pieces would have been nice. This was even more annoying with the burrata, a cream-filled mozzarella, served with a variety of accoutrements (the menu calls it "house burrata" which we discovered does not mean "housemade" -- it actually comes from a cheesemaker on the Hill). We chose two different presentations, one with prosciutto and fig mostardo, and the other with soppressatta and olives. The luscious cheese oozed over the plate, as it should. But was I really supposed to lick the burrata off my knife and fork?
Follow Cheryl Baehr on Twitter at @CherylABaehr. E-mail the author at Cheryl.Baehr@RiverfrontTimes.com.
---