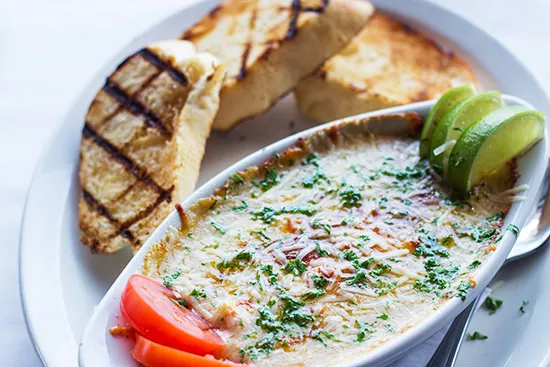 Photos by Mabel Suen
Evangeline's "Crawfish Carolyn" is made up of Louisiana crawfish tails, Brandy cream sauce and Parmesan cheese with grilled French bread.
On a blustery winter day, our server at Evangeline's Bistro & Music House (512 North Euclid Avenue; 314-367-3644) warns us that our appetizer will take fifteen minutes or so, as it's baked to order. Luckily, a couple of fizzy Champagne cocktails from the menu ward off lunchtime hunger pangs. One comes out topped with bright cranberry eyes and a sliver of lime, curled into a silly smile.
When the "Crawfish Carolyn" hits the table, it bubbles hot with browned edges in its dish, and each spoonful grabs a trail of gooey Parmesan cheese. Options such as this one make up the hearty New Orleans-style menu at Evangeline's, which opened in the Central West End in December.
See also: Coco Louco is Out; Evangeline's New Orleans Takes Over Former Space in Central West End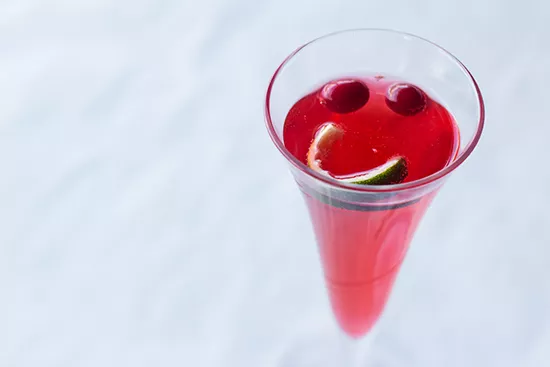 "Cranberry Fizz" Champagne cocktail with cranberry juice, squeezed lime juice and Champagne.
Restaurateur Don Bailey got into the food business because of his love for music. Since learning to cook at his first club, Three-1-Three in Belleville, Illinois, he has developed a repertoire of Creole recipes to serve his guests. At his latest venture, an extension of EurOrleans Bistro in Millstadt, Illinois, Bailey hopes to present his Southern plates alongside live blues, jazz and singer-songwriters.
During our visit, he gestures to the area by the restaurant's front window currently occupied by some mic stands and sound-system equipment. A riser will go here by the end of the month, he says.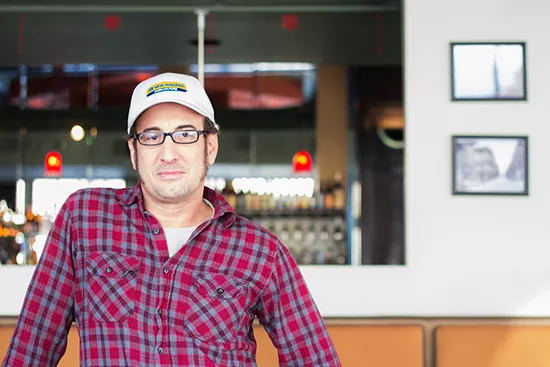 As previously reported by Gut Check, Evangeline's fills the space formerly occupied by Coco Louco Brasil in the Central West End. The menu features several appetizer options, including snow-crab legs ($9-$17) and the aforementioned "Crawfish Carolyn" ($11) made with Louisiana crawfish tails, Brandy cream sauce and Parmesan cheese.
The menu also features salads, sandwiches, small bites and desserts. Entrees include gumbo, red beans and rice, chicken and sausage jambalaya, Louisiana shrimp creole and etouffee. A drink menu features wine by the glass or bottle, several beer options, classic cocktails and Champagne cocktails.
Evangeline's Bistro & Music House's current hours are Monday through Sunday from 11 a.m. to 1 a.m. For more info, check out the official website of Evangeline's or follow it via Facebook.
Click through for more photos.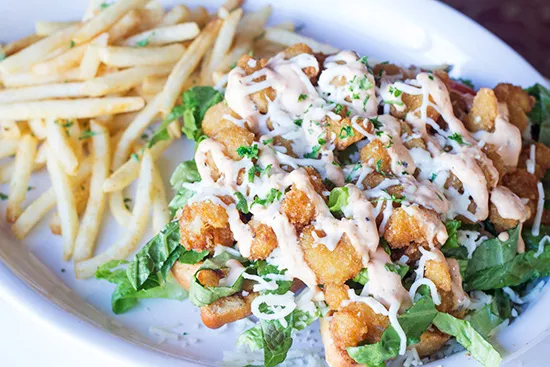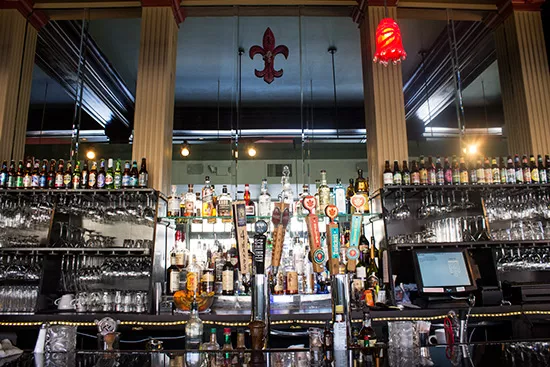 Cheesecake topped with bourbon cherry sauce and fresh lime zest.
Bottled beers and Cafe du Monde coffee at the ready.
"Crawfish Carolyn" appetizer.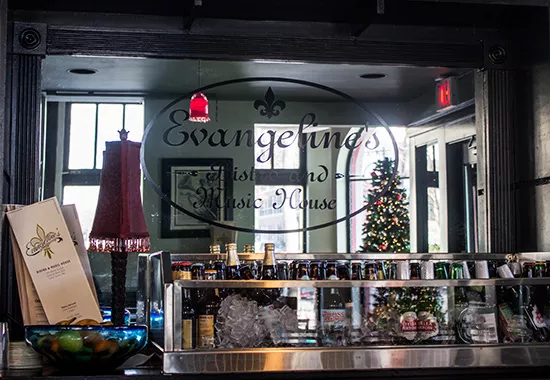 A different kind of hot sauce for every table.
Now open in the Central West End.
See also: - First Look: Taha'a Twisted Tiki - First Look: The Whiskey Ring - First Look: Spare No Rib
Gut Check is always hungry for tips. E-mail us!