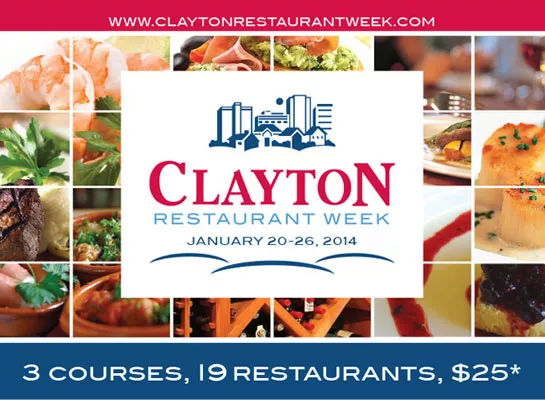 It's Clayton Restaurant Week, and you know the drill: nineteen restaurants, three (or more) courses, $25. Pick the restaurant of your choice and stop by for dinner any night between January 20 and 26. We're here to help you narrow it down. Check out our five favorite Clayton Restaurant Week menus after the jump.
See also: The Five Most Promising Menus from Clayton Restaurant Week 2013
Ramen: soft poached egg, noodles, molasses bacon and pickled shiitakes. | Jennifer Silverberg
The Libertine (7927 Forsyth Boulevard, Clayton; 314-862-2999)
Ahh, the Libertine. If you haven't been to our favorite restaurant to open in 2013, now's a great chance to test the waters. The first course includes crispy pig tails, cooked Buffalo-style with whipped gorgonzola and brown-butter polenta. For the second, choose from Amandine, sunflower-seed fried rice, beef cheek ragu or its famous ramen. Desserts are a chocolate fudge, red velvet cake or citrus sorbet.
The signature tiramisu with hazelnut bark and espresso beans. | Jennifer Silverberg
Mad Tomato (8000 Carondelet, Clayton; 314-932-5733)
Mad Tomato has seven entrees to choose from, including classic lobster ravioli with tomato, basil, brandy and cream, and angelotti di formaggio, a cheese-stuffed pasta with English peas, prosciutto, mushrooms and cream. We were glad to see its signature tiramisu with hazelnut bark and espresso beans is on the menu, but we're also eyeing the goat-cheese cake with a pistachio crust.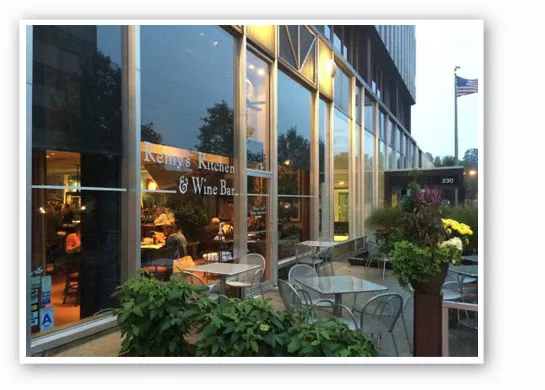 Outside Remy's. | Mary Belzer
Remy's Kitchen & Wine Bar (222 South Bemiston Avenue, Clayton; 314-726-5757)
Start with one of several Mediterranean options for the first course, like Remy's house specialty hummus or stuffed grapevine leaves with ground lamb and rice in tomato-cumin sauce. There are two meat and two fish options, plus one vegetarian entree. How about a Tahitian vanilla crème brulee chocolate Napoleon -- that's cocoa phyllo crisps layered with chocolate mousse and served with espresso crème anglaise -- for dessert?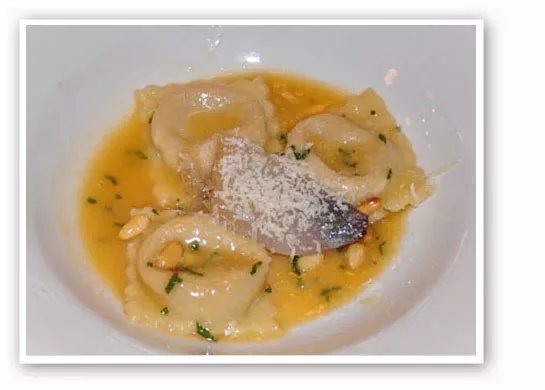 Pumpkin ravioli from the fall menu. | Tara Mahadevan
Pomme Cafe & Wine Bar (44 North Central Avenue, Clayton; 314-721-8801)
The Pomme menu is somewhat spare (like its regular menu), but don't let that fool you. Try the pork pâté wrapped with prosciutto with roasted apples to start. Choose between rainbow trout Amandine, crisp eggplant or Provençale beef daube -- aromatic beef ragout with mushrooms, tomatoes and olives served with buttered noodles. Chocolate mousse and bread pudding are among the desserts.
Paella valencia: saffron flavored calaspara rice with chicken, chorizo, shrimp and mussels. | Robin Wheeler
BARcelona Tapas (34 North Central Avenue, Clayton; 314-863-9909)
It's tapas, after all, so you'll get four courses at BARcelona. Offerings include alcachofas fritas, fried artichokes with Romesco and Manchego cheese; paella valencia, saffron-flavored calaspara rice with chicken, chorizo, shrimp and mussels; and Cajeta churros, a cinnamon-sugar-coated fried pastry with chocolate dipping sauce.
Check out all nineteen menus here, along with information about Clayton Restaurant Week's support of Operation Food Search.
Gut Check is always hungry for tips and feedback. E-mail the author at [email protected] or follow her on Twitter.
---