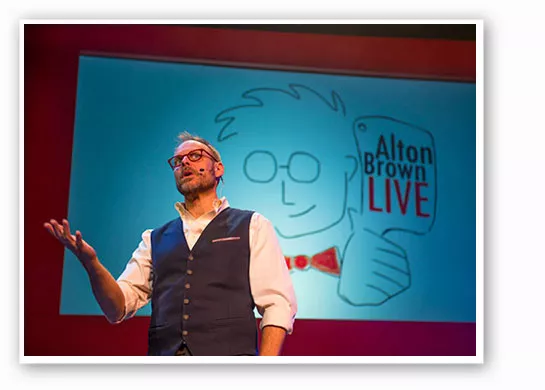 Alton Brown. | David Allen
Live music, large-scale food experiments, colorful puppets and even stand-up comedy make up Alton Brown Live!: the Edible Inevitable Tour, set to hit the Fox Theatre (527 North Grand Boulevard; 314-534-1111) on Saturday, February 1. The production comes from Peabody and James Beard award-winning Food Network celebrity-turned-icon Alton Brown, most renowned for his uber-educational culinary brainchild Good Eats as well as hosting Iron Chef America. Brown stops into town for the second leg of his tour, and from what we're told, things will get messy.
Read on for our Q&A phone conversation with Brown to preview the event, and help us in our quest to figure out where he got some of the best pizza of his life on a past visit to St. Louis.
Gut Check: So just to verify, you've been to St. Louis quite a few times, including on your show, Feasting on Asphalt, when you visited Forest Park to check out some World's Fair myths. You've been to Ted Drewes, a lot of our doughnut shops and even our neighbor across the river, Alton, Illinois, that gets pronounced differently from your own name.
Alton Brown: Well, you know. They all just apparently revel in being wrong. That's OK by me.
I saw that you also have a St. Louis-style pork rib recipe featured on an episode of Good Eats.
That's true.
So what are your impressions of St. Louis and its food, just in general, throughout all of your visits?
St. Louis is the crossroads of the country, you know. It's really tough to do a cross-country trip across America in any direction and not come through St. Louis. It's almost impossible. When you look at a map, it really is kind of the crossroads of America. I think that your town takes food seriously while not taking itself seriously which is kind of refreshing. There's nothing stuck up about St. Louis or about the food there that I've noticed.
How does the doughnut and restaurant scene here compare to ones you've experienced in Atlanta or anywhere else for that matter?
LA has got a big doughnut scene. You guys have a big doughnut scene. New York has a big doughnut scene. I wouldn't say that Atlanta has up-and-coming doughnuts. It has a couple good places, but that's about it. It's really difficult to compare and contrast because, quite frankly, I haven't eaten at enough restaurants in St. Louis to be able to address the food scene there in a comprehensive way.
But what does Brown think of our pizza?
You've tried a lot of the things that are undeniably St. Louisan, but have you had St. Louis style pizza, toasted ravioli or gooey butter cake?
I'm a huge fan of the pizza there. The last time I did a book signing, a pizza place that wasn't far away from the rental hall where I was signing sent me a pizza, and it was one of the top three pizzas I've ever had in my life. And I don't know what that place was called because the name wasn't on the box. And I hate that, because if I was going to go back to one place in St. Louis, it would be to get that pizza again. Honestly, pizza in Italy, one pizza in New York and that pizza's No. 3. And I'm afraid I'll never have it again. I love the style. It's so, so unique, and I hope one of these days someone will be able to tell me where the thing came from.
You'd have to actually show me the pizza, and then I'd be able to identify the body. Nothing around where I was signing was open, and I remember tweeting that I was starving in St. Louis. Somebody sent this pizza and I didn't starve anymore. It was that good.
What are your thoughts on the Provel cheese used on the pizza?
I loved it. I loved everything about it. There was absolutely no downside. Like I said, third best pizza in my life -- and I've eaten a lot of pizza. I can only hope that somebody can figure out where it came from.
Touring and moving quickly from city to city inevitably means that you don't get a lot of time to get out and eat at a local restaurants, right?
People don't realize that on tours like this, most of the food is catered. You eat at the theater because that's just what there is. I try not to eat much when I'm on the road because I'm always afraid that I'm going to get sick on something. So I'm really, really careful about what I eat on the road.
I did my first leg of my tour in nineteen cities, and I think I had one meal in a restaurant the entire time that I was out just because you don't get time. You travel at night, you get some place in the morning, you set up the show, you do a VIP event, you do the show, you pack it up, you get on a bus and you leave again. It's difficult unless someone goes down, gets something and brings something to the bus before we leave. You miss out on the local food scene. It's not an ideal situation if you're a foodie.
What kind of food do you request on sets?
I don't request anything. I take whatever's given. I usually go vegetarian when I'm on the road. I try to eat as little as I can kind of get by on. You just don't want to eat a lot. It's really restrictive. It's not fun from a culinary standpoint. Occasionally someone will bring you something. But lots of times I end up eating just whatever fans bring me.
Well, we're going to make it a point to find out what kind of pizza you had and have it there for your show.
That would be fantastic. Just don't let anyone get to it before I get to it because they'll eat it.
Interview continued on the next page.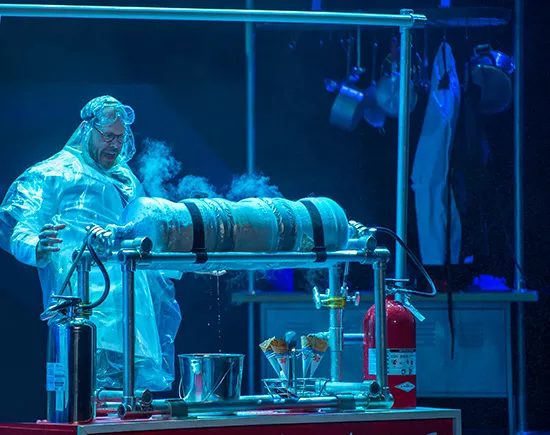 So what are your reading on the road to pass the time? What do you like to keep up with online?
Holy smokes, nobody's asked me that. I work a lot. My office sends me research I try to gobble up for whatever project that I've currently got going. I'll usually take a couple of novels to read in case I end up not being able to sleep at night. I took Moby Dick with me. Most of the time our Internet doesn't work, so I don't get a lot of online reading time.... A lot happened on the first leg of the tour that I didn't know about, but by the end of it I didn't know what day it was.
How about music?
I have trio with me, and we're playing my food songs as part of the show. We play five or six songs, so I spend a lot of time practicing on the bus. I've got my guitars and a little travel amp. I spend a good bit of time practicing those songs. So I'm not listening to a lot of stuff as much as I'm playing my own stuff.
What kinds of music influenced the tunes you wrote for the Edible Inevitable?
It's all over the place. We have a punk song, a country song, a lullaby, a blues number and a jazz number. And kind of a folk song. So they're just all over. Genres are all over -- everything from the Clash to Johnny Cash. Something for everybody.
What are you hoping people get out of your show?
Two hours of enjoyment. That's all I can ask. That's all I can hope for. If people come, and say, "I'm really happy I'm really went to that," my job's done. That's all I care about.
I heard in an interview that you had no intention of hosting Good Eats when you initially pitched it. And now you're now the star of your first live variety tour.
Funny how that happens, huh? I never had any intention of being in front of a camera.
Where do you see yourself in ten years from now?
Absolutely no idea. Probably in an old folks' home. No, really -- I don't have good future vision. I find that whenever I make plans, I tend to get in my own way of better things than my plans. So I try to not plan too much.
Between the show, your podcast, and hosting and producing shows for Food Network, you're clearly one of the hardest-working individuals in the business. How are you spending the break between the two legs of your tour?
I'm making Cutthroat Kitchen and Food Network Star. So I fill in between the work with more work.
How about enjoying the holidays with family?
Absolutely. Thanksgiving and around Christmastime, and my daughter's birthday which falls between Christmas and the new year, so definitely.
Do you do the cooking?
I do my share, yeah. I'm usually supervising large hunks of meat. That's kind of my specialty. I'll be doing the turkey and the big standing rib roast on Christmas. Those are mine. And I'm very good at opening at bottles of wine.
Awesome, well, thank you so much for your time. It's been an honor getting to chat with you, and we're definitely going to track down the pizza.
Thank you! And I wish you would. If you could let me know where that came from, gosh, I would sure love to have another one.
For more information on the show, including ticketing, visit the Fox Theatre website or Alton Brown Tour page.
Gut Check is always hungry for tips. E-mail us!