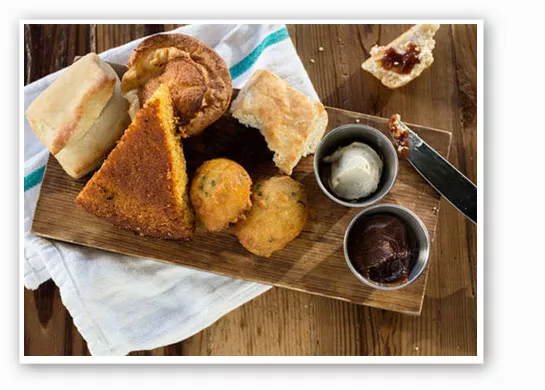 The biscuit at Juniper is pure Southern goodness. | Jennifer Silverberg
The biscuit is one of our favorite sides. But it has a lot of versatility, too -- it can be served for breakfast, lunch or dinner, a la carte, smothered with gravy or replace bread in a sandwich. We've chosen a few of our favorites to get you started; these are all places where biscuits are available on their own. Let us know if we missed any in the comments!
See also: Southern Bread: John Perkins' new restaurant, Juniper, does Dixie cuisine proud
Juniper (360 North Boyle Avenue; 314-329-7696)
Juniper prides itself on its Southern-fried menu, so of course it has a selection of hush puppies, cornbread, popovers and biscuits to get diners started. There are buttermilk biscuits and angel biscuits served with seasonal jams and butters. You might as well order the full bread basket.
Inside Table on Cherokee. | Jennifer Silverberg
Table (1821 Cherokee Street; 314-449-1888)
Table just switched up its menu, but we were happy to see that the biscuits are still present. You can get the chicken and biscuit as an entree, with braised chicken, mushroom, bacon, carrot and parmesan cheese, or the cornmeal biscuits with pecan-honey butter. We'll take both, thank you.
The biscuit in its breakfast outfit. | Mabel Suen
Colleen's Cookies Caife Caife (7337 Forsyth Boulevard, Clayton; 314-727-8427)
Colleen's Cookies' sister cafe, Caife Caife, should definitely be a stop on your breakfast or lunch list. The biscuits can be topped with bacon, egg and cheddar (so much better than an Egg McMuffin), spinach, egg, and tomato chutney, or just some plain ol' jam. For best results, pair with a giant coffee.
Inside Jax Cafe. | Jennifer Silverberg
Jax Cafe (901 Salena Street; 314-449-1995)
Brian Hale's newish Benton Park spot serves self-proclaimed "eclectic comfort food," and that means there are not one but three ways to get your biscuit. Try it a la carte with housemade sausage gravy, or topped with clover honey, fried chicken breast and Sriracha butter.
Inside Cleveland-Heath. | Jennifer Silverberg
Cleveland-Heath (106 N. Main Street, Edwardsville, Illinois; 618-307-4830)
There are so, so many reasons to cross the river to visit Cleveland-Heath, but one of the best is its biscuits, which are housemade cheddar drop biscuits with seasonal jam and honey butter. Though we recognize the decency of Red Lobster's famous cheese biscuits, Cleveland-Heath's are the real deal.
Gut Check is always hungry for tips and feedback. E-mail the author at nancy.stiles@riverfronttimes.com or follow her on Twitter.
---