Vegetable lasagna at SqWires Restaurant. | Tara Mahadevan
The Veggielante is on a mission to spread the word about places to order good, meatless grub. Check out this week's pick.
Destination: SqWires Restaurant (1415 South 18th Street; 314-865-3522)
Neighborhood: Lafayette Square
Cuisine: American continental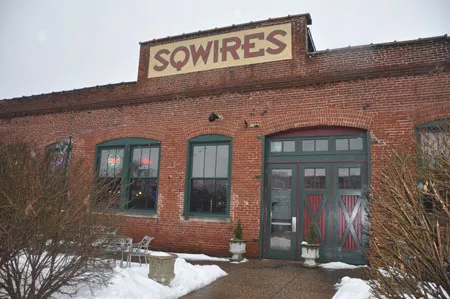 SqWires Restaurant | Tara Mahadevan
See also: Steve's Hot Dogs on the Hill's Secret (and Not-So-Secret) Menu for Vegetarians
Overview: Owner Bethany Budde compares the twelve-year-old SqWires Restaurant to home, "if you wanted to eat at home and eat really well, that's what SqWires is." SqWires is very flexible, with an overwhelmingly vegetarian menu, and an ability to make dishes fit any diet, food allergies or not. No matter what your needs are, Budde and her staff are more than happy to sit down with you and figure out what you can eat, whether you're a vegetarian, vegan, meat eater or gluten free.
Inside SqWires Restaurant | Tara Mahadevan
Highlights: SqWires' vegetable lasagna ($15) is a pasta-free dish. Mushrooms, zucchini, carrot, red onion and yellow squash are baked between goat cheese and grated Parmesan, garnished with fresh tomato sauce and grilled ciabatta. This dish is a crowd favorite and gluten free (without the bread, of course). SqWires also makes a vegan version -- be sure to let your server know when ordering.
Wild-mushroom goat cheese at SqWires Restaurant. | Tara Mahadevan
SqWires' wild-mushroom goat cheese ($11) is definitely something you want to share: broiled goat cheese served with fresh oregano, wild mushrooms and herb flat bread. The richness of the goat cheese pairs nicely with the mushrooms and dough for a delicious appetizer.
Other crowd favorites include the black beans and white rice ($14), which can be made vegan: tomato, red onion, shredded cheddar, cilantro creme fraiche and sliced avocado. Then there are the dips and spreads ($10), which can also be made vegan: basil white bean hummus, eggplant caponata and artichoke dip, served with warm pita bread and veggie sticks.
See also: Wild Flower Restaurant is Brie-Tastic
Gut Check is always hungry for tips. E-mail us!
---