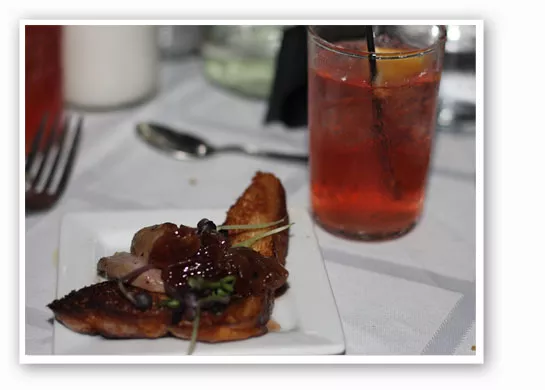 Two words: duck butter. | Nancy Stiles
After a summer (and fall) hiatus, dining extravaganza Tenacious Eats is back in action. We stopped by Meyer's Grove last week to see what chef Liz Schuster has been up to and were pleasantly surprised by her presentation of Moulin Rouge!. Baz Luhrmann's 2001 musical has a cult following, which makes it perfect for an interactive viewing.
See also: ArtD Dining Tour Explores Culinary and Visual Arts
There were evil maharajas, confetti cannons and a live performance of the movie's only original song, "Come What May." Oh, and did we mention the Parisian menu?
Many diners were well-versed in the Tenacious Eats experience. | Nancy Stiles
Schuster, who started Tenacious Eats last year, creates a five-course menu (with a cocktail for each) around specific moments from the featured film. Sometimes this is more obvious -- Chocolat for example -- while other movies present more of a challenge (like A Christmas Story).
The series began with one or two movies a month, but starting with Moulin Rouge!, it's grown to two per week. The back room at Meyer's Grove, where the dinners are held, can only accommodate about 100 guests, and it's pretty cramped at that. The first night of the upcoming Amelie dinner is already sold out.
The hills really ARE alive with the sound of music. | Nancy Stiles
Emcee Jeremy Whaley explained how everything worked before the show began, and brought up Jane Callahan from Pie Oh My to plug for next week's menu. Callahan is collaborating with Schuster on an all-pie menu for the movie Waitress.
The first course, called "Bohemian Goat Herder," went with the scene where Christian famously comes up with the Rogers & Hammerstein classic "The Sound of Music" whilst dressed as a goatherder for a play. Schuster made a socca crepe filled with flash fried local goat cheese, local micro greens, shallot and apple and absinthe vinaigrette -- the scene also features Christian's first brush with the hallucinogenic drink.
The second course was oysters topped with a quail egg. | Nancy Stiles
"There's just a little absinthe in the vinaigrette -- I'm spoon feeding it to you," Schuster told the audience. "I'll get you to do shots later." Next was "He's Got a Huge Talent," to go with the scene where Satine mistakenly seduces Christian instead of a rich duke.
A French seduction requires champagne and oysters, of course. Schuster served cherrywood smoked oysters with roasted shallot, strawberry, champagne poached quail egg and baked Gruyere with a champagne-based cocktail.
Whaley singing "Come What May." | Nancy Stiles
"All You Need is Love" may have been our favorite course: toasted brioche slathered with duck butter and topped with seared duck breast and Sauternes jam. Seriously, can we use that duck butter on our everyday toast?
After this was an intermission, where everyone retired to the bar, but not before a live performance. Whaley -- who had an unexpectedly amazing singing voice -- did a duet with his actor boyfriend of "Come What May," the only original song from Moulin Rouge! The song comes from the show-within-a-show, so the course was steak Parisian, Bearnaise and herb pomme frites.
The steak was paired with a cabernet-based cocktail. | Nancy Stiles
The final course coincided with the tragic ending (we won't spoil it, but come on, it's been out for years): a dark chocolate biscuit with strawberry and peach compote, champagne and strawberry sorbet and creme fraiche creme anglaise. Tenacious Eats is always open for suggestions, and we're really hoping Schuster takes the request to do a Mean Girls dinner to celebrate its tenth anniversary!
The chocolate biscuit. | Nancy Stiles
Next week Tenacious Eats will be showing Waitress on January 16, followed by Amelie on January 22 and 23. Tickets are $65 for five courses and five cocktails, available here.
Gut Check is always hungry for tips and feedback. E-mail the author at nancy.stiles@riverfronttimes.com or follow her on Twitter.
---