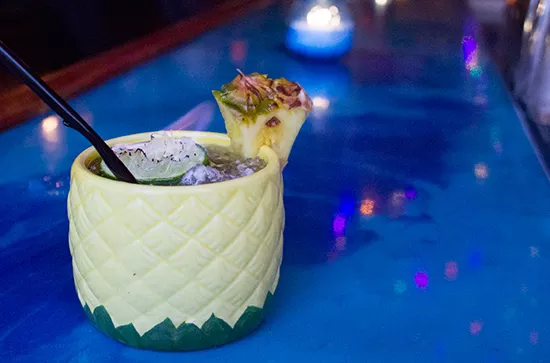 Photos by Mabel Suen
Taha'a Twisted Tiki's "Pineapple Punisher."
The phrase, "no hurry, no worry" greets visitors upon entering Taha'a Twisted Tiki (4199 Manchester Road; 314-202-8300), a new French Polynesian-themed bar in the Grove. As reported by Gut Check, the corner bar, owned by Lucas and Derek Gamlin of Gamlin Whiskey House and Sub Zero Vodka Bar, opened on December 30.
See also: Taha'a Twisted Tiki Opens December 30 in the Grove
Even on a gray, gloomy winter day, the tiki torches and fire pit still burn faintly on the patio. A double-sided menu of rum-based cocktails offers an immediate respite from the Midwest winter. Select from "classic" tiki drinks such as a Mai Tai and Hurricane, or catch the "twisted" options on the flip side, including the "Pineapple Punisher" made with El Dorado rum, Grand Marnier, 151 Lemon Hart rum, cinnamon syrup, pineapple juice and lime juice.
Presented over ice in a festive pineapple-shaped cup topped with a miniature floating flame, the fruity concoction contains plenty of kick to remind its drinkers of warmer climes. And while the focus clearly lies in its extensive rum selection - 150 types available, to be exact - Taha'a also offers an abbreviated menu of accompanying snacks.
Options include white fish tacos with Asian slaw, pico de gallo and chili lime crema (two for $7); a plate of sliders topped with fresh pineapple ($8); skewers in flavors including Cantonese char-siu pork loin and Polynesian beef (two for $6); and plantain chips ($5).
Taha'a Twisted Tiki's current hours are Monday through Saturday from 4 p.m. to 1:30 a.m. For more information, visit Taha's Twisted Tiki's website and Facebook page.
Click through for more photos!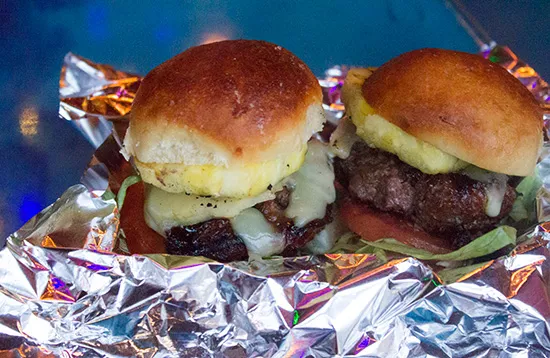 "Big Island Sliders" with grilled pineapple.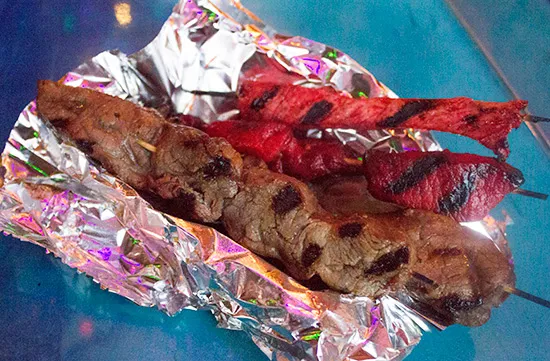 Cantonese "char-siu" pork loin and Polynesian beef skewers.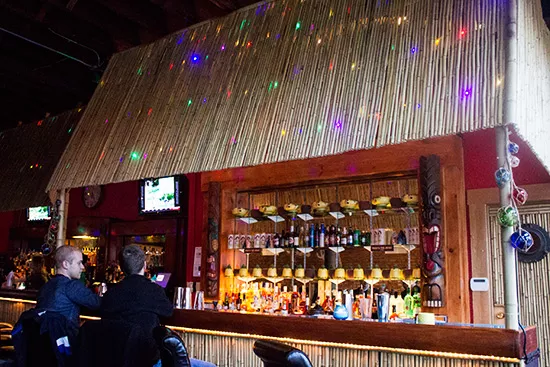 A couple of bartenders finish up a cocktail in a coconut-shaped cup.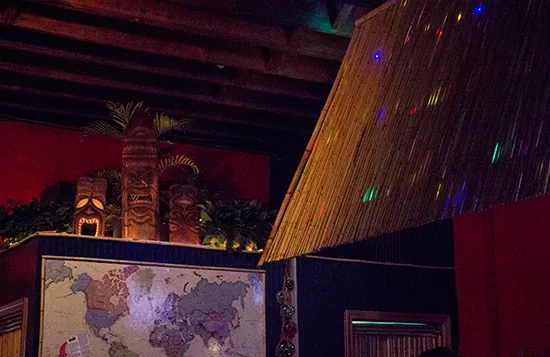 Tiki decor in every corner.
A close-up of the bar's offerings.
The kitchen in the back of the dining room also doubles as a patio stand for ordering food outside on nicer days.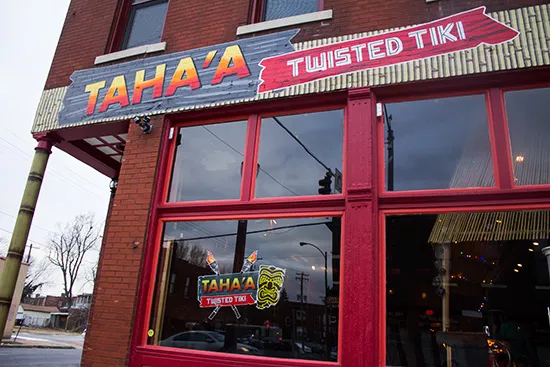 See also: - First Look: The Cup Chesterfield - First Look: The Whiskey Ring - First Look: Spare No Rib
Gut Check is always hungry for tips. E-mail us!