Don't have a fireplace at home? Don't worry. | Nancy Stiles
In case you haven't noticed, we are the midst of a snowpocalypse. St. Louis got around ten inches of snow, and even the snow plows are getting stuck. Add below-freezing temps, and you've got yourself a polar vortex (is that what that means?). Things are starting to clear up, though, and the best place to warm up is in front of a cozy fireplace with a drink in hand. If you can safely brave the roadways, head straight to one of these places.
See also: Tripel's "Smoke Wagon" Cocktail Billows Bourbon, Chocolate and Maple Syrup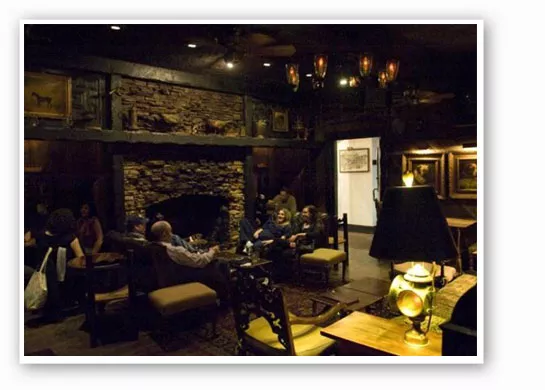 Fox and Hounds Tavern at the Cheshire (6300 Clayton Road, Clayton; 314-647-7300)
Fox and Hounds Tavern is definitely somewhere you'd want to be in a snowstorm. The dark Victorian space may even make you feel like you're in London instead of Clayton. It's actually a re-creation of an old English home -- must be why it's so inviting. Relax by the huge stone fireplace and sip on your favorite whiskey.
Cozy up at Sasha's Wine Bar. | Zach Garrison
Sasha's on Shaw (4069 Shaw Avenue; 314-771-7274)
Fireplaces also pair excellently with wine. Sasha's has an extensive wine list, but creative cocktails, too, like "The Tom Selleck." You'll feel the bourbon warm you up from the inside, while the rustic fireplace warms your outside. Choose a small plate or a selection of cheese to go with your drink, and you're sitting pretty.
Dressel's even has more than one! | Jennifer Silverberg
Dressel's Public House (419 North Euclid Avenue; 314-361-1060)
Dressel's is a St. Louis institution. You don't have to head somewhere fancy to enjoy a roaring fireplace. Dressel's combines a Welsh pub with impressive food -- the fireplaces are just one reason to sidle up to the bar in these below-zero temps. You can still get the rarebit and chips, though, a perfect winter treat.
There's a reason it's called Judy's Fireplace Lounge. | Daniel Hill
Judy's Fireside Lounge (2128 Woodson Road, Overland; 314-429-0555)
Judy's is a classic, friendly neighborhood bar that just happens to have a fireplace that never goes out (in the summer, it's a neon sign). Put Johnny Cash on the jukebox and order a pint. Friends gather around the pool tables, the shuffleboard and, of course, the eternally cozy fireplace.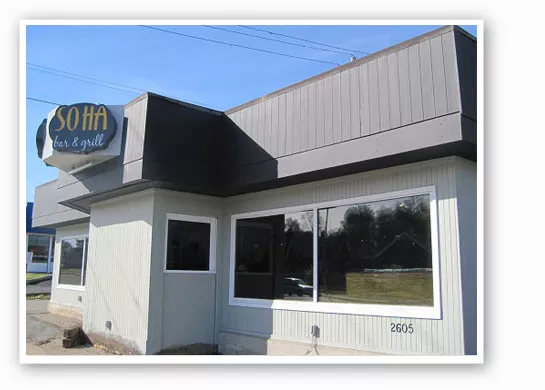 Don't let the outside fool you. | Kristie McClanahan
SOHA Bar & Grill (2605 Hampton Avenue; 314-802-7787)
SOHA's fireplace is in the middle of the dining room; it doesn't get much cozier than that. The fare is somewhere between bar food and gastropub, but a burger is always a good bet -- you can get one up to 22 ounces. Another favorite is the "Notorious BLT": thick and wonderfully fatty slices of pork belly with lettuce, tomato and honey-bacon mayonnaise. Pair that with a craft beer, and warm your feet by the fire.
Gut Check is always hungry for tips and feedback. Email the author at nancy.stiles@riverfronttimes.com or follow her on Twitter.
---