In-progress at Main & Mill. | Main & Mill
2013 is going to be hard to top -- some of the best restaurants in years debuted. But there are a slew of new projects we're looking forward to in 2014, both from all-stars like Ben Poremba and newcomers like the father-and-son-team behind a Festus brewery. Let us know what you're looking forward to in the comments!
See also: 2013 Openings & Closings: A Year in St. Louis Restaurants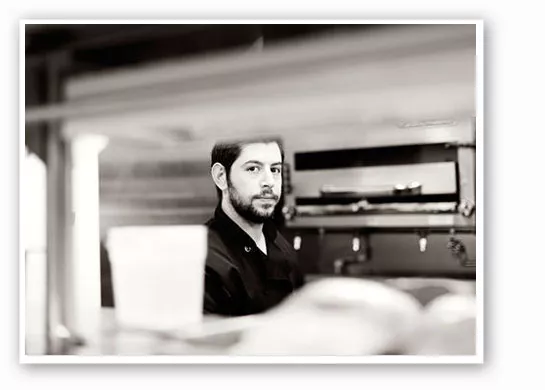 Ben Poremba in the kitchen. | Jennifer Silverberg
Following Olio, Elaia, and Salume Beddu and La Patisserie Choquette for Ben Poremba's company Bengelina Hospitality Group will be a restaurant focusing on fried chicken, which he, for the moment, refers to as "the chicken shack." "From the get-go I knew I was going to open something that's quite different from what we have going on at Elaia and Olio," he told us in October. "The American comfort-food concept is just not done in St. Louis, not on a daily basis, and when it happens it's one of my favorites."
Poremba is planning simple food -- like really simple: He says there won't be anything but fried chicken as far as the main course goes. The menu is currently being developed by Poremba along with his chefs from Elaia and Olio. As for the name, it's really just "the chicken shack" until he comes up with the real thing. "It might end up being the name, but that's really not the intention," Poremba says. He's eyeing an April opening and promises one thing: "It's really about the fried chicken."
Next: Another restaurateur adds to his empire.
Inside Tavolo V, another del Pietro restaurant. | Jennifer Silverberg
The man behind Tavolo V, Sugo's Spaghetteria, Babbo's Spaghetteria and Via Vino -- Michael del Pietro -- is gearing up to open the Salted Pig in Frontenac at the former site of Frontenac Grill. Del Pietro took over the space in July. Back then he had yet to name the new restaurant, but he knew that it would wouldn't be Italian, like his other eateries. He says Salted Pig will focus on Southern food like barbecue and fried chicken, dressed up a bit for the Frontenac crowd.
He's partnering with Ken Dennison, who is currently executive chef at DC's Smokin BBQ, a small catering company and barbecue competition team. The menu wasn't completely finished when we last spoke to them, but Dennison said that bringing Southern comfort food and farm-to-table freshness together with barbecue is really a new concept.
"If you go to a barbecue restaurant, that's all you're gonna get, and your sides may be canned or come premade. We're doing everything we can to prepare it each day, to keep it very fresh and at a good price," he told us.
Next: What's after Blood & Sand?
Chris Bork when he was at the Mud House in 2011. | Holly Fann
Executive chef Chris Bork left members-only hotspot Blood & Sand (1500 St. Charles Street; 314-241-7263), making room for Central Table Food Hall's Nick Martinkovic to take over this month. Bork has been at Blood & Sand since it opened in 2011 and worked closely with owners TJ Vytlacil and Adam Frager. Bork says part of the reason he feels comfortable leaving is because Vytlacil and Frager have been so supportive of him as a chef.
"I want to eventually open my own restaurant, and it is not feasible to get that going and do that while working the hours of a chef at a restaurant. I am leaving to pursue that," Bork told us in December. "We're in the very first stages, so I don't have a space, I don't have all the money I need. It's too premature to say anything."
Whatever it is, we're excited!
Next: craft beer comes to Festus.
Former Crown Valley brewer Denny Foster is bringing craft beer to Festus, along with his father Barry. The Fosters are aiming for a May opening date, or possibly even earlier than that depending on funding.
"What we're really wanting to do in Festus is make a place that's really approachable for anybody that really likes beer in any way," Foster told us in October. "Once you get somebody's mind changed that craft beer isn't something they can't drink but something that's really good, then the whole gamut of every beer starts opening up, and you allow yourself to start going through liking porters and liking stouts, and you start getting into the bitter beers and evolving."
Still, Foster warns that Main & Mill won't just be "craft beer for beginners." He plans a little bit of something for everyone.
"We're hoping to have a barrel room open before we open, so we're hoping to have some special releases for people who are really into craft beer already," Foster promises. "We'll have some barrel-aged beers, high-alcohol beers, every once in a while, special releases. We'll have an IPA on tap -- things like that for people that really love craft beer."
Last but not least, Local Harvest Cafe gets a makeover.
Hummus plates at Local Harvest Cafe. | Jennifer Silverberg
After more than five years in business, Local Harvest Cafe is re-opening with a whole new concept: the "C." One thing that letter stands for is "cultured." The cafe will be culturing lots of its own food, like kefir, yogurt, sauerkraut and kimchi.
The sit-down dinner element of the cafe will be eliminated; there will still be tables, of course, but no table service. Co-owner Patrick Horine told us that he and business partner Maddie Earnest want to make the restaurant more casual and more affordable, in order to reach more people.
The Tower Grove cafe will also now be known as simply "LHC." Horine says the "LH" will always be for Local Harvest, but the "C" will always be in flux. "We're gonna do so many different things, we wanted that flexibility to be able to use that letter for more things so in our website and our menu," he explains. "We'll be able to use that C to explain what we're trying to do and branch out."
The menu will be quite different than it is now, but fans of Local Harvest's sandwiches will still be able to get them at the downtown location. LHC's interior will be reorganized as well, with some bar seating and a focus on the walk-up counter. Local Harvest Cafe will close January 5 and reopen as LHC on January 17.
Gut Check is always hungry for tips and feedback. Email us!
---