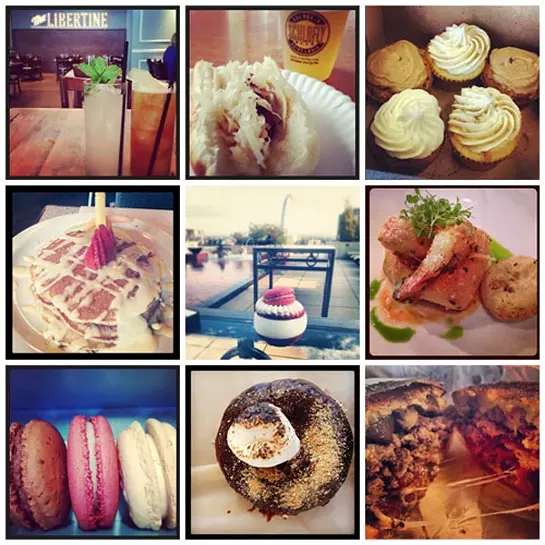 When we say we ate a lot, we aren't kidding. | Nancy Stiles
We ate so much this year. Sure, it's part of the job, but not everything we try is delicious. In the past twelve months, though, there have been a few dishes that stood out to us amid the sea of cronuts, kale and Sriracha overload.
See also: The 13 Most Overcooked Food Trends of 2013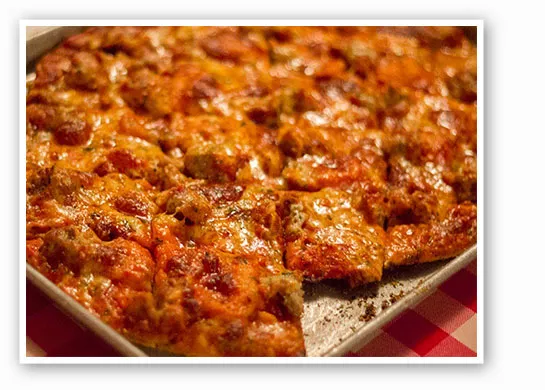 A hand-made Italian sausage pizza at Monte Bello. | Mabel Suen
Pizza at Monte Bello Pizzeria (3662 Weber Road)
Most people have never met a pizza they didn't like, but that doesn't mean that we don't all have some discerning taste for this favorite food. When I first heard about Monte Bello's from a friend who had fond memories of eating there in the past, it seemed like an adventure waiting to happen. Pizza cooked in a remote basement in the county? You had me at "pizza."
Monte Bello's pizza is an experience on different levels, and I'm not just talking about the basement kitchen that it's cooked in. Sure, the environs lend a certain charm, but it's the food and the care put into it that will keep us talking about this place. The key difference between Monte Bello's and typical St. Louis-style pizza we noted: Everything there feels substantial, including a heavier crust and equally bountiful toppings -- certainly no ketchup on a cracker. Read more about Monte Bello's in our full write-up from last fall.
-- Mabel Suen
Next: A review 30 years in the making.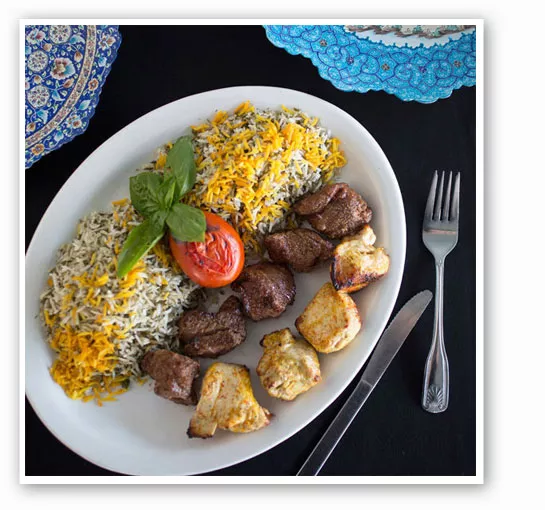 Beef and chicken shish kabob served with dill herb rice at Cafe Natasha's. | Jennifer Silverberg
Beef Kabob at Cafe Natasha's (3200 South Grand Boulevard; 314-771-3411)
Some people return to their hometowns eager to be close to family or to rekindle old friendships. The most celebrated moment of my return to St. Louis this year was being reunited with my beloved beef shish kabob from Cafe Natasha's. I've been going to Cafe Natasha's for the past eighteen years, and every time I have their beef kabob, it's like I'm having it for the first time.
I don't know how I can still be shocked by the deliciousness having eaten probably five hundred of them, but I am blown away every single time. People who have not experienced the kabob's glory for themselves often balk at my love affair with this delicious meat, thinking that it's just grilled beef on a bed of rice. Not so. The key to Cafe Natasha's kabob is a flavor-bursting marinade, concocted by the restaurant's patriarch, Behshid Bahrami.
It's garlicky, salty, a little sweet and a touch peppery, and it clings to the meat after it has been kissed with the grill's delicate char. Knowing that I can satisfy this urge at a moment's notice is one of the best things about being back in town.
-- Cheryl Baehr
Next: A classic re-imagined.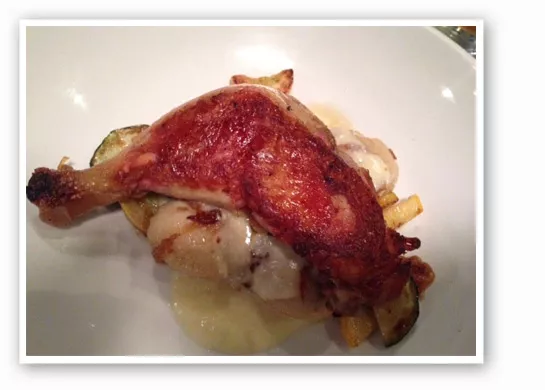 Chicken and gnudi dumplings with beurre blanc, oven roasted zucchini and carmelized onions. | Nancy Stiles
Chicken and Gnudi Dumplings at The Libertine (7927 Forsyth Boulevard; 314-862-2999)
We eventually named the Libertine as the best new restaurant of 2013, but my first experience there was a simple lunch with a fellow Gut Checker. I'd heard all the hype (and seen that great lit-up sign), so I expected inevitable disappointment. Not so. The Libertine's lunch menu isn't huge, but I thought I'd try a classic -- chicken and dumplings. Chef Josh Galliano's version is anything but mundane. The leg of chicken sits atop a bed of gnudi dumplings, which are bathed in the beurre blanc sauce. I'm the type of person who likes to eat half and take home the rest for later, but I admit my plate was scraped clean. My only problem? You can't get it at dinner, too.
-- Nancy Stiles
What's the best thing you ate this year?
Gut Check is always hungry for tips and feedback. Email us!
---