If only it was warm enough to enjoy the patio. | Jennifer Silverberg
Perhaps it's the cheer of the holiday season that has left this Scrooge feeling generous. It could be that the approaching new year has made me reflective about fresh starts. Whatever the reason, I'm dishing out second chances, and Gringo (398 North Euclid Avenue; 314-449-1212) is at the top of my "nice" list.
See Also: Best Place for Daytime Drinking 2013 -- Gringo
As loyal Gut Check readers may recall, I eviscerated Gringo in a review last August, saying that the only enjoyable things about the place were the beachy atmosphere, prime location and complimentary chips and salsa. As if calling the place bland and tasteless wasn't enough, there was a reference to burnt zoysia grass and a snide comment about the competitive eater Kobayashi's technique of dunking dry bread in water.
It was one of my biggest disappointments of the year for many reasons, not the least of which is that owners Chris Sommers and Frank Uible of the famed Pi Pizzeria have the restaurant know-how to make a place successful.
Apparently, I wasn't the only one who had less-than-loving words for the Central West End eatery. A few months ago, I received a note from the folks at Gringo, poking fun at itself for its missteps and inviting me to give it another shot. With a new chef and a revamped menu, Gringo acknowledged that it hadn't been at the top of its game. I decided to give them another try. After all, if I had a dime for every mistake I've made, I would be writing this from an overwater bungalow in Bora Bora.
The changes have made a world of difference. On a recent revisit, Gringo showed that it had turned things around significantly. One of the more egregious offenders on my previous visits -- the misnamed shrimp cocktail ceviche -- has been rebranded more accurately as shrimp cocktail. What once tasted like flat chile sauce has been replaced with a zesty salsa, chunky with bits of onions and avocados.
A chimichanga filled with braised chicken, rice and black beans was generously stuffed, although I could have gone for more chicken and less beans. The taste was good, though, with tinga sauce (a traditional Mexican sauce of tomatoes and chipotle) giving it some tangy smoke.
Plus: a brunch menu!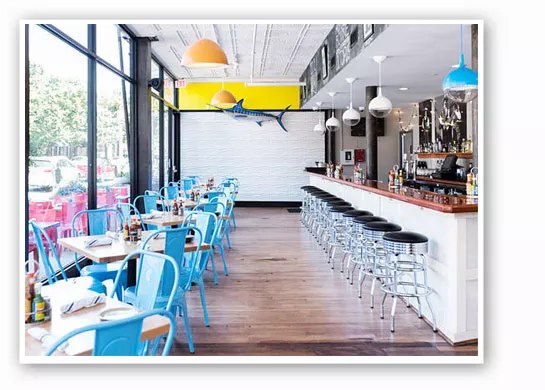 Inside Gringo. | Jennifer Silverberg
Gringo has also added a brunch menu, and we tried the chorizo breakfast burrito, a fine selection. The eggs were well-cooked and the chorizo had a mild heat, but the dish would have benefited from some sort of sauce. The migas, a platter of scrambled eggs topped with succulent braised beef, crispy tortilla strips and peppers, also needed sauce to tie it together, although the brisket was so moist and decadent, I will give it a pass.
My biggest complaint about the tacos at the old Gringo was how dry they were -- that's the most drastic change I noticed this time around. The carnitas taco was filled with rich pork shoulder confit and tangy tomatillo salsa; spicy lamb and crema filled the barbacoa selection.
The real standout, however, was the brisket taco, so moist that the beef juice dripped out of the sides. Escabeche chow chow, or pickled vegetables, added a contrasting brightness to the meat. Whereas I didn't have a decent taco on my August visits, all three of these were delightful.
Gringo has stiff competition from some great taco joints in town, but it gets the award for most improved. It takes a good dose of humility to admit when you're wrong and to take criticism to heart. That Gringo was able to do this shows that it is worthy of a second chance.
Follow Cheryl Baehr on Twitter at @CherylABaehr. E-mail the author at Cheryl.Baehr@RiverfrontTimes.com.
---