Hey, it's OK if you don't like the liquid stuff. | Issac Wedin
Sometimes eggnog gets a bad rap. It may be an acquired taste, but there's more to enjoy besides those huge jugs of the pre-made stuff. Even if it's not your drink, plenty of bakeries and restaurants are offering eggnog-flavored treats to get you in the holiday spirit. It's basically the pumpkin spice of December. Check out our favorites after the jump.
See also: Local Holiday Gifts for Your Favorite Foodie
Cyrano's is known for desserts; eggnog is no exception. | Chrissy Wilmes
Cyrano's Cafe & Wine Bar (603 East Lockwood Avenue, Webster Groves; 314-963-3232)
The Nog Tini is the perfect alcoholic alternative to the old-fashioned stuff. Cyrano's is known for its desserts, and dessert martinis are no exception. This specialty combines eggnog with vanilla vodka, amaretto, cinnamon schnapps and nutmeg. We think Cyrano's description of "Christmas is a glass" is pretty spot-on.
Treat central. | Mabel Suen
La Patisserie Chouquette (1626 Tower Grove Avenue; 314-932-7935)
La Patisserie Chouquette is not only 2013's best bakery, but one of our favorite restaurant openings of the year. Pastry chef Simone Faure pulls out all the stops and is always coming up with new creations (turducken croissant, anyone?). Eggnog cheesecake is a great way to get holiday flavor without chugging down that questionable liquid.
Whisk's cupcakes prove bigger is not always better. | Mabel Suen
Whisk: A Sustainable Bakeshop (2201 Cherokee Street; 314-932-5166)
We named Whisk the best cupcakes in St. Louis, and all-natural ingredients are just one reason. The menu changes often, but owner Kaylen Wissinger always seems to have a trove of seasonal treats. There are plenty of cold-weather cupcake varieties, like chocolate mint and maple bacon, but the Christmas masterpiece is the eggnog cupcake. Get one before they're gone.
Kakao in South City. | Laura Ann Miller
Kakao Chocolate (7272 Manchester Road, Maplewood; 314-645-4446) (2301 South Jefferson Avenue; 314-771-2310)
Kakao has been making melt-in-your-mouth sweets from all-natural ingredients since 2008, and one of our favorite parts is the plethora of seasonal indulgences. For the winter months, that of course includes eggnog-tastic treats. There are several, but we like the eggnog truffles. The gift boxes make great stocking stuffers, but we won't judge if you just get them for yourself.
Inside Stone Spiral. | Laura Ann Miller
Stone Spiral Coffee & Curios (2500 Sutton Boulevard, Maplewood; 314-335-7388)
The pumpkin spice latte was good, but now it's time for eggnog. Post up in the park-side coffee shop and sip your seasonal latte while listening to some live music. The walls of windows also provide a perfect spot to watch the snow fall. Bring a flask of bourbon to spice up the eggnog latte even more, and it's not hard to get into the holiday spirit.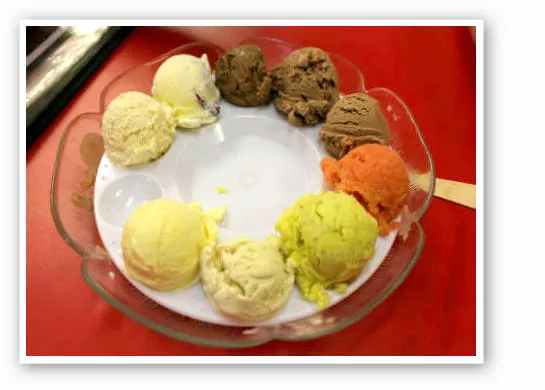 A flight of ice cream at I Scream. | Pat Kohm
I Scream Cakes (2641 Cherokee Street; 314-932-5758)
I Scream Cakes did an eggnog ice cream last year, but it had some traditional eggnog put in so people would recognize the taste -- which is usually made with lots of artificial ingredients. This year, though, it's all-natural and sounds way yummier. The eggnog ice cream is made with eggs (duh), reduced brandy syrup and fresh whole nutmeg.
If the gooey butter dones are any indication, eggnog will be delicious. | Jon Gitchoff
Strange Donuts (2709 Sutton Boulevard, Maplewood; 314-932-5851)
Strange Donuts is debuting another crazy creation tonight, December 20. Behold, the eggnog done. Stuff sells fast there, so we can't guarantee you'll get one. But if the gooey butter doughnut and other specialties are any indication, this is one release you won't want to miss.
Gut Check is always hungry for tips and feedback. Email the author at nancy.stiles@riverfronttimes.com or follow her on Twitter.
---