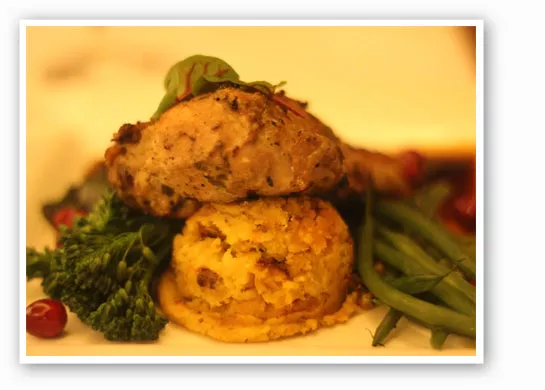 Herb-grilled free-range chicken with sweet potato corn bread pudding and cranberry cider glaze. | Nancy Stiles
Nathalie Pettus can barely contain herself. A project ten years in the making has finally come to fruition. After the failure of her own restaurant, Savor, and her tenant, Salt, Pettus feels this is finally the right fit at 4356 Lindell Boulevard.
See also: Nathalie's to Bring Overlook Farm to Former Home of Salt
"I'm beyond excited. I think the best moment so far was to see 'Nathalie's' on the awning," Pettus tells Gut Check. "It's all my money and that's scary as hell, and now it's mine again, and I really have such a good feeling -- which is also scary."
The downstairs dining rooms at Nathalie's. | Nancy Stiles
The 19th century mansion is a reason to go in itself -- beautiful woodwork complements rich colors and lush fabrics. The walls are covered in antique St. Louis memorabilia: family Veiled Prophet items, advertisements for the 1904 World's Fair, and a portrait of Pettus' grandmother, the 1906 VP Ball winner, an elegant Gibson Girl with milky skin.
As we reported earlier this year, Pettus, who also owns Overlook Farm in Clarksville, brought her chef from the farm's restaurant on to run Nathalie's. Jimmy Voss -- who commands his own following thanks to his time at Duff's -- has been at Overlook since last year and developed the menu based on what's available at the farm. "We're the only place that knows the provenance of everything on your plate. That's us," Pettus says.
"My concept is to have the proper eating style on the plate, with a bounty of our fresh vegetables with a smaller portion of the carbs and the protein and lots of veggies, contrary to how most things are plated. The way Americans eat is backwards," Voss says. He also wants to emphasize listening to the customer -- you can come in and ask for something that isn't on the menu. Voss wants the customer to feel that she's being listened to.
One of his favorite menu items is the "Za'atar Flatbread," an appetizer with a decidedly middle-eastern influence. "That lady over there just ordered it, and she's freaking out!" he told us. It's pizza-like, with carrot harissa hummus instead of tomato sauce and grilled vegetables, kalamata olives and feta from Goatsbeard farm. Voss says his critics might call him too "all over the place," but he likes that. If it's good, he's going to put it on the menu.
Continue for more photos inside Nathalie's.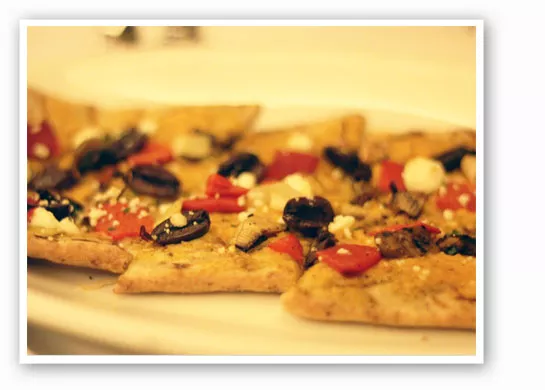 Za'atar flatbread, with carrot harissa hummus, grilled vegetables, kalamata olives and Goatsbeard Farm feta. | Nancy Stiles
The chandelier in the Marrakech-themed women's bathroom. | Nancy Stiles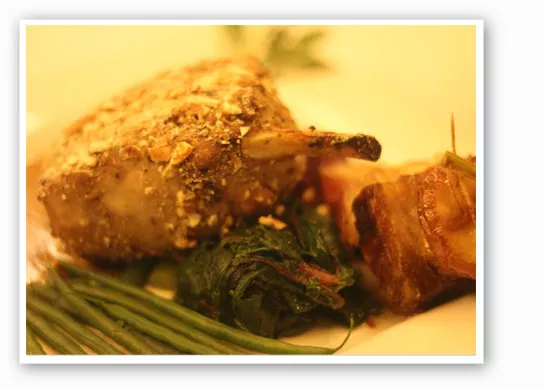 Pretzel-crusted pork chop with herb mustard, braised red cabbage and German potato salad. | Nancy Stiles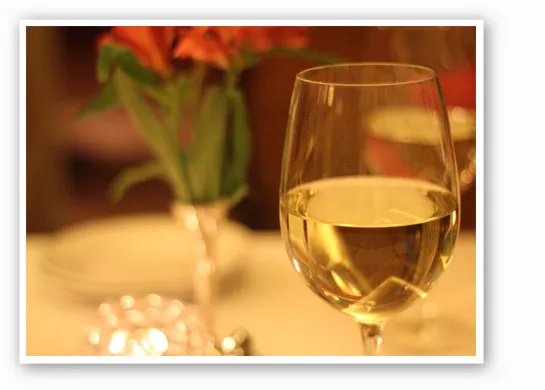 The tables are simply decorated. | Nancy Stiles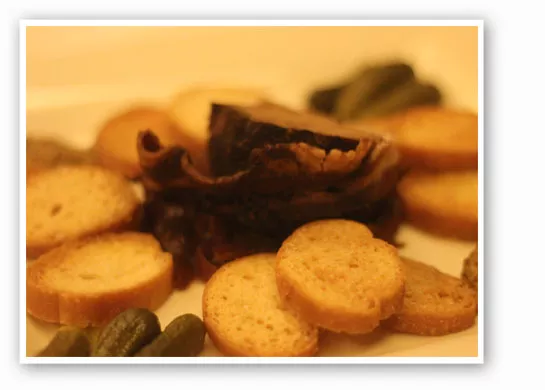 Pâté Maison with red onion jam, grain mustard, dried cherries, cornichons and crostini. | Nancy Stiles
Stylized mirrors and deep red walls make even the bathroom feel lush. | Nancy Stiles
Gut Check is always hungry for tips and feedback. Email the author at nancy.stiles@riverfronttimes.com or follow her on Twitter.
---