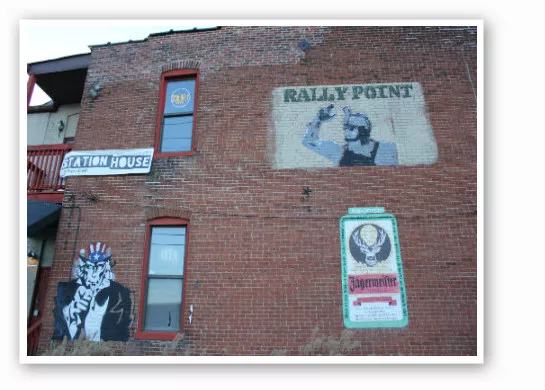 Entering Station House. | Zach Garrison
As owner Zane Jackson succinctly puts it, the theme of recently opened Station House Bar and Beer Garden (3502 Papin Street; 314-577-1378) is "All things local, all things St. Louis." Sitting just off the corner of South Grand Boulevard and Chouteau Avenue, the craft-beer bar is on a civic mission to boost city pride through perfectly poured pints and hot Italian beef sandwiches. We stopped by to sample some food and beer.
See also: - First Look: Juniper Serves Southern Cuisine in the Central West End (Photos)
Greeting patrons at the entrance to Station House is a giant, brightly illuminated "Kingshighway" street sign that Jackson claims was "totally stolen." This is, at best, an exaggeration, but the apocryphal story fits well with the bar's grimy, industrial vibe.
In truth, the sign, like most of the décor, was reclaimed by Jackson, and would probably sell for a ton of money. You can sign in on an ancient ledger book or look over a monster map of the city before heading to the small bar area. There you'll find nothing but local beers on tap, a collection that Jackson plans on expanding -- the goal is to provide the widest selection of St. Louis brews possible. It even has newcomer Alpha Brewing Company (the pistachio brown is currently on tap), which isn't yet widely available. And there's more than just local beer. Still 630 Distillery's (located downtown) Rally Point Rye Whiskey and Big O Ginger Liqueur both are both positioned front and center.
A perfectly poured "Pilgrim 7" from Urban Chestnut. | Zach Garrison
The bar's second story is roomy and wide open, with big tables and church pews Jackson found in a Valley Park landfill. In the corner sits an old typewriter where you can produce inspiring drunken prose while listening to whatever album is spinning on the nearby record player. There's also a balcony where smokers can escape for a quick fix, or just go outside to the fenced in beer garden and sit around a fire pit. When the weather improves, Jackson plans on opening an outdoor bar and hosting concerts.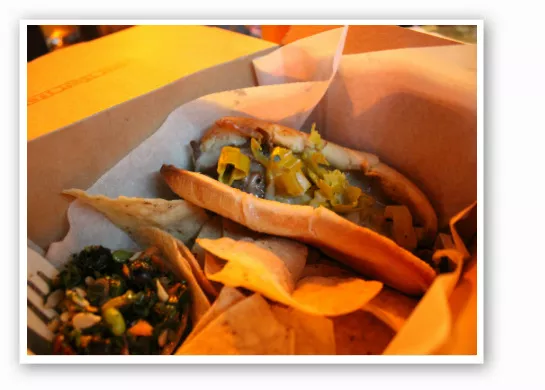 The hot Italian beef. | Zach Garrison
The kitchen is building momentum, and within the next week it should be open for lunch. Right now there's a small dinner menu available after 5 p.m. Start with the enchilada bean dip ($3) or the kale salad ($4), a tasty (and healthy) side dish that includes blueberries, shredded carrots, edamame and a light balsamic dressing. Sticking with the local-business theme, Dogtown Pizza is also on offer. The signature dish, though, is the hot Italian beef sandwich ($9). Based on Jackson's wife's recipe, the beef is slow roasted for ten to twelve hours, covered in Italian spices, shredded and then blanketed in Provel cheese and pepperoncini. The sandwich is spectacular.
Station House is open Tuesday through Saturday, 4 p.m. to 1:30 a.m -- though be on the lookout for a lunch menu and a new closing time of 3 a.m to come.
Click through for more photos.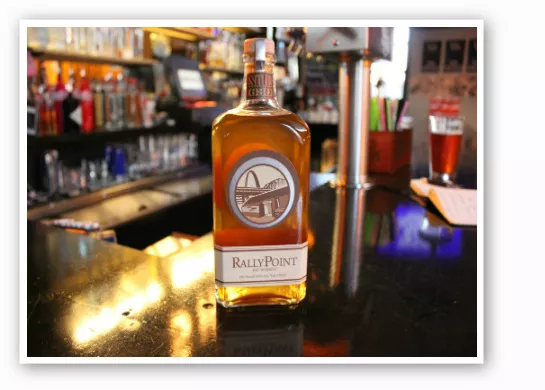 Still 630's Rally Point rye whiskey. | Zach Garrison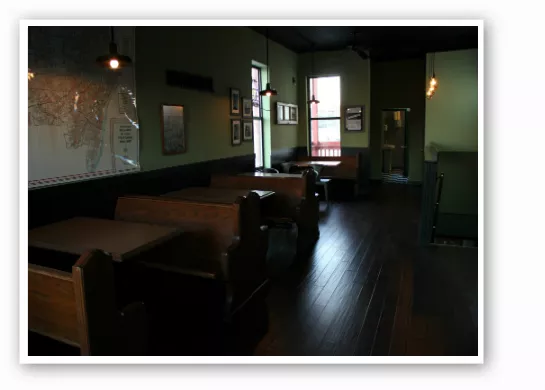 The upstairs hangout. | Zach Garrison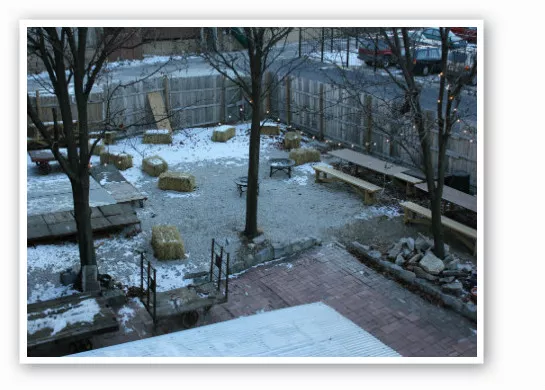 The spacious beer garden. | Zach Garrison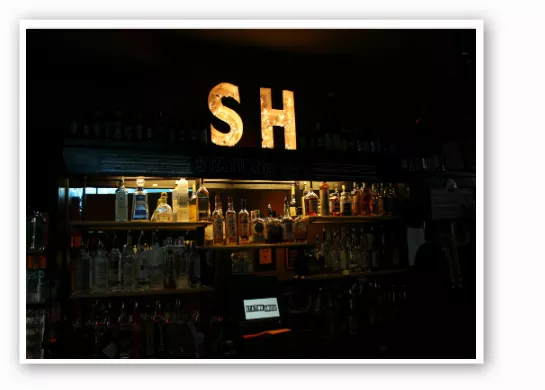 Saddle up to the bar. | Zach Garrison
Gut Check is always hungry for tips and feedback. Email us!
---