Let the day drinking begin. | Zach Garrison
Let's face it: You still haven't finished your Christmas shopping, and time is running out. Soon, you'll be forced to find a remote parking space, fight the massive crowds -- all bumping and jostling and cutting into lines -- and empty your already hurting bank account. But hey, there's no need to go all Grinch. The key: drunk shopping.
Buoy your Christmas spirit by stopping off at one of the many fine drinking establishments that surround the epicenters of shopping and throw back a few. You'll have a glow to rival Kris Kringle's, and shopping will never have seemed more fun.
See also: IKEA Meatballs Won't Be Here Until 2015; Here Are the Best Local Meatballs to Try Now
The Galleria
Vino Nadoz (16 The Boulevard, Richmond Heights; 314-726-0400)
Walk directly across the street from the Galleria and straight into Vino Nadoz. There's a great selection of local craft beers on tap. Bask in a peaceful setting before entering the nine circles of Hell that is the Galleria.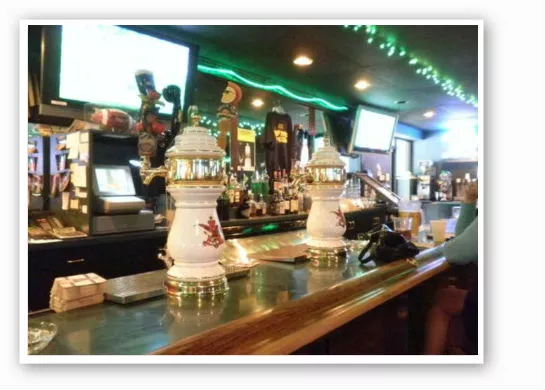 Have a beer -- you'll need it. | RFT
OB Clark's (1921 S. Brentwood Boulevard, Brentwood; 314-961-8900)
OB Clark's is a blue-collar bar where you can sit around and complain about the bossman and revel in the glories of the St. Louis Blues, which means it's also a great spot to bitch about shopping because you're likely to find sympathetic drinking buddies. There's a large menu of pub grub and appetizers, including chicken wings, potato skins and fried green beans. The long list of big sandwiches features steak burgers, a Reuben, pork cutlet, grilled cheese and salami on rye. There are always several beers on tap, from good old Budweiser to O'Fallon 5-Day IPA, and a full complement of hard liquor just in case.
Join the regulars at Village Bar. | Kholood Eid
West County:
The Village Bar (12247 Manchester Road, Des Peres; 314-821-4532)
The Village Bar's candy-stripe exterior (plus plenty of beer signs) is Christmas-ready, making this traditional neighborhood bar the perfect place to sip on a few holiday drinks, wolf down a "Better Burger," the bar's signature dish, and even play some shuffleboard. Nicknamed the Villagio, regulars enter through the back door, and everyone knows your name...and your drink. Elephant Bar (1085 West County Center Drive, Des Peres; 314-835-0545)
Embrace the flavors of Southern California-based Elephant Bar. Yes, it's a chain, but it's situated right inside West County Center, and you can hide in the separate bar area. There's a pretty solid happy hour that includes "Skinny Cocktails" if you're trying to keep off the pounds. Or just drink draft beer and white whiskey Old Fashioneds until the edges start to blur -- that's how you'll know you're ready to shop.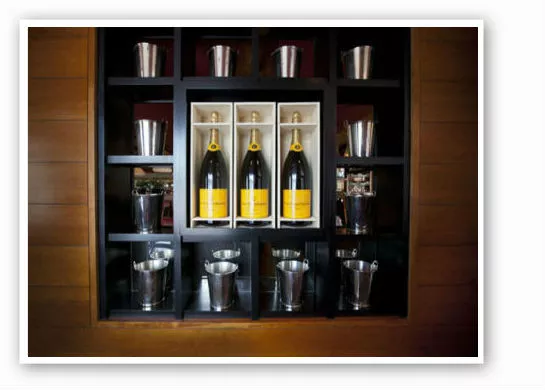 BrickTop's wine selection is your friend today. | Jennifer Silverberg
Plaza Frontenac:
BrickTop's (1701 S. Lindbergh Boulevard, Frontenac; 314-567-6300)
BrickTop's is a small Nashville-based chain specializing in high-end crowd pleasers. The real reason you'll stop here is to zone out at the large bar area -- maybe watch a little TV and stare at the miserable shoppers lugging around screaming kids and bags full of expensive crap. Sometimes, the best place to disappear is a generic, could-be-anywhere type of place -- order a martini and watch time drip off the clock.
Schneithorst's Restaurant & Bar (1600 S. Lindbergh; 314-993-4100)
Located amongst the tony environs of Frontenac, Schneithorst's offers the chance to enjoy a strong happy hour with great beer prices served in giant mugs. There's a separate European beer hall area perfect for a quick escape. Hearty German food helps to ease any hunger pains that might truncate your shopping experience.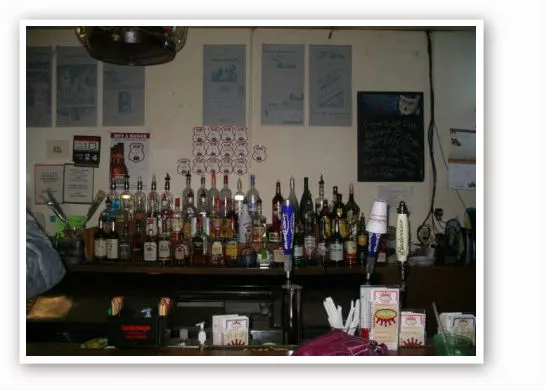 The basics are covered at Streiler's. | RFT
The Mills:
Streiler's Pub (555 Howdershell Road, Florissant; 314-837-7475) (pic: voiceplaces)
Streiler's will ease the pain of having to wade through the mass of bodies that surround the Mills. Located in a strip mall, this is a no-frills establishment -- light lager beer (but also Busch Heavy) and hard liquor are about the extent. Low lighting, pool tables and live blues can be found most every night.
Chesterfield:
EdgeWild (550 Chesterfield Center, Chesterfield; 636-532-0550) (pic: Jennifer Silverberg)
EdgeWild buys unfinished wines from wineries in California, Oregon and Washington, brings them to the restaurant and ages them in oak barrels. The restaurant then bottles the wine under the EdgeWild label and pours it in your glass. But who really cares about the process? You'll come here for the relaxing atmosphere and warm glass of red wine. The food is tasty, and the location makes for a quick trip to fortify yourself before entering the nearby mall. Ask for a generous pour; you'll need it.
Gut Check is always hungry for tips and feedback. Email us!
---