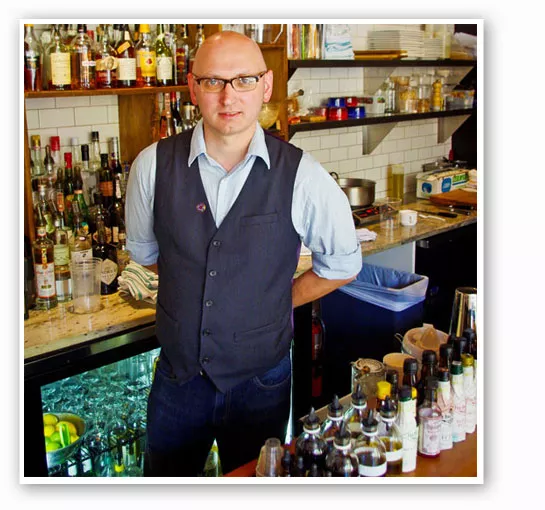 Ted Kilgore. | Alissa Nelson
Planter's House (1000 Mississippi Avenue), the latest from former Taste cocktail master Ted Kilgore and Brasserie's Ted Charak, opened Thursday, December 6. It's basically a paradise for craft cocktail lovers, but there's stuff for winos and beer geeks, too.
See also: Mixologist Ted Kilgore to Leave Taste, Open New Bar
"It's been really good, but very busy," Kilgore tells Gut Check. "It's been crazy. We probably logged 120 hours last week."
The bar is named after the iconic St. Louis hotel, the first of which was built in 1817, the second in 1841 and after a devastating fire, the last in 1894. The hotel closed in 1922, but the building stood until 1976.
There are two rooms, Planter's House and the Bullock Room. Each has a different menu, although there's some crossover. "The big thing about this space is it definitely is two different experiences," Kilgore says. "You can have a drink and move to the other room and be in a totally different experience."
There are dozens of cocktails -- original, classics and what Kilgore calls new classics. "Probably the favorite of mine is the 'Down for the Count,' a riff on the Negroni," he says. "It's been selling really well."
Planter's House and the Bullock Room are both open Tuesday-Thursday from 5 p.m. to midnight, Friday-Saturday from 2 p.m. to 1 a.m. The Bullock Room is closed Sundays, but Planter's House is open 2 to 11 p.m.
Gut Check is always hungry for tips and feedback. Email the author at nancy.stiles@riverfronttimes.com or follow her on Twitter.
---