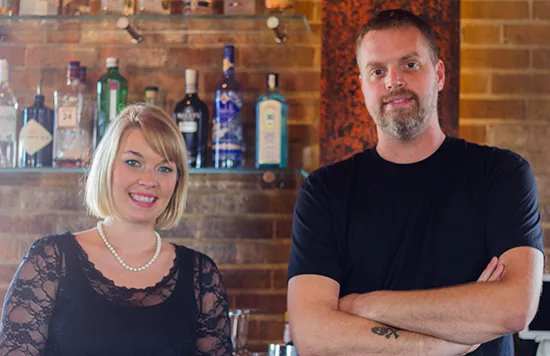 Mabel Suen
Beverage director Meghan French and executive chef Brian Hardesty.
This week, restaurant critic Cheryl Baehr reviews Element in Lafayette Square. Here are some extra tidbits she picked up during her visits. Read the full review of Element here.
Too many cooks in the kitchen spoil the soup, right? Brian Hardesty doesn't think so.
Hardesty, executive chef of Element (1419 Carroll Street; 314-241-1674), the restaurant and lounge at the recently renovated City Hospital complex outside of Lafayette Square, wanted to do something a little different for his new concept.
"People are used to a kitchen in which there is an executive chef and a support crew that gets absolutely no credit. I wanted to change that," Hardesty explains.
See also: First Look: Element's Lounge Sets Its Sights on Lunch and the St. Louis Skyline
After noticing that there seems to be a trend of ad-hoc collaboration between chefs in St. Louis and all across the country, Hardesty wanted to channel this spirit into a more permanent situation.
"I had this group of chefs who I always wanted to work with," he says. "I didn't know how I was going to do it, but when I was approached about Element, they let me go with my idea."
Instead of the classic kitchen hierarchy that has an executive chef oversee a sous chef and several line cooks, Element has four chefs total, all working as equals to execute a harmonized vision for the restaurant. Hardesty acts as a sort of conductor, making sure that everyone is on the same page and working cohesively. He approaches his team before the start of each season with a general idea for the direction in which he wants to take the menu. The four brainstorm ideas and divide up dishes according to their main components -- rabbit, duck, venison and so forth. From there, the foursome constantly collaborate to achieve a finished product, with each individual chef taking ownership of his particular dish. On any given night, all four are in the kitchen, with three working a station and Hardesty at the helm. This way, Hardesty explained, each chef if responsible for executing his dish in exactly the manner it was intended.
Scallop small plate. | Jennifer Silverberg
The collaboration does not end with the chefs. Element was designed with a truly open kitchen. It sits in the center of the restaurant, exposed on three sides.
"The intention was to have every table feel like a chef's table," says Hardesty.
He says he welcomes diners to lean over and ask questions, as it makes for an interactive process.
"It used to be all about competition," Hardesty says of the local food scene, "and that is still something that is naturally there."
But that doesn't mean that if they aren't all in the same kitchen, they're at each other's throats. Whether it's more restaurants collaborating like Element, chefs doing dinners at one another's restaurants or something as simple as tweeting about one another's successes, Hardesty thinks the industry is moving in this more communal direction. If Element is any gauge of this movement, it's quite a success.
To read my full review of Element click here and don't miss Jennifer Silverberg's slideshow here.
Follow Cheryl Baehr on Twitter at @CherylABaehr. E-mail the author at Cheryl.Baehr@RiverfrontTimes.com.
---