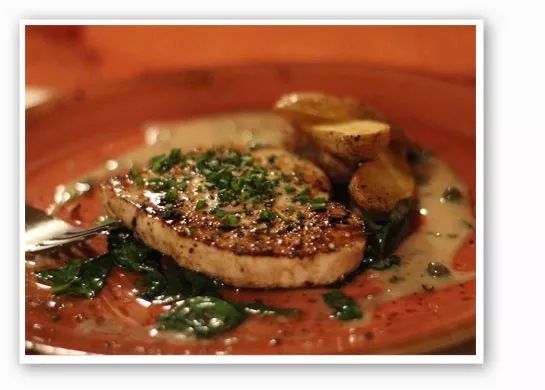 Swordfish at Cucina Pazzo. | Nancy Stiles
This month was fairly under the radar as far as openings and closings go. There are many openings set for December, but a few took the leap in November. Katie Lee finally opened her artisan pizzeria, separate from her father, and the guys behind The Tavern brought some Italian goodness to the Central West End. Check out the full list after the jump, and let us know anything we missed.
See also: The 5 Best Tapas/Small Plates Restaurants in St. Louis
Openings:
Bud's Smokehouse (1135 South Big Bend Boulevard; 314-781-2345) Cucina Pazzo (392 North Euclid Avenue; 314-696-8400) Katie's Pizza & Pasta Osteria (9568 Manchester Road; 314-942-6555) The Kitchen Sink (255 Union Boulevard; 314-454-1551) (new location) Mama Gusto's Pizzeria (1031 Lynch) Potbelly Sandwich Shop (12 South Bemiston Avenue; 314-202-8001) Spare No Rib (2200 Gravois Avenue; 314-202-8244) Station House Bar & Beer Garden (3502 Papin Street; 314-577-1378) Vincent Van Doughnut Food Truck (@VinVanDoughnut)
Closings:
17th Street BBQ (1711 West Highway 50, O'Fallon, Illinois)
Gut Check is always hungry for tips and feedback. Email the author at nancy.stiles@riverfronttimes.com or follow her on Twitter.
---