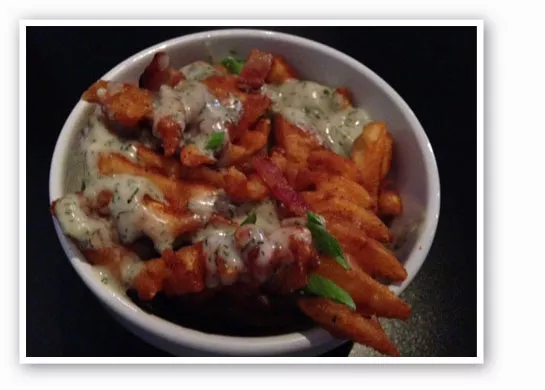 Waffle fries = more area for gravy. | Nancy Stiles
It's Monday, which means you need to put your thinking caps on. Can you guess where we ate these fries with dill truffle gravy? Hint: Its owner is planning a new restaurant just a few blocks down.
UPDATE: Commenter mrmotion correctly guessed first that they are from The Crow's Nest.
See also: Guess Where I'm Eating This Pork Agnolotti and Win $20 to Frida's Deli
Simply study the photo and leave your best guess in the comments. If you're the first correct answer, we'll give you a $25 gift certificate to Fork & Stix (549 Rosedale Avenue; 314-863-5572).
Rules: To be eligible, you must leave a valid e-mail address (or Twitter handle or Facebook profile URL) in the comment-entry field. One guess per e-mail address. Employees of the restaurant in question and the Riverfront Times are not eligible.
Gut Check is always hungry for tips and feedback. Email the author at nancy.stiles@riverfronttimes.com or follow her on Twitter.