Scallops at Robust. | Corey Woodruff
No, small plates are not going away. Embrace it, because it means you get to eat lots of different stuff, and it's usually paired with great cocktails or wine. Although some people are sticklers for what actually constitutes tapas, we lost that war long ago. Just go with it.
See also: More Than a Mouthful: Joyia Tapas has a lot to offer
Crab Cakes with chipotle buerre blanc. | Jennifer Silverberg
Sanctuaria Wild Tapas (4198 Manchester Avenue; 314-535-9700)
Believe it or not, the 150 different drinks aren't the only reason to come to Sanctuaria. It is a tapas restaurant, after all, serving "wild" and "eclectic" small plates. Try the plump camarónes, which are simmered in a thick, garlicky, peppery tomato sauce or the jalapeno-studded cornbread with honey butter along with that award-winning cocktail. Hey, it's OK if you don't wanna share those piquillo peppers stuffed with goat cheese. We don't either.
How do you say mmmmm in Spanish? | Sarah Rusnak
Modesto Tapas Bar & Restaurant (5257 Shaw Avenue; 314-772-8272)
Modesto is a truly Spanish tapas restaurant -- even the wines and cheeses are imported from Spain. When we say small plates, we mean small: happy-hour plates start at 25 cents for a bite full of flavor. Pop pinxtos like a stuffed Gordal olive with blue cheese and almond or a deviled egg with black olive and piquillo. There is lots to mix and match, with gluten-free and vegetarian options to boot.
Salmon over soba noodles in a mushroom Dashi with pea shoots. | Corey Woodruff
Robust Wine Bar (multiple locations)
We first fell in love with the wine selection at Robust's original Webster Groves location, but the addition of Washington Avenue and Edwardsville, Illinois, outposts made us pay attention to the food, too. Robust emphasizes wine and food pairings and makes it easy for the amateur. Wines are grouped by taste profile, not geographic origin, and dishes are marked with the complementary vino. We'd go straight for the scallops.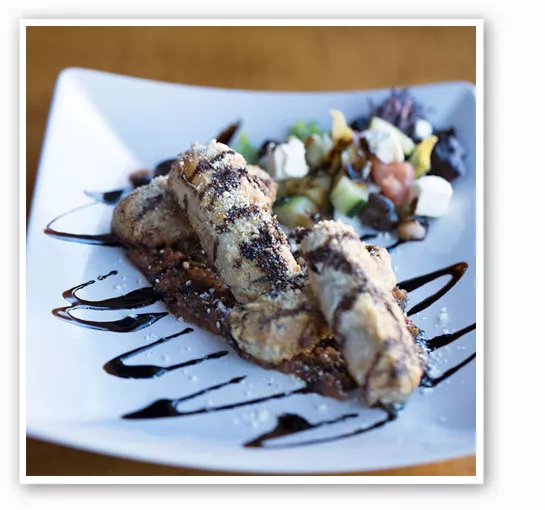 Chorizo rollos with peppers, red onions, potato, black beans and Kasseri cheese wrapped in phyllo and topped with a charred-chili tomato salsa. | Jennifer Silverberg
Joyia Tapas (4501 Manchester Avenue; 314-531-5300)
Just a few blocks down from Sanctuaria in the Grove, Joyia plays fast and loose with the term "tapas," but we're not complaining. Things here cover the Mediterranean to the Middle East to North Africa with an extensive menu. A standout dish perfect for sharing (or not) is the chorizo rollos: phyllo filled with sausage, potato, black beans, red onion and kasseri cheese and then topped with a charred tomato-chile salsa. Or, try something more adventurous like the Moroccan lamb tagines.
Nicoise deviled eggs, made with tuna, nicoise olive, potato chip, pickled green bean and arugula. | Laura Ann Miller
Taste (4584 Laclede Avenue; 314-361-1200)
In typical Gerard Craft fashion, nothing is on the menu at Taste for long. However, the small plates are carefully crafted to reflect the equally deliberate cocktail menu. Something you can definitely get is the "Barbacoa," three tiny masa cakes topped with braised beef cheek, pickled red onion, cilantro, queso fresco and salsa verde. We're also lusting over the sweet corn bruschetta with tomato, queso fresco, corn creamed ricotta, mushrooms, cilantro and lime. Maybe you can get bar manager Kyle Mathis to whip you up a drink he hasn't even named yet to go along with your grub.
Gut Check is always hungry for tips and feedback. Email the author at nancy.stiles@riverfronttimes.com or follow her on Twitter.
---