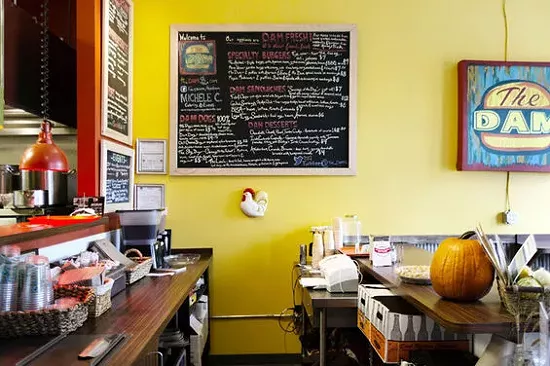 The Dam | Jennifer Silverberg
This week, restaurant critic Cheryl Baehr visited the Dam (3173 Morganford; 314-771-3173) in Tower Grove South. Here are some extra tidbits she picked up during her visits. Read the full review of the Dam here.
In this week's review of the Dam, I joke that the concept seems like it was hatched by a bunch of stoners, sitting around on their couch watching South Park. While it was concocted by a group of friends -- the owners of the adjacent Amsterdam Tavern (3175 Morganford Road; 314-772-8224) -- it turns out the circumstances were a bit more PG.
"I'm a south city girl," boasts owner Michele Coen-Racanelli. "We're all friends from our days at DuBourg. When they wanted to do food, they approached me."
See Also: The Animal is Back: Look Inside the Dam
Known as the ultimate soccer bar in a soccer-crazed city, Amsterdam Tavern is ground zero for fans of the sport. The problem was, they didn't serve food, leaving their patrons ravenous with booze- and adrenaline-fueled munchies. Not wanting to take up the task themselves, they reached out to Coen-Racanelli who, was herself looking for a kitchen for her catering business.
Coen-Racanelli is no stranger to the business. Her background is in event planning and PR, and she was once married to a chef, so it was just a matter of time that she would branch out on her own. Her first independent venture was Big V's burger joint in the old Loop Market. Before she and her then-husband opened Big V's, they were both working in the corporate world but looking to go into business for themselves. Noticing that there wasn't a burger option in the then bustling Loop Market, the two snagged a stall and opened the place that would go on to serve award-winning burgers (the Animal, Big V's signature sandwich, is resurrected at the Dam).
Build-Your-Own-Burger | Jennifer Silverberg
When the owners of the Market wanted to transition the space into a single-tenant building, Big V's was given the boot, and Coen-Racanelli went on, among other things, to start her own catering company. She still operates Michele C's Catering out of the Dam's kitchen.
"People would be surprised to see what comes out of this kitchen. We do everything -- Indian, Italian, burger catering. It's a lot to balance," she says.
The Dam's kitchen space may serve a dual purpose, but it's the Belgian-themed burger and hot dog shack that's the face of the place. It was clear from the get-go that she and the Amsterdam owners wanted to do "slow food fast," featuring locally sourced meat and produce, all sustainable raised and grown. From the burgers to the hot dogs to the soda, Coen-Racanelli does her best to offer food that she is comfortable serving to her five year-old daughter.
Admittedly, the space is small, and that's a challenge. As of now, patrons take their orders over to the Tavern or eat them at the few stools that line the windows. It can get a little hectic when the bar is full and bustling to match orders with guests, but Coen-Racanelli says they are making some changes.
"[The Tavern's owners] are doing a full renovation of their patio, creating a pavilion that will be open in the spring, in time for the World Cup. We're putting a server station out there, so it will make things a little easier to manage," she says.
Another challenge Coen-Racanelli faces is lunch business, as the area isn't necessarily a weekday dining destination. Still, she is astounded by the crowds that turn up for the soccer matches.
"It's a Tuesday afternoon, and this place is packed. I can't believe how many people are willing to take off work in the middle of the week. St. Louis is such a soccer city."
Fortunately, the fans now have sustenance.
To read more impressions of the Dam, check out the full review here and photographer Jennifer Silverberg's slideshow right here.
Gut Check is always hungry for tips and feedback. Email us!
---