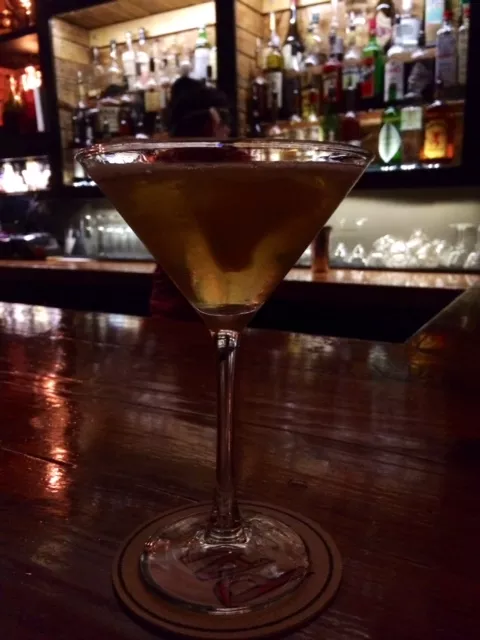 Happy Hump Day! Here's the cocktail that will get you through to Friday.
With Thanksgiving just 24 hours away, this is an extra special Hump Day, the one you'll likely spend out getting sloshed with your buddies from high school. With that in mind, we stopped by Fortune Teller Bar to check out its newly expanded space and ask what the 'tenders would suggest as the perfect fall cocktail for tonight's pre-festivity festivities.
The new space marries sophistication with quirky decor, including a taxidermied raccoon serving as a lookout over the bar and a fortune-teller's booth in the front window. Local artists decorate the walls, and a wall of hard-to-pronounce liquors coax us to dive in.
See Also: Tripel's "Clouds Over Manhattan" Incorporates Boozy Foam
We asked barkeep Greer Deerling to serve us her go-to seasonal vice, and she whipped up the "Gezellig," a "classic Prohibition-era cocktail that's really easy to drink," she says. The name comes from a Dutch word for "coziness," often used to refer to holiday time spent with loved ones. How utterly appropriate.
Deerling describes the drink as a "white Manhattan." Simple syrup and orange peel start each taste off with a sweet and citrusy flavor paired perfectly with the spice of the botanical rye and star anise, while the Cocchi Americano provides that familiar bitter finish. This balance makes the "Gezellig" a perfectly sippable fall cocktail.
Here's how to make the "Gezellig" at home:
2 oz Cocchi Americano
1 oz Pow Wow Botanical Rye
Simple syrup
Star anise
Orange peel
Gut Check is always hungry for tips and feedback. Email us!
---