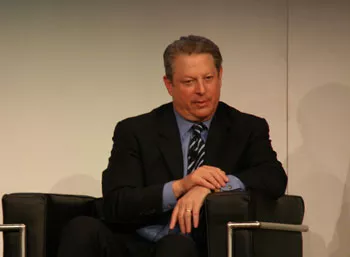 Former vice president Al Gore is totally a vegan now. Just like Bill Clinton! Forbes and the Washington Post are both reporting that he's given up animal products.
But, hey, guess what -- Gut Check totally already knew that. Back in February, Gore came to St. Louis for his book tour and got a vegan dinner catered by Local Harvest Cafe (3137 Morganford Road; 314-772-8815).
See also: Local Harvest Cafe & Catering Preparing Vegan Dinner for Al Gore's Weekend Visit to St. Louis
Gore's team requested a vegan, nut-free and oil-free meal: roasted carrot bisque with radish kimchi, smoked butternut squash puttanesca over lemon-scented Missouri wild rice and quinoa-stuffed dolmas with raisins and mint.
"One of his staff members contacted us last week about his visit to St. Louis," Local Harvest's co-owner Patrick Horine told us at the time. "They had some fairly precise dietary restrictions, told us what they were, and asked us to come back with a menu. We did and they approved it."
Gore has been criticizing the meat industry over the past few years, blaming it in part for global warming. That may be why he made the leap, but we'd like to think it has more to do with the fact that his buddy Bill has been a vegan for over three years. (Clinton changed his diet after quadruple-bypass heart surgery in 2004.) That, and the fact that Gore's meal here in St. Louis was obviously so mind-blowing that he made up his mind then and there to give up animal products.
Forbes also reports that Gore is considering investing in a startup that's trying to "replace eggs with a plant-based formula." Which sounds like the worst thing ever. Are we sure this has nothing to do with ManBearPig?
Gut Check is always hungry for tips and feedback. Email the author at nancy.stiles@riverfronttimes.com or follow her on Twitter.
---