The most important meal of the day. | Jennifer Silverberg
Unlike its more glamorous sister, brunch, a classic breakfast evokes casual morning comfort. Sure, it's nice to be fancy, but sometimes, you just want to roll out of bed, hair uncombed, pajama pants on, and venture out for some cheesy eggs and strong coffee. Fortunately, St. Louis has a seemingly endless array of choices for the day's most important meal, but all of these options can overwhelm the bleary-eyed. To help with the decision, Gut Check has narrowed the field to the five best breakfast spots in the city.
See Also: The Five Best Brunch Restaurants in St. Louis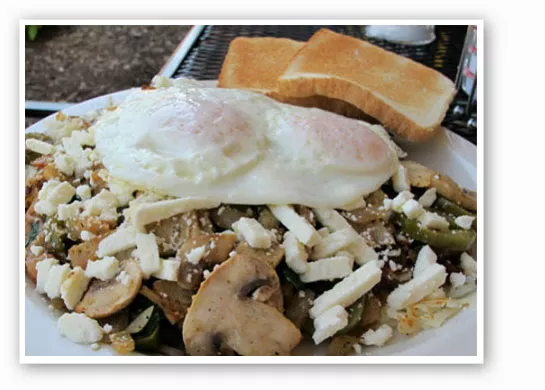 The Webster Skillet. | Rease Kirchner
Boardwalk Café (600 East Lockwood Avenue, Webster Groves; 314-963-0013)
As the reigning winner of the Riverfront Times' award for Best Breakfast, the Boardwalk Café has all the makings of a quintessential breakfast spot: huge portions, dirt-cheap prices and ridiculously quick service. The breakfast menu features traditional bacon and egg platters, pancakes and French toast, and hefty skillets of hash browns piled high with meats, veggies, cheese and eggs. The servers are no-nonsense, keeping customers' cups full of hot coffee no matter how busy the restaurant is. They're not exactly reinventing the wheel here, but the lack of fuss makes it the right choice for those in need of a classic.
Good morning! | Jennifer Silverberg
Southwest Diner (6803 Southwest Avenue; 314-260-7244)
Southwest Diner may be located on Southwest Avenue, but that's not the only reason for its name. This twist on the classic diner spices it up by infusing traditional American breakfast favorites with tastes of the Southwest. Order an omelet and expect some Longhorn cheese and fillings such as chorizo and calabacitas. Settle for a simple staple of eggs and home fries, but sub in a sopapilla if you want. Southwestern breakfast staples populate the menu, like a New Mexican breakfast burrito smothered in green chile or the carne adovado, a platter of red chile braised pork shoulder served with eggs, home fries and tortillas. It's the perfect place for those who want to dip their greasy spoons in some hot sauce.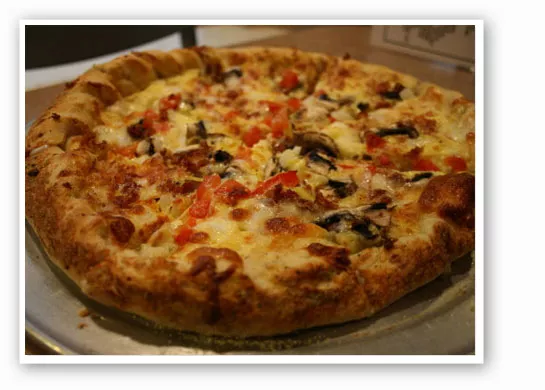 The classic breakfast pizza. | Chrissy Wilmes
Benton Park Café (1900 Arsenal Street; 314-771-7200)
Those in search of a breakfast that's long, boozy and full of carbs should head to Benton Park Café now to get their name on the lengthy weekend wait list. But don't let the weekend lines dissuade you -- the "BP Slinger" is worth it. This is not your grandma's plate of biscuits and gravy. Here, two of its famous beer biscuits are topped with cheese, bacon, eggs over-easy and housemade gravy. You can get it with a side of fruit, but let's be real -- you're going with the loaded potatoes. Need the hair of the dog to help you through last night's shenanigans? The bartenders' generous hands are primed and ready to whip up the signature booze smoothie, or "Boozie." And you wonder why people are lined out of the door.
How amazing are these pancakes? | Jennifer Silverberg
Half & Half (8135 Maryland Avenue, Clayton; 314-725-0719)
The concept behind Half & Half is simple: Treat breakfast -- the most important meal of the day, after all -- in the same manner that a contemporary bistro does dinner. The result of this effort is nothing short of decadent. Breakfast sweets such as pancakes and French toast are elegantly infused with fresh berries and mascarpone cheese. The classic dish of steak and eggs features juicy hanger steak, and sunny-side up eggs are paired with chicken livers and caper aioli. Half & Half manages to balance a high-end sophistication with traditional breakfast comfort. Expect refined versions of the classics, but do not expect run-of-the-mill coffee. Half & Half takes its beans seriously, offering single-sourced varietals prepared by hand with the precision and care of an artisan.
Voice Places
Goody Goody's
Goody Goody's (5900 Natural Bridge Road; 314-383-333)
Long before chicken and waffles found their way onto the hottest menus in town, Goody Goody's was serving the soul-food classic to those savvy enough to be in on the secret. This north-city institution is the real thing, a St. Louis classic since 1948. Here you can still get warm, fluffy biscuits and root beer in a frosted mug. You can dig into diner classics such as hamburgers and omelets, or house specials, such as the "Toastamale" or the "Wilbur," a monster omelet stuffed with hash browns, peppers, onions and tomatoes. (Both of these come drenched in chili and covered with cheese.) Goody Goody's is diner perfection -- well, except for the fact that it's not open 24 hours (it closes at 2 p.m.) and stays closed all day Sunday. But given how much flavor and character it gives off, we can forgive these facts.
Gut Check is always hungry for tips and feedback. Email us!
---