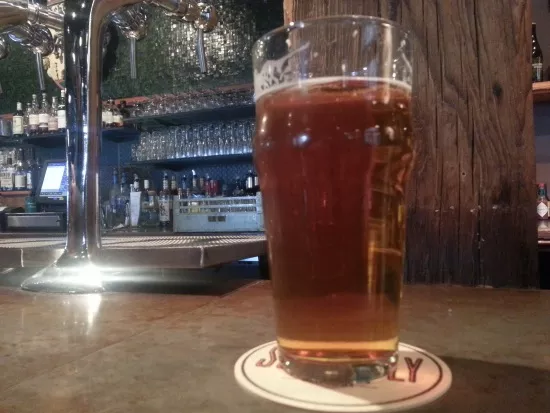 Richard Haegele
The lightest coffee beer we have ever seen.
Java heads can rejoice at having three coffee beer options at the Schlafly Tap Room (2100 Locust Street; 314-241-2337) this week. In addition to the winter seasonal Coffee Stout, which will be around for a few months, the tap list also includes a coffee variant of the Schlafly Imperial Stout and the new Coffee Chocolate Blond Ale, a limited-release collaboration beer brewed with Kaldi's Coffee and Patric Chocolate from Columbia.
See also: Schlafly Tells Us What Beer to Drink on Thanksgiving -- Before, During and After Dinner
A yearly favorite for many Schlafly fans, the Coffee Stout combines a traditional stout with French roast coffee. It has a light roasty flavor and clean finish. The Coffee Imperial Stout is part of a series of one-off variants of the 2012 Imperial Stout that Schlafly has been releasing for the last several months. Both beers are very good and very dark. But for their new collaboration beer, the three teams opted to go in a different direction.
After deciding that dark beers can compete with the coffee and chocolate flavors, Schlafly chose to brew a lighter, golden ale to allow their guests' contributions to take center stage. Patric Chocolate brought in Fair Trade-certified, Amelonado cocoa beans from Ghana, while Kaldi's provided a Kenyan coffee bean it roasted in St. Louis. The resulting beer smells faintly of coffee upfront, tastes like creamy chocolate truffle, and has a lingering, sticky aftertaste. While very good, we still found ourselves wishing for a more pronounced coffee flavor.
The Coffee Chocolate Blond Ale is currently available at both the Tap Room and the Schlafly Bottleworks (7260 Southwest Avenue; 314-241-2337). A brewery rep tells Gut Check that it should last through the week, but there's no guarantee. Go get it sooner than later if you would like to try it. The Coffee Stout will be available around town for the next few months on draft and in bottles. The Coffee Imperial Stout is a one-off beer only available at the Tap Room for a limited time.
Follow Richard Haegele on Twitter at @RtodaizH. E-mail the author at stlouisbeergeek@gmail.com.
---