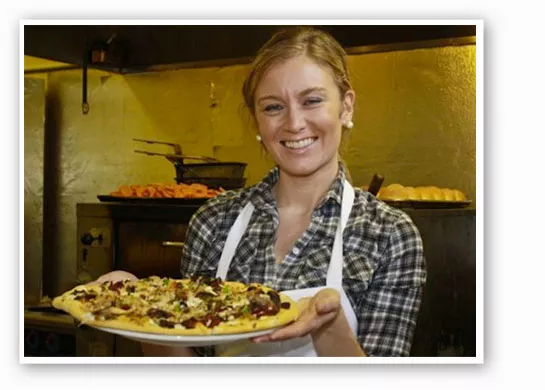 Katie Lee opens her latest pizza venture today. | Savannah Dodd
Katie's Pizza & Pasta Osteria will open at 11 a.m. today at 9568 Manchester Road in Rock Hill. Owner Katie Lee left Katie's Pizzeria Cafe in Clayton in 2010, though her father still owns it. Lee began plans for her new restaurant in January of this year with a Kickstarter campaign which raised $40,000 for Katie's Pizza & Pasta.
See also: Katie Lee of Katie's Pizzeria Café Plans New Venture, Turns to Kickstarter [Updated]
"We loved it [Kickstarter] because we met so many people that became a really big part of the restaurant," Lee tells Gut Check.
Almost everything at Katie's will be made in-house, including all dough, sauces and dressings. It will use artisanal cheeses, cured Italian meats and seasonal produce as well. The large bar has eighteen beers on tap, most of them craft, plus a craft cocktail list.
"We're focusing on the artisan, in-house, made-from-scratch food and open kitchen," Lee says. "I'll be cooking in the kitchen, and we have some really good bartenders." As for ambiance, Katie's will play old Italian films on a projector screens. There are also two "living green walls." Eventually, Katie's will be able to grow some herbs and vegetables it uses on the walls, but right now it's strictly tropical plants, which get the wall going. Until then, Lee calls it more of an "art piece."
As for Katie's Pizzeria Cafe, it's still owned by her father despite a $1 million sale listing earlier this year. "I consult with him, so it's still in the family, but it's separate ownership," Lee says. "We get along great, we're just separate businesses."
More than $42,000 was raised through Kickstarter, and the backers are being rewarded. "We've had a couple parties for the Kickstarter donors already, plus they have rewards that they''ll start redeeming," Lee says. "We have people that are really invested in the success of it, so there's a lot of good energy around the restaurant because of those people that believed in us and backed the project."
Katie's will be open from 11 a.m. to midnight daily with happy-hour specials from 4 to 6 p.m. You can find more info at its website and Facebook page.
Gut Check is always hungry for tips and feedback. Email the author at nancy.stiles@riverfronttimes.com or follow her on Twitter.
---