Why not get Thanksgiving dinner from St. Louis' best chef? | Jennifer Silverberg
Thanksgiving is all about the food, but for some people, it's about going out to eat, not spending the day elbow-deep in a greasy oven. Or maybe you're not going to be with your family this year, but you still want that delicious turkey. Behold, our handy-dandy guide to eating Thanksgiving dinner at a St. Louis restaurant.
See also: Schlafly Tells Us What Beer to Drink on Thanksgiving -- Before, During and After Dinner
OK, it might be to cold to eat out here. | Laura Miller
Cielo (999 North Second Street; 314-881-5800)
Cielo, at the Four Seasons, has one of the best views in the city and the menu to match. The $85 per person dinner ($30 for kids) includes a bloody-mary and bottomless mimosa bar. It's a buffet boasting more than 70 items, with the requisite carving station, "live action risotto station" and a full dessert buffet. You can also simply pick up a dinner for ten for $295, if you prefer. Dinner is from 11:30 a.m. to 6:30 p.m. Call 314-881-5800 for reservations.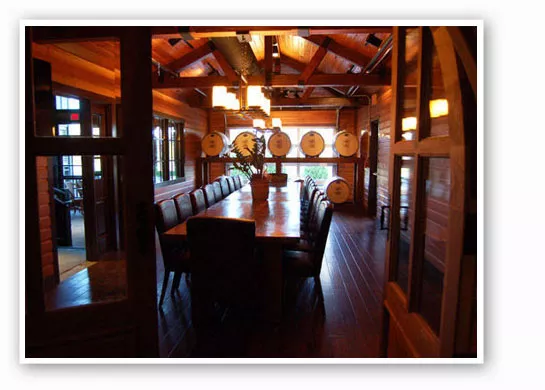 We always eat Thanksgiving dinner in a barrel-aging room, duh. | Ettie Berneking
EdgeWild Restaurant & Winery (550 Chesterfield Center, Chesterfield; 636-532-0550)
EdgeWild is also offering a buffet, albeit one at a more affordable price point. It's $29 for adults, $15 for kids. Start with breakfast food -- waffles, omelets, lox -- or go straight for the carved turkey breast with cranberry chutney, roasted garlic mashed potatoes, mac & cheese and more. Naturally, there are plenty of pies available, plus a chocolate fountain. From 11 a.m. to 5 p.m. Call 636-532-0550 for reservations.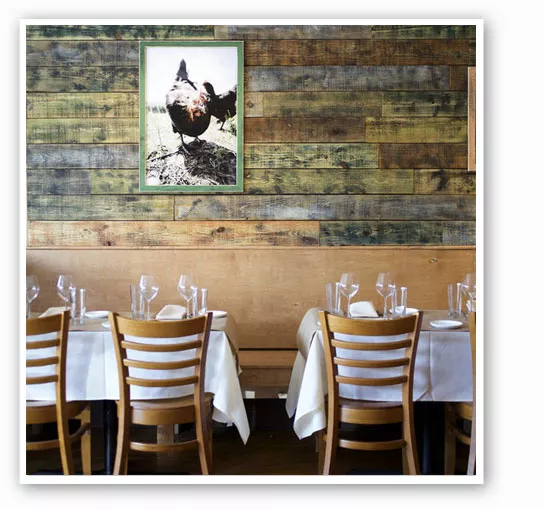 The rustic dining room at Home Wine Kitchen. | Jennifer Silverberg
Home Wine Kitchen (7322 Manchester Road, Maplewood; 314-802-7676)
What could be better than our Best Local Chef cooking your Thanksgiving dinner? The answer: nothing. Seriously, the bread basket alone that Cassy Vires is offering sounds amazing: bacon muffins, buttermilk cornbread and pumpkin loaf. Then it's kale salad with bacon-molasses dressing and bourbon-soaked cranberries. The main course is turkey breast stuffed with apple, duck confit, spicy sausage, fennel and brioche, with creamy polenta with wild mushrooms, sweet potato peanut puree, and Brussels sprouts with cayenne and brown sugar-spiced pecans. For dessert, there's pecan pie with molasses ice cream, pear crostata with honey-fig ice cream, pumpkin pie with spiced ice cream and cranberry crumb with dreamsicle ice cream. It's family-style dining, with seatings at 5:30, 6, 7:30 and 8 p.m. Reservations are required; it's $65 per person. Call 314-802-7676.
Festive! | Jennifer Silverberg
The Restaurant at the Cheshire (6300 Clayton Road; 314-647-7300)
Chef Rex Hale is whipping up a Turkey Day dinner. It's three courses for $25 ($30 if you go for beef, but come on, it's Thanksgiving!). For starters, choose from butternut-squash soup with maple cinnamon crème fraiche, autumn greens with candied walnuts, sun-dried cranberries and Baetje Farms goat cheese, butter lettuce buttermilk herb dressing and Maytag blue cheese. The entree is a choice of roasted turkey with whipped potatoes, roasted sweet potatoes, cranberry sauce, herb stuffing and rosemary gravy, or roasted rib of beef with whipped potatoes and herb jus. And for dessert choose from classic warm apple crisp with vanilla ice cream or pumpkin pie with honey ginger cream. Make your reservation here.
The dining room at Harvest. | Jennifer Silverberg
Harvest (1059 South Big Bend Boulevard, Richmond Heights; 314-645-3522)
If you haven't been to Harvest in a while (or ever), now's a good time. Its four-course meal has several choices for each, like country-style turkey pate, warm butternut squash and chickpea salad, Farrar Out Farms turkey with savory leek and forest mushroom bread pudding, truffled-giblet gravy and cranberry quince conserve, plus pumpkin creme brulee. That's just one of the possible dinner combinations. It's $65 per person; call 314-645-3522 for reservations.
Gut Check is always hungry for tips and feedback. Email the author at nancy.stiles@riverfronttimes.com or follow her on Twitter.
---