Your family gave you one job: Bring the dessert. We all know you can't just throw some in some slice-and-bake cookies in the oven and call it a day. This is Thanksgiving, and everyone's expecting a pie. Pumpkin. Or pecan. Or anything autumn-sounding, really. Do the holiday some justice and don't pick up something premade from the grocery store. There are plenty of delicious bakeries around town that are taking orders for that perfect pie.
See also: How to Locally Source a Thanksgiving Turkey in St. Louis
We named it Best Cucpakes, but try a pie, too. | Mabel Suen
Whisk: A Sustainable Bake Shop (2201 Cherokee Street; 314-932-5166)
Whisk has made a name for itself in just a few short months with all-natural ingredients and simple, sweet stuff. We named it Best Cupcakes this year -- try salted caramel or pumpkin cupcakes at four for $10 or a dozen for $30. As for pies, it's $20 for sweet potato, pecan and maple pumpkin. Looking for something a bit more unexpected? Get twelve large cranberry blondies for $30. Orders are due Monday, November 25.
Fall macarons are just one option at Chouquette. | Mabel Suen
La Patisserie Chouquette (1626 Tower Grove Avenue; 314-932-7935)
Our pick for 2013's Best Bakery is pulling out all the stops for the holidays, from fall macarons to tarts and pies. For $25 to $30, place an order for pumpkin-ginger marble pie with maple creme, bourbon praline pecan pie -- or maybe some pumpkin-pie cookies for the kids' table (or yours, whatever). There's also a pear and cranberry galette for $25 or a hazelnut-caramel crunch tart for $30.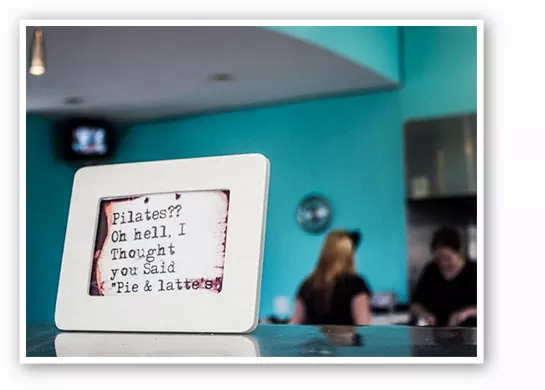 Amy's knows what's up. | Mabel Suen
Amy's Corner Bakeshop (4476 Chouteau Avenue; 314-371-2253)
The newish bakery in the Grove has one of the cutest Thanksgiving offerings we've seen: cake pops! Choose from pumpkins, turkeys and pilgrims for $20 per dozen. As for the classic pies, pumpkin spice, sweet potato, apple cinnamon, caramel apple, pecan and chocolate cream pies are $25 to 30. But wait! Cheesecakes are $35: Try pumpkin, "Tunnel of Fudge," pecan or chocolate chocolate. There are also pumpkin or peppermint roll cakes with cream-cheese filling ($18 for full, $10 for half) and cookie platters for $18 per dozen. Get your order in by Tuesday, November 26, for Wednesday pickup.
Owner Christy Augustin removes pie crusts from the oven. | Jennifer Silverberg
Pint Size Bakery & Coffee (3825 Watson Road; 314-645-7142)
Pint Size, another one of our favorite bakeries, has so many special Thanksgiving items, we barely know where to start. But we'll go with pies. From $25 to 27, you can get local pumpkin pie with candied pepitas, local sweet potato pie with toasted meringue, Missouri pecan pan made with vanilla bean and Steen's cane syrup, walnut chocolate bourbon pie and chocolate creme pie with cookie-crumb crust. There are also pumpkin and apple cakes, tarts and even breakfast items. Check out the full list here.
It's right in the name! | Mabel Suen
Pie Oh My (2719 Sutton Boulevard, Maplewood; 314-704-4416)
Pie Oh My has a tiny shop in Maplewood, but don't let that fool you. It is selling pie crusts, frozen, if you want to bake the pie yourself but can't quite get that part down. Not that advanced? There are several different kinds of just pumpkin pies, for starters. Order regular pumpkin, pumpkin toffee, pumpkin chocolate, pumpkin walnut crumble. Pecan, pecan with Stringbean espresso, pecan with Schlafly Imperial Stout. How about apple green chili pecan or oatmeal maple walnut with Schlafly Oatmeal Stout? Pear-apple cranberry? Yeah, we thought so.