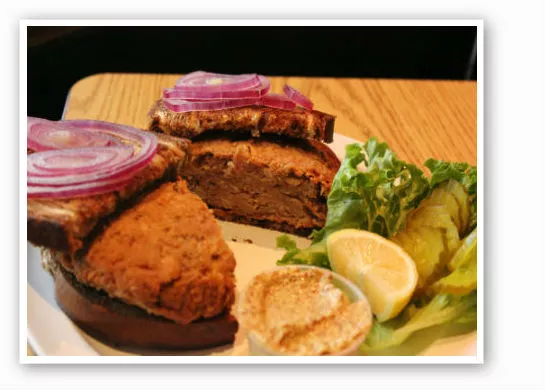 The brain sandwich in all its glory. | Zach Garrison
When considering St. Louis' best neighborhood bars, Schottzie's Bar and Grill (11428 Concord Village Avenue; 314-842-7244) has to be at the top of list -- it's a classic. Schottzie's is the type of place where, at high noon, a regular saddles up to the bar and promptly orders a pitcher of beer, Keno is the game of choice and brain sandwiches are served up with style.
That's right, a sandwich that prominently features brains. Don't be alarmed: Schottzie's has perfected the art, gaining quite the reputation along the way. At this point, if you want to call yourself a true St. Louisan foodie, you'll have to make a pilgrimage to south county and try it for yourself -- like we did. After all, the modern take on the brain sandwich is said to have its origins in late 19th-century St. Louis. Read on for a preview.
See also: Syberg's Shark Tacos Turn the Tables on Jaws
The question bartender Josie Berry most often gets is: What does brain taste like? "I don't know," she responds. It's not that she hasn't tried the sandwich; in fact, she's sampled it many times. "Nobody can tell you," she explains. "It's weird." Fair enough -- this is obviously something that has to be experienced firsthand.
The sandwich is a popular choice, and Schottzie's routinely sells out before the week is up, so we arrived early and secured our spot. It takes twenty minutes to prepare and fry the brains. While we wait, Berry explains that, thanks to the Mad Cow scare, Scottzie's has switched to pig for its source of brains. But no one can tell the difference, apparently.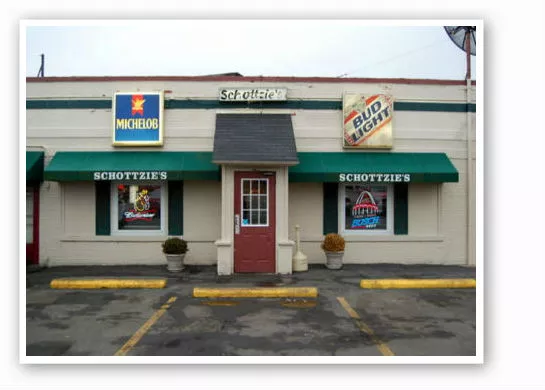 Welcome to Schottzie's! | RFT
When the sandwich arrives, the scene in Hannibal -- where Dr. Lecter, the cannibalistic protagonist, is on a plane preparing to eat the brains of one of his over-confident pursuers -- comes to mind. Lecter is seated on a plane next to a curious young boy, with whom the good doctor gladly shares his meal, instructing, "It is important to always try new things." Heeding this advice, we take our first bite.
The pig brains are fried in a lightly seasoned breading and served plain between two huge slices of rye bread with a side of red onion and Grey Poupon (fancy!). It is surprisingly soft and tender, very fatty and a bit mushy -- the exterior texture is like a fried pork tenderloin...sort of. But the dark brain meat within?
It tastes like, well, Berry was absolutely right. It tastes like nothing we've ever had before. The breading is peppery, flavorful and familiar -- nothing unusual there. But the brains just defy easy description. Here's our best attempt: a cross between pâté and scrambled eggs. If anyone has a more accurate description, fire away in the comments.
Gut Check is always hungry for tips and feedback. Email us!
---