Tripel's picturesque "Clouds Over Manhattan." | Zach Garrison
"Just because you're drinking foam, doesn't mean you're not drinking," says Terry Oliver, Tripel Brasserie's (1801 Park Avenue; 314-678-7787) co-owner and bar manager.
He immediately has our attention.
"Clouds Over Manhattan," the foamy cocktail in question, is part of an evolving list of well-crafted drinks that stands up to the big Belgian beer selection, as well as the many authentic Belgian dishes.
See also: Tripel Brasserie Serves Belgian Beer and Fare in Lafayette Square Broadway Oyster Bar's "Horny Gator" Helps Us Drink Away the Cold
When sitting down at Tripel's impressive bar, your eyes might wander over the vast array of glassware (each glass matches one of the many styles of beer on draft), the taps of hard-to-pronounce beer and shelf of bitters of every imaginable flavor. Where to start?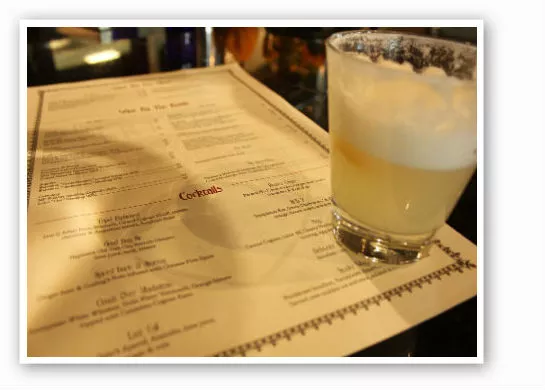 A lot of darn good drinks on the menu. | Zach Garrison
Luckily, Oliver and barkeep Andrew Parker are exceedingly affable and make it their mission to fix you up with just the right drink. With the new and improved cocktail menu set before us, Oliver serves as our guide, carefully explaining not only the flavors, but also the thought behind each drink. The "Clouds Over Manhattan," he tells us, "is a white, crisp take on the classic Manhattan on the bottom, with egg-white foam on top." It sounds great but looks even better, with picturesque thick white foam hovering over the top. It almost doesn't look real -- like a perfectly poured white Belgian beer in a tiny glass.
The first sip is nearly all foam, and it is delicious. As Oliver explained, the egg white is infused with liquor, so it's not just a garnish. Journeyman white-whiskey provides the contrast looming below the cloudy foam. White-whiskey, usually very strong and biting, is an interesting choice. Oliver admits, "By itself, it doesn't taste great, basically just moonshine," but mixed with blanc vermouth, orange bitters and, most importantly, the Cointreau-cognac egg-white foam, the whiskey works well. The initially sweet and creamy drink finishes strong -- the balance is what makes this cocktail so enjoyable.
After the jump, how to make "Clouds Over Manhattan" at home.
Tripel's decor -- flowers and bitters. | Zach Garrison
"Clouds Over Manhattan"
2 oz. white whiskey
1 oz. blanc vermouth
2 dashes orange bitters
Cointreau-cognac egg-white
Gut Check is always hungry for tips and feedback. Email us!
---