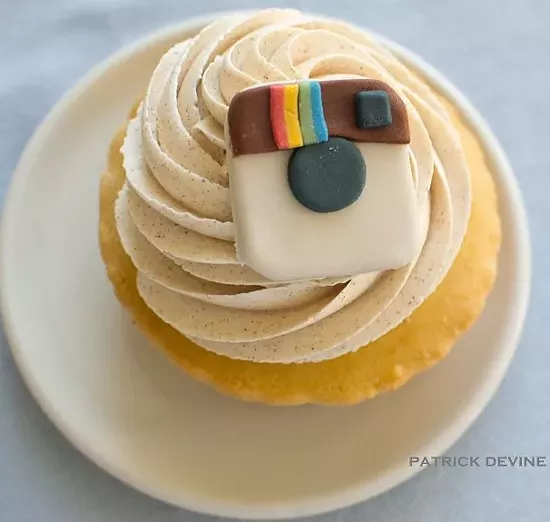 An Instagram cupcake from La Patisserie Choquette. | Patrick Devine
Most people use Instagram for selfies, but for some -- especially food professionals -- it's a place to share what they're making, brewing and growing. It's also where chefs and restaurateurs share where they're eating and supporting the rest of the local food economy. Some of these Instagrammers also take photography pretty seriously and the results transcend the medium.
Here are Gut Check's eight current favorite accounts on Instagram, which are making our feed not just tasty looking but seriously beautiful as well.
See also: How to Locally Source a Thanksgiving Turkey in St. Louis
8. @JoshGalliano Chef Josh Galliano wants you to know what he's cooking at the Libertine (7927 Forsyth Boulevard, Clayton; 314-862-2999). But he also wants you to know what the ingredients looked like before they made it to his impeccable plates -- that means sunchokes caked in mud, mushrooms peeking out from tree bark, roadside peach stands. All that side by side with shots of the final results, sauced and looking sumptuous.
7. @WhiskSTL The Instagram home of sustainable bake shop Whisk (2201 Cherokee Street; 314-932-5166) always has eye candy for our insatiable sweet tooth, plus glimpses of what they're eating when it's time for something savory.
6. @YellowTreeFarm We're fairly obsessed with the wooden spoons and cutting boards organic farmer Justin Leszcz is creating now that the summer growing season is over, but check back into his archives and you'll find some of the most gorgeous photos of produce. It's minimalist, it's lush, it's perfect. He's a VSCO Cam ninja.
5. @StacyELTblog Stacy McCann shares many of her home cooked creations via Instagram and the best part is that almost every picture has a corresponding blog entry at EveryLittleThing.com, which gives you the recipe and McCann's tips for proper execution. She claims to be a "beginner" at locavore living and cooking, but from these shots you'd never know.
4. @JoshCharles08 Josh Charles, chef de cuisine at Elaia (1634 Tower Grove Avenue; 314-932-1088) and Olio (1634 Tower Grove Avenue; 314-932-1088), just calls it #plateswagger, which he has in spades (although he also has weird-ball-of-roots-caked-in-dirt swagger as you'll see below).
3. @ChoquetteSTL The dainty confections at La Patisserie Choquette (1626 Tower Grove Avenue; 314-932-7935) were made for Instagram. They're all so precious, like little works of art, that you almost can't bear to eat them. Instead, you whip out your phone, snap a picture to make all your friends jealous, then wolf the whole thing down. The owners have also preserved the artistry on this must-follow account:
2. @NicheFoodGroup Chef Gerard Craft's food empire, all in one account. See what's on the menu at Niche (7734 Forsyth Boulevard; 314-773-7755), Pastaria (7734 Forsyth Boulevard; 314-862-6603), Taste (4584 Laclede Avenue; 314-361-1200) and Brasserie by Niche (4580 Laclede Avenue; 314-454-0600). This account is all white plates, impeccable detail and a reason to save those pennies so you can experience it for real.
1. @JennSilverberg All right, so we're a little biased here (since photographer Jennifer Silverberg has been RFT's go-to food photographer for many years now), and she's a bit of a ringer, but Silverberg shares some absolute gems that never make it to the page on her Instagram account. It's not all food -- and due to her jet-setting ways isn't even entirely local -- but she's a very worthy follow and her account is a feast for the eyes, all from your smartphone.
Follow Jessica Lussenhop on Twitter at @Lussenpop. E-mail the author at Jessica.Lussenhop@RiverfrontTimes.com.