Check out Mad Tomato's Vito Racanelli Jr. at the Chef Battle Royale. | Jennifer Silverberg
No, it's not snowing yet, but we've got plenty of events to keep you warm, busy and full this weekend. Take one for the team and eat a cupcake for St. Louis Children's Hospital, or enjoy two of the greatest things ever (beer and barbecue) at Capitalist Pig's Hop and Hog Festival. Check out our food-related recommendations after the jump.
See also: Sump Coffee Hosts Pop-Up Brunch with Lulu's Local Eatery
Friday (Nov. 15)
Sips in the City @ Schnucks Culinaria
Enjoy two complimentary drinks and light appetizers at this happy hour benefitting the St. Patrick Center at Schnucks Culinaria Downtown (315 North Ninth Street; 314-436-7694). $5 suggested donation. From 5 p.m. to 7 p.m.
Chef Battle Royale @ Hollywood Casino
Three former Taste of St. Louis Chef Battle Royale champions are teaming up for this. They'll cook a meal for 170 guests using beer as an ingredient. An Anheuser-Busch brewmaster will also be on hand to explain beer pairings. The chefs are 2008 champion Vito Racanelli Jr. of Mad Tomato, 2010 champion Jack W. MacMurray III of Schneithorst's, and 2011 champion Wes Johnson formerly of The Scottish Arms, Shaved Duck, Eclipse, and Salt. Tickets are $40 and available here. 7:30 p.m.
The Bridge's annual fundraiser will include the popular Wine Ring Toss again this year. Enjoy silent and live auctions, food and drink and more. Tickets $55 at the door. 5:30 p.m.
Shop Like a Chef Book Signing @ Schlafly Bottleworks
Chef Clara Moore signs copies of her book, Shop Like A Chef: A Food Lover's Guide to St. Louis Neighborhoods at the Locally Grown Literature event. Proceeds go toward the Book House's new Maplewood location. Admission is $15, which includes two Schlafly beers. From 8 to 11 p.m. Call 314-968-4491 or e-mail info@bookhousestl.com to RSVP.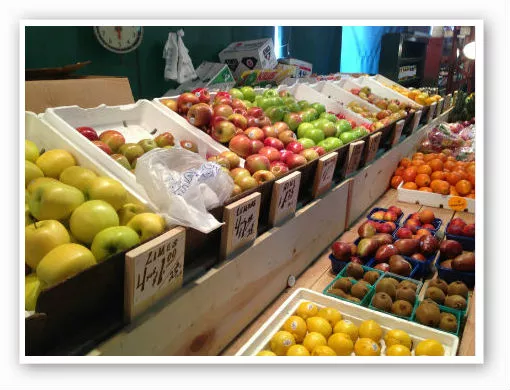 Produce, produce, produce! | Zach Garrison
Soulard Farmers' Market @ Soulard Farmers' Market
"Soulard Farmers' Market is still going strong and is without a doubt the largest and most eclectic market in the region -- you can buy everything from a sack of apples to a new pair of sunglasses. This is truly an iconic spot...The days and hours of operation are a bit confusing: Wednesday through Saturday, the Grand Hall, or the central inside shops, are open, along with a smattering of outside vendors (varies daily), from 8 a.m. to 5 p.m., with the afternoon hours usually offering the best options."
A Christmas Killing: The Murder of Ebenezer Scrooge @ Bissell Mansion Murder Mystery Dinner Theatre
Bissell presents its annual Christmas show, the interactive murder-mystery A Christmas Killing. Shows take place on Fridays and Saturdays at 7 p.m. and Sundays at 2 p.m. from now through December. The cost per seat is $52.95 per person and includes a four-course meal with entree options such as an eight-ounce New York strip and baked white fish with an almondine sauce. Call 314-533-9830 for reservations.
Continue for more.
Saturday (Nov. 16)
Cupcake Truce @ Multiple Locations
St. Louis' cupcake shops are joining forces for a good cause. Lead by the Cup, the cupcake wars are over (for now at least) to raise money for St. Louis Children's Hospital. Each bakery has created a special cupcake for the truce, and 100 percent of its sales will go to the hospital. Get a pecan cinnamon roll cupcake with apple-cider glaze at Celebrate Life (2430 Taylor Road, Wildwood; 636-458-7727), a cookies-and-cream cupcake at Sarah's Cake Shop (10 Clarkson Wilson Center, Chesterfield; 636-728-1140), a chocolate thunder cupcake at Jilly's Cupcake Bar (8509 Delmar Boulevard; 314-993-5455), a bananas foster cupcake at the Cup CWE (28 Maryland Plaza; 314-367-6111) and Edwardsville, Illinois (1057 Century Drive; 618-656-2287), a s'mores cupcake at Sweet Art (2203 South 39th Street; 314-771-4278) and a rocky road cupcake at the Sweet Divine (1801 South Ninth Street; 636-942-2900).
Hop and Hog Festival @ Capitalist Pig
Enjoy smoked whole lamb and hog for purchase at the Capitalist Pig (2727 South Twelfth Street) and a cash bar featuring fine local craft beers, with music by Letter to Memphis and Tommy Halloran. From 6 to 11 p.m. Admission is free.
Autumn Winemaker's Dinner @ Chaumette Vineyeards & Winery
The annual dinner features five courses designed by owner Hank Johnson, vintner Mark Baehmann and executive chef Adam Lambay, paired with Chaumette's newest releases. Sample recent vintages and learn about winemaking, too. From $70, call 573-747-1000 for reservations. From 6:30 to 9:30 p.m.
Sunday (Nov. 17)
Smoke Signals @ Kitchen Conservatory
Learn how to smoke things! Kitchen Conservatory staff member Barb Nack will teach you how to coax out a rich flavor. You'll make smoked sea scallops with tomato jam, smoked chicken-chorizo-black-bean nachos with fresh chips, arugula salad with smoked trout and peach dressing, smoked garlic crostini, plus brined smoked pork tenderloin with bourbon-rosemary sauce. $55 per person, register here. 12:30 to 3 p.m.
Gut Check is always hungry for tips and feedback. Email the author at nancy.stiles@riverfronttimes.com or follow her on Twitter.
---