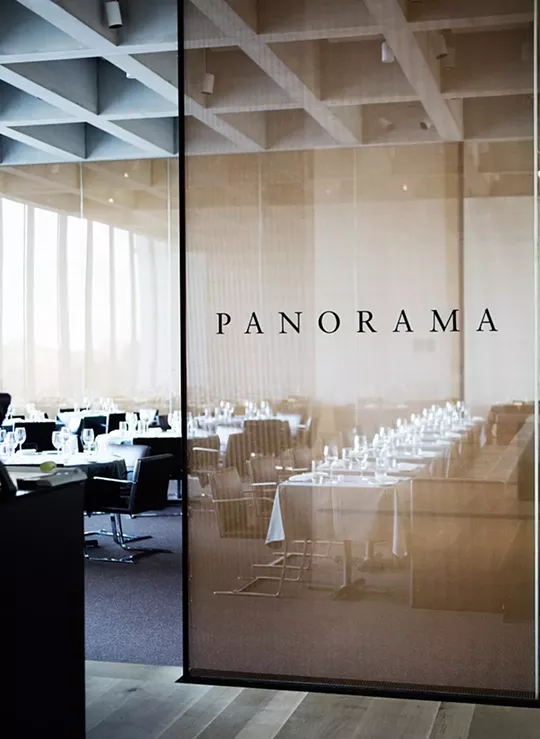 Panorama | Jennifer Silverberg
This week, restaurant critic Cheryl Baehr visited Panorama (One Fine Arts Drive, Forest Park, 314-655-5490) at the Saint Louis Art Museum. Here are some extra tidbits she picked up during her visits. Read the full review of Panorama here.
My recent review of Panorama focused exclusively on its lunch and dinner. However, it would be a disservice to prospective patrons to neglect its brunch offerings, as this is probably the way that most people will experience the restaurant. As the cold and dreariness of late fall set in, a Sunday spent lingering inside of a lovely museum is about as good as it gets, and the Saint Louis Art Museum has attempted to perfect this experience with its new East Building restaurant's brunch. Judging by the lengthy wait (do yourself a favor and make reservations), it's clear that Panorama has been successful in establishing itself as an "it" place to enjoy this weekend tradition.
So -- is it worth the hype?
See Also:Sneak Peak: Panorama Experiments with the Art of Food
For those expecting an over-the-top, buffet-style brunch with made-to-order omelets and a beef-tenderloin carving station, this is not the place for you. Unlike the museum's former restaurant, Panorama's brunch is strictly a la carte. In keeping with the restaurant's theme, the menu contains classic dishes with creative twists that utilize locally sourced ingredients. While all of the items were adequate, I was not blown away, especially considering the fairly sizeable bill.
Slideshow: Saint Louis Art Museum's new restaurant, Panorama
The French toast used thin, grainy bread that barely tasted battered, if it was at all. It was, however, nicely seasoned with pumpkin-pie-like flavors and was saved by a decadent topping of cinnamon-infused mascarpone that was scooped on top of the toast a la mode style. Butternut squash chutney and a drizzle of Illinois maple syrup added to the autumn spice flavors. The accompanying sausage, a product of Illinois-based Wenneman Meat Company, had a snappy texture, mild seasoning profile and was nicely caramelized.
"Salad of Local Brown Rice and Marcoot Creamery Mozzarella." | Jennifer Silverberg
The egg dishes were a bit more nondescript. Eggs Benedict was fine and to the point, although the hollandaise was a little thin and underseasoned. The cage-free egg frittata suffered from overcooking and sparse filling. I also did not receive the locally cured bacon that should have accompanied the eggs.
We rounded out our order with the grass-fed burger, another study in mediocrity. Since a burger on a brunch menu is a bit of a throwaway, it ought to be executed perfectly. This one was supposed to come topped with cheddar cheese and it came out plain -- another disappointing oversight.
Like lunch and dinner, Panorama's brunch nails it conceptually, but it fails to meet the expectations it sets. Nothing we had was offensive, or even poor, but whether it was worth the $80 price tag is another question. Those looking for the area's best brunch will be disappointed; for those who want to cap off a museum visit with a good-enough meal in a lovely setting, this will do.
Read the full review of Panorama here. Gut Check is always hungry for tips and feedback. Email the author at cheryl.baehr@riverfronttimes.com or follow her on Twitter.
---