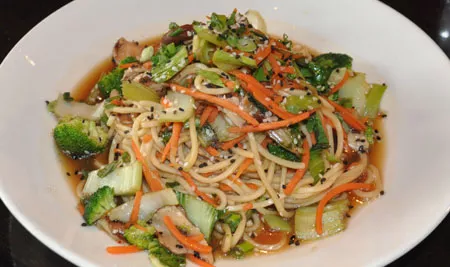 Katana stir-fry at Triumph Grill. | Tara Mahadevan
The Veggielante is on a mission to spread the word about places to order good, meatless grub. Check out this week's pick.
Destination: Triumph Grill (3419 Olive Street; 314-446-1801)
Neighborhood: Midtown
Cuisine: New American
Triumph. | Tara Mahadevan
See also: Van Goghz Creates Meatless Masterpieces
Overview: Triumph Grill is a classic new American restaurant that serves, among other cuisines, Asian, Italian and Southern dishes. While this restaurant definitely has the feeling of a grill -- there's a huge bar inside, and the restaurant is connected to a motorcycle museum -- there are a ton of choices for every non-meat eater. Triumph Grill makes sure to please all of its customers with many appetizers, salads and entrees; and if you want something made without meat, it will gladly take it out.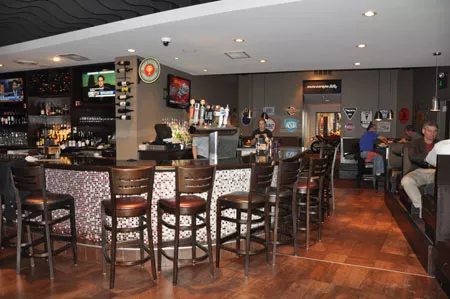 Inside Triumph Grill. | Tara Mahadevan
Highlights: Triumph Grill's Katana stir-fry ($13) is a delicious version of a classic stir fry: lo mein noodles tossed with carrots, shiitake mushrooms, baby bok choy and broccoli in sesame-honey sauce. Just make sure to ask for it without chicken. Every vegetarian will get their needed serving of veggies and noodles with this dish.
Ossa buttermilk onion rings at Triumph Grill. | Tara Mahadevan
There's no way you can miss Triumph Grill's buttermilk onion rings ($8). They are monstrous. Two stacks of the grill's hand-dipped onion rings are stacked high, high, high with smoked-chile aioli and barbecue-mayo dipping sauces; they are just perfect for you and a friend.
Triumph Grill also does a mean grownup grilled cheese ($8), stuffed with brie, gruyere, white cheddar and smoked gouda on sourdough, and check out its new Soulard grilled-veggie panini ($9), which features marinated and grilled zucchini, squash, portabella, red bell pepper and goat cheese on wheat.
See also: The Block: A Butcher Shop Even Vegetarians Can Love
Gut Check is always hungry for tips. Email us!
---