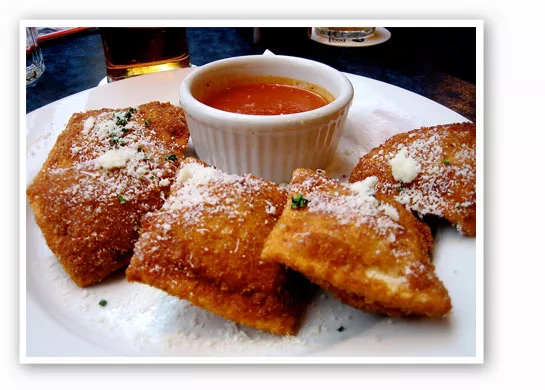 The people have spoken: Rigazzi's (4945 Daggett Avenue; 314-772-4900) has the most overrated toasted ravioli in St. Louis. The supposed oldest restaurant on The Hill was voted the most overrated Italian restaurant in St. Louis last year, too. Yikes!
See also: Your Pick for St. Louis' Most Overrated Italian Restaurant Is...
Rigazzi's beat out Mama Campisi's (which claims to have invented the legendary t-rav), Mangia Italiano and Lombardo's. Imo's was the most (least?) popular write-in option.
The classic Italian restaurant opened in 1957 and suffered a devastating fire back in 2000 -- police suspected arson but never solved the case.
So, did your fellow readers get it right? Let us know in the comments, or suggest a topic for our next edition of underrated/overrated.
Continue for the full results
1. Rigazzi's (4945 Daggett Avenue; 314-772-4900): 47.29 percent 2. Mama Campisi's (2132 Edwards Street; 314-776-3100): 24.81 percent 3. Mangia Italiano (3145 South Grand Boulevard; 314-664-8585): 11.63 percent 4. Other: 9.3 percent 5. Lombardo's (201 South Twentieth Street; 314-621-0666): 6.98 percent
Gut Check is always hungry for tips and feedback. Email the author at [email protected] or follow her on Twitter.
---