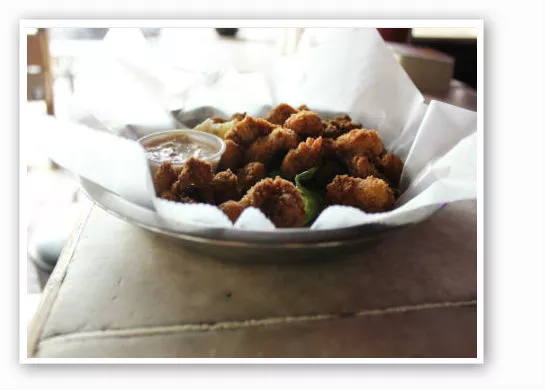 Fried gator at Broadway Oyster Bar. | Zach Garrison
There's something for every food lover this weekend, whether its beer, cupcakes, po' boys, or Indian food. Celebrate Diwali at the St. Louis County Library or celebrate New Orleans at the Best of BOB Festival at Broadway Oyster Bar. Check out the rest of our food-related recommendations after the jump.
See also: Dishcrawl's Secret Supper Takes Underground Dining to the Next Level
Friday (Nov. 8)
The Best of B.O.B. @ Broadway Oyster Bar
Broadway Oyster Bar (736 South Broadway; 314-621-8811) has tons of festivals throughout the year, like the Po' Boy Fest, the Crawfish Fest, the Crab Fest and of course, Mardi Gras -- and that's not even half of them. This weekend, though, BOB is celebrating with the most popular picks from the year's festivals. Try Odobo oysters, Crawfish pistolettes, crab-stuffed prawns or an alligator po' boy. Enjoy the usual live music all weekend long, too. Admission is free. Friday, at 6 p.m. and Saturday from 9 a.m. to 1 p.m.
Food Truck Food Drive @ Culinary Institute of St. Louis
The Culinary Institute of St. Louis at Hickey College is holding a food drive to benefit Gateway 180, a nonprofit that provides services to homeless women and children and families in the area. Bring a canned food to donate and then try out one (or all) of the six food trucks parked there: Completely Sauced, Guerrilla Street Food, Sarah's Meltdown, Sarah's Cake Shop, Slice of the Hill and Bombay Food. Admission is a can of food; food truck items available for purchase. From 4 p.m. to 7 p.m.
Soulard Farmers' Market @ Soulard Farmers' Market
"Soulard Farmers' Market is still going strong and is without a doubt the largest and most eclectic market in the region -- you can buy everything from a sack of apples to a new pair of sunglasses. This is truly an iconic spot...The days and hours of operation are a bit confusing: Wednesday through Saturday, the Grand Hall, or the central inside shops, are open, along with a smattering of outside vendors (varies daily), from 8 a.m. to 5 p.m., with the afternoon hours usually offering the best options."
A Christmas Killing: The Murder of Ebenezer Scrooge @ Bissell Mansion Murder Mystery Dinner Theatre
Bissell presents its annual Christmas show, the interactive murder mystery A Christmas Killing. Shows are available on Fridays and Saturdays at 7 p.m. and Sundays at 2 p.m. from now through December. The cost per seat is $52.95 per person and includes a four-course meal with entree options such as an eight-ounce New York strip and baked white fish with an almondine sauce. Call 314-533-9830 for reservations.
Continue for the rest of the weekend.
Saturday (Nov. 9)
Diwali Celebration @ St. Louis County Library Thornhill Branch
Join the Thornhill branch of the library (12863 Willowyck Drive; 314-994-3300) for its first celebration of Diwali, the Hindu festival known as the festival of lights. There will be crafts and activities, as well as food from Mayuri Indian Restaurant, Haveli Indian Restaurant and Priya Indian Cuisine. You can even get a Henna tattoo! Admission is free. From 1 p.m. to 3 p.m.
20th Anniversary @ Companion Bakery
Companion Bakery is celebrating its twentieth anniversary this weekend and the factory in south city (4555 Gustine Avenue). It churns out some 13,000 pounds of break for local restaurants daily. Celebrate with raffles, kids' activities, samples from Schlafly, Kaldi's, Urban Chestnut, Chocolate Chocolate Chocolate, and Civil Life, plus live cooking demonstrations all afternoon. Bring a canned food to benefit the St. Louis Area Foodbank. From 9 a.m. to 3 p.m.
Gateway Cupcake 5K Run/Walk @ Forest Park
Think you're not into 5Ks? How about when eating cupcakes shaves minutes off your final time? There we go! For the second annual run benefiting the Lift for Life Academy. Run through Forest Park and stop at one of five cupcake stations along the route -- you have to keep the cupcakes down though, or you'll be disqualified. Winners will get gift certificates to Jilly's Cupcakes. Registration is $50; email jparker@liftforlife.org. Race begins at 8:30 a.m.
Abraxas Release Party @ Perennial Artisan Ales
The craft brewer is releasing its batch of Abraxas and also debuting Coffee Abraxas, which was made with Sump Coffee. The coffee version will have a one-bottle-per-person-limit. There's also a ticketed VIP draught portion, featuring an Abraxas snifter and four-ounce pours of several brews, plus the chance to buy the Coffee Abraxas without having to wait in line. The Abraxas release is noon in the tasting room, and the two VIP sessions are 1 p.m. to 3 p.m. and 4 p.m. to 6 p.m. Admission is free, but VIP tickets are $40; call 314-631-7300 for availability.
Sunday (Nov. 10)
Heartland Artisan Cheese Festival @ Third Degree Glass Factory & Elaia
You had us at cheese. Specifically, the third annual fundraiser for the American Cheese Society. Sample cheeses from the Missouri winners of the ACS, watch a mozzarella stretching demonstration, shop at a pop-up cheese market at the Third Degree Glass Factory (5200 Delmar Boulevard; 314-367-4527). Afterwards, the festival ends with a five-course dinner at Elaia (1634 Tower Grove Avenue; 314-932-1088) with dishes by Ben Poremba and Josh Charles of Elaia & Olio, Jenny Cleveland and Eric Heath of Cleveland-Heath, Fabrizio Schenardi of Cielo, Simone Faure of La Patisserie Chouquette, Kevin Nashan of Sidney Street Cafe and Chris Bork of Blood & Sand. Each dish will use cheese from local farmers, including Mackenzie Creamery, Baetje Farms, Green Dirt Farms and Bleu Mont Dairy. Festival tickets are $55, dinner tickets are $165, both benfiting the American Cheese Education Foundation. Tickets available by calling 314-435-9194 or emailing tim@cheezsource.com. Tasting from 2 p.m. to 5 p.m., dinner at 6:15 p.m.
Sunday Night Supper @ Chaumette Vineyards & Winery
Every Sunday night you can enjoy a feast of local produce and meats at Chaumette Winery in Ste. Genevieve. This week, it's butternut squash soup, hearty autumn greens with peppercorn vinaigrette, toasted County Line Farm Pecans and dried cranberry, Meyer Farm Berkshire pork tenderloin with sautéed green beans and Yukon Gold potato and cheddar cheese gratin. $18 per person, $7.45 for kids twelve and under. Call 573-747-1000 for reservations. From 5 p.m. to 8 p.m.
Gut Check is always hungry for tips and feedback. Email the author at nancy.stiles@riverfronttimes.com or follow her on Twitter.
---