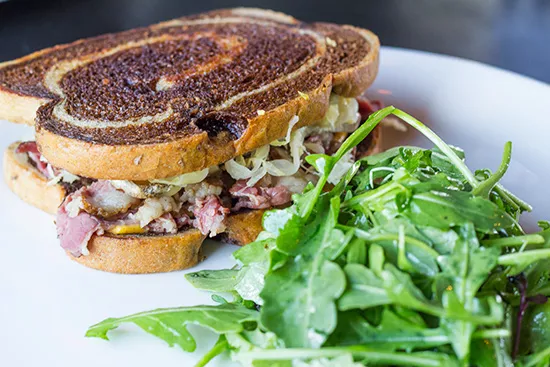 All photos by Mabel Suen
Element's Reuben sandwich with side salad.
Element (1419 Carroll Street; 314-241-1674) opened on August 23 in Lafayette Square, occupying the top two floors of a rehabilitated power plant building. Its second floor restaurant seats 74, serving small and large plates designed by a team of chefs led by executive chef (and Guerilla Street Food guru) Brian Hardesty. Recently, Element introduced a lunch menu in its lounge, offering cold drinks, hot plates and a picturesque view of the Arch in the distance.
See also: Guerrilla Street Food Truck Raising Funds for Brick-and-Mortar Restaurant
On a weekday afternoon, a small crowd dressed in business garb congregates at the bar for a late lunch. Beverage director Meghan French prepares drinks while Hardesty shifts between the lounge and the restaurant downstairs in preparation for dinner service.
Element's lounge on the top floor of the power plant building.
The lunch menu currently offers ten dishes under $14 including a Reuben sandwich ($10), duck fried chicken and waffles ($13), a monkfish roll ($12) and more. For $2 diners can add thin, crispy french fries or a lightly dressed side salad.
"It's locally and seasonably based food -- not necessarily American but kind of along those lines," says Hardesty. "The restaurant itself is somewhat an industrial space mixed in with a rustic feel. There's a big open kitchen and every table feels like a chef's table. We wanted to make the restaurant space feel like everyone's in the kitchen."
In the spirit of collaboration, Hardesty works with three other chefs -- Jerrid Scholten, Chris DiMercurio and Sam Boettler -- to develop Element's ever-changing menus that switch up about twice per season. Each dish takes about two to three weeks of revamping until it's ready to roll out to the public.
Beverage director Meghan French and executive chef Brian Hardesty.
"It's really about every employee and what everyone brings to the table. I can't really always edit myself the best and appreciate when someone comes at me with their viewpoint. We'll try that, and it ends up being better," says Hardesty. "It's all about feel. We could go completely modern and have a bunch of powders and molecular gastronomy built up into beautiful architecture or make something as simple and rustic as perfect grits."
He says to expect the same sort of treatment for cocktails developed by French behind the bar. From Element's current dinner menu, Hardesty recommends short ribs, roasted beet salad and an apple salad with endive.
Element's current dinner-service hours are Monday through Saturday from 5 to 10 p.m. Lunch is available in the lounge Tuesday through Friday from 11 a.m. to 2 p.m. and in the restaurant on Monday from 11 a.m. to 2 p.m. For more information and to peruse Element's current fall menu, check out Element's website or follow it via Facebook.
Click through to see more photos of Element's lounge as well as the dining room downstairs.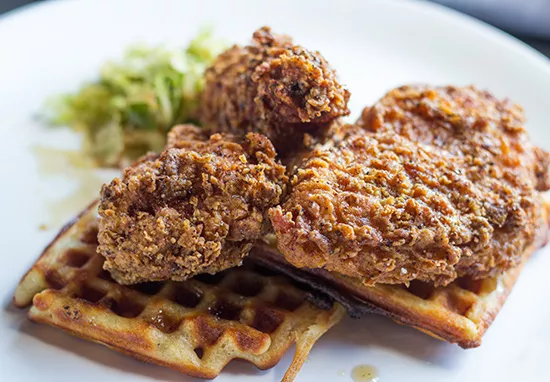 Duck fried chicken with waffles, Brussels sprouts slaw and bacon syrup.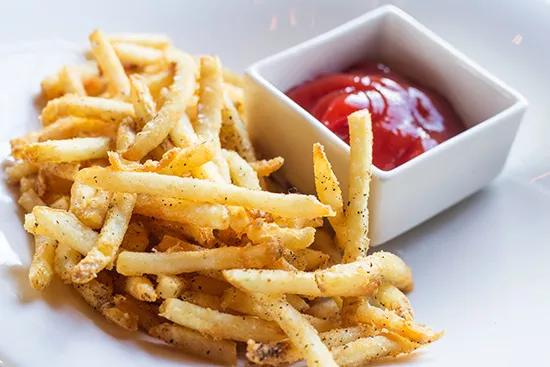 Dine at the bar or pick your own seat in the lounge.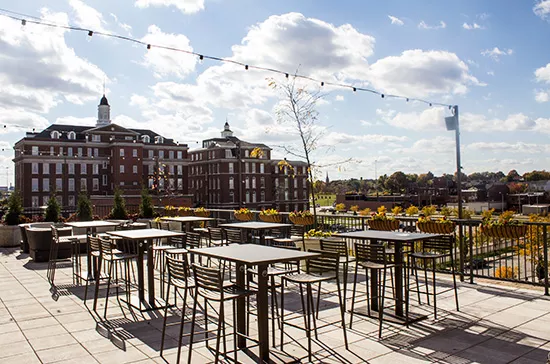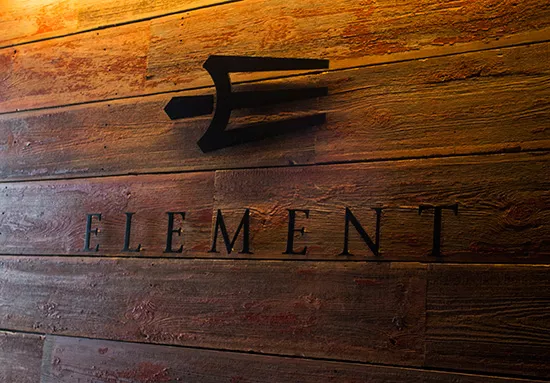 The foyer of the dining room.
See also: -First Look: The Filling Station Scoops Central Dairy Ice Cream, G&W Meats -First Look: Juniper Serves Southern Cuisine in the Central West End -First Look: Gateway Grill, the Greasy Spoon That Won't Fry a Thing
Gut Check is always hungry for tips and feedback. Email us!
---