All photos by Mabel Suen
Fudge brownies laced with Twix chunks and bourbon salted caramel sauce.
It's been an entire week since Halloween, and all the telltale signs of the passing holiday remain. Some stringy cotton cobwebs still stick to surfaces all over town, sad Jack-O-Lanterns droop on the neighbor's porch and that bowl of bite-sized candy bars sits on the counter, pecked at slowly for weeks.
Here in the Gut Check test kitchen, we have a better solution for the fate of that leftover candy that doesn't involve burying yourself in a shame-pile of empty candy wrappers. In fact, it's guaranteed to earn you some brownie points.
See also: 21 Worst Halloween Candies Of All Time
Our variety pack of chocolatey treats includes M&M's, Twix and Snickers. To keep things simple, we opt to insert them into some of the most downhome desserts imaginable, the kind that anyone can make given some inexpensive, common ingredients and a little bit of ingenuity around the kitchen.
First, we divide the candies and chop up the bars into little squares. One could stop here and simply throw these on top of some ice cream and call it a day, but why not take it a few steps further?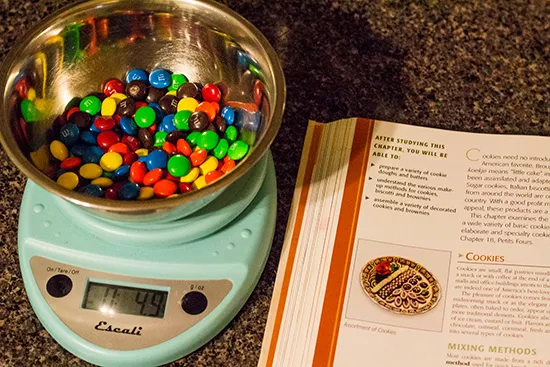 Break out your favorite go-to recipes and throw whatever the heck you want into 'em.
Start with your favorite chocolate chip cookie recipe (Smitten Kitchen's favorite chocolate chip cookie? Alton Brown's chewy?), or pick up a quick mix from the store if that's more your speed. Prepare it according to the instructions, but skip the chocolate chips.
See also: 21 Best Halloween Candies Of All Time
Instead, throw in the same amount of, well, whatever the heck you want. Yea, yea, baking is a science and all and you should carefully follow the recipe up until this point, but flavoring is another thing -- get creative with it! The possibilities are endless, as evidenced by the cult popularity of compost cookies made with potato chips, coffee grounds and more from New York's Momofuku Milk Bar.
We put in our plain M&M's and some salted pretzel chunks to help offset the inevitable sugar overload a little bit. Gut Check headquarters approved, wholeheartedly.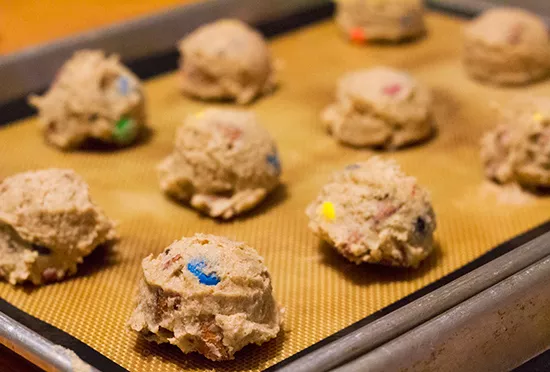 Mix, scoop and freeze them the night before. Bake them directly out of the freezer for crispy edges and chewy interiors.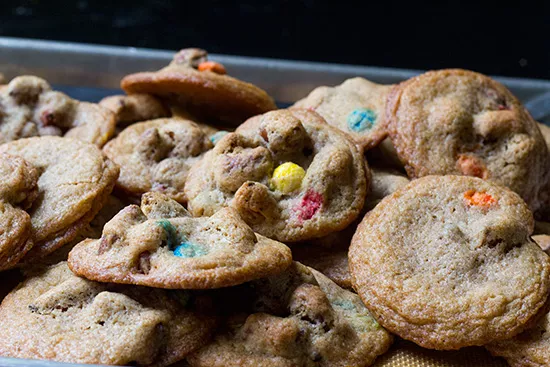 Read on to see us add use our candy to make some monstrous fudge brownies.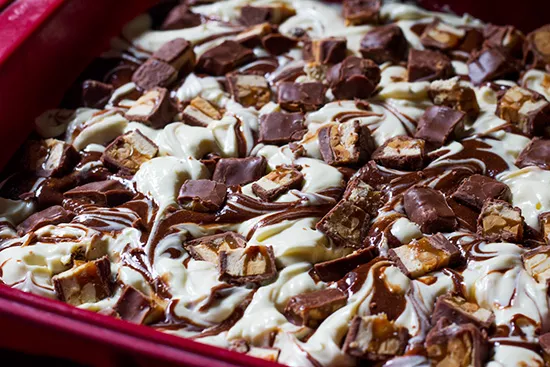 Fudge brownie batter swirled with cheesecake and Snickers chunks.
As with the cookies, pull up any fudge brownie recipe to get started. If you don't have one, Martha and Wilton can help! Prepare the brownies as instructed, but use some decent chocolate so the sugary mess from the candy bars doesn't completely overwhelm.
After the batter's completely mixed, pour it into a well-greased pan and start to experiment. In our first batch, we swirled in some sweetened cream cheese aka "cheesecake" batter (a simple combination of eight ounces of softened cream cheese blended with an egg and some sugar) before sprinkling in Snickers bits.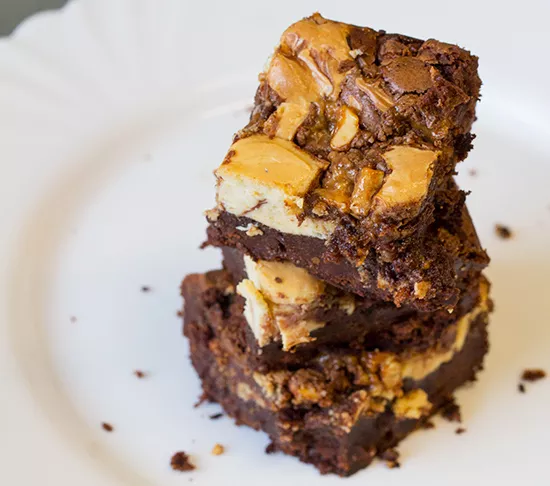 For our Twix brownies, we made some Bourbon salted caramel sauce to swirl in before baking. We also drizzled some on top after they cooled.
And the verdict for this re-purposed Halloween candy project?
Brownie points achieved.
RFT editorial staff approves.
Previously from the Gut Check test kitchen: -Meet the Pawpaw: Missouri's Forgotten Fruit
Gut Check is always hungry for tips and feedback. Email us!
---