Mary Boehne, author and pastry sous chef at the Four Seasons. | Noah Besheer
Editor's note: Mary Boehne is the pastry sous chef at the Four Seasons Hotel in downtown St. Louis and its restaurant, Cielo (999 North Second Street; 314-881-5800). Before that she worked as a line cook at Winslow's Home and at the Four Seasons in Vail, Colorado. Today marks the beginning of her semi-regular column Real Life of a Pastry Chef. We asked her to introduce herself with a simple explanation of her job. Take it away, Mary.
It's not every day that I have the opportunity to explain what it is that I do. Most people hear "pastry chef" and they think fancy cakes, desserts and Butter Braids. While that may be true, there are many more responsibilities that go along with the prestigious title.
I hear the whispers of how we are a "dying breed." Over the years I have seen our numbers dwindle to just a few. But I refuse to see it as dying off, just a "concentration" of our talent. But more on that later.
See also: Kimberly's Bake Shop Hopes to Open in Wentzville Despite Construction Setbacks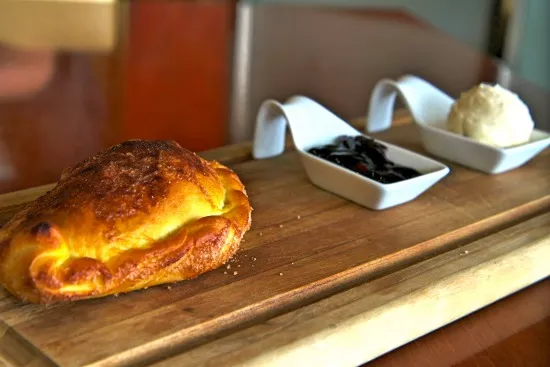 My day begins with an overflowing e-mail inbox. The messages are a mix of special requests and last-minute cake orders, and I am constantly going back and forth with purchasing, making sure all of my ingredients are ordered. After tending to the needs of my colleagues and getting updated on the operations of the hotel, I spend time with my cooks getting the updates on what is going on in the shop. We are considered a fairly small pastry shop, with just six workers total including myself, and together we serve the guests (sometimes dozens, sometimes hundreds) who stay and dine at the Four Seasons.
What most people might not realize is that the pastry shop is responsible for a lot more than the frou-frou desserts on the dinner menu. Every morning there are at least a handful of special amenities that we create and design specific to guests' requests. I am also in charge of daily banquets and writing menus that can be for parties of 5 to up to 800 -- everything from small bridal showers to full-service, plated-dinner galas. Other responsibilities include room service, cake design, breakfast, lunch, dinner, and pool service in the summer.
On top of that, when something goes wrong, such as a misplaced clothing item in a room or a husband who's forgotten his wife's birthday, the pastry shop gets the phone call to put a pretty Band-Aid on it and make it all better. If guests have glitches, the common practice is to send them something special -- like chocolate truffles, special logo cookies or chocolate-covered strawberries. I enjoy treating people, and these requests keep me on my toes with the constant demand for creativity.
The so-called "moment of truth," as explained in management school, is the first experience a guest has with an establishment. It sets the tone of a diner's experience. The moment of truth occurs at bread service, the very beginning of the meal.
Click through to find out more about why pastry chefs are considered an "endangered species" and for more photos of Mary's creations.
Bread-baking also happens to be the most overlooked area of a restaurant kitchen. I have had countless conversations with my bread baker about the quality of bread here in the Midwest. Ever since Wonder Bread came along, we have fought to define what amazing bread should be. I like to think that the best thing since sliced bread is unsliced bread. We joke that if we want "low carb" bread, we slice it thinner. And yet by the end of the meal we are lucky if the guest hasn't filled up on bread and dinner, and will forgo dessert.
Dessert is the establishment's opportunity to make that meal unforgettable. Just as every symphony has a finale, so should every meal have a dessert course. It is the last thing that that diner is left with, and more than likely the first thing that will be remembered. That last bite has to be well balanced and make a statement, without being overpowering. It must give the guest a sense of satisfaction while leaving them wanting more.
Oh, the pressure!
This experience is not something that can be ordered ahead of time from Sysco. It is an expression created by human hands, presented to a guest. As a pastry chef, I have the opportunity to create that feeling and share it with others through all five senses.
Pastry and desserts are continually gaining more respect from the masses. It wasn't always this way. Even within the Four Seasons company it's rare to find anyone on staff who holds the title "executive pastry chef." They have moved to the more common title of "pastry sous chef," and it is typically a position given to a line employee who is ready to move up into assistant management. It's no fewer responsibilities than an executive pastry chef and it's held in high regard, but at times the title change can be hard to swallow. Then again, other hotels have cut their pastry departments completely and outsource breads and pastries. It's always a sad day when I hear those stories. It makes me want to work harder and show people why we earn the title of pastry chef.
But as I see it, that bleak past is moving quickly behind us and the trend of getting back to real pastry chefs is on the rise. St. Louis is refining its palate as we speak. I have seen more and more pastry/bake shops opening within this past year as I have in the last ten years combined. It gives me hope of a strong future in baking and pastry. The economy is now supporting more niche market businesses like Strange Donuts, Pint Size Bakery, Gooey Louie's, Sweet Divine, La Patisserie Chouquette, and Piccione. While I will proudly claim that Cielo has the best gelato, cakes, Italian desserts and more in the city, I am extremely supportive of my peers and what these amazing pastry chefs are doing for our industry.
In August, Cielo hosted an event called the Taste of Summer. Chef Nathaniel Ried from the Ritz-Carlton, chef Anne Croy from Pastaria, chef Christy Augustin from Pint Size Bakery, and chef Simone Faure from La Patisserie Chouquette, as well as myself, came together to support one another and show off our pastry skills. I was able to meet some of these amazing pastry chefs and truly experience what our city has to offer. There are many more out there and many more to come. I feel certain that while today pastry chefs may be considered an endangered species, extinction is not in our future.
Check back with Gut Check every couple of weeks to learn more about the real life of a pastry chef and about the challenges of the baking industry as a whole.
Gut Check is always hungry for tips and feedback. Email us!
---