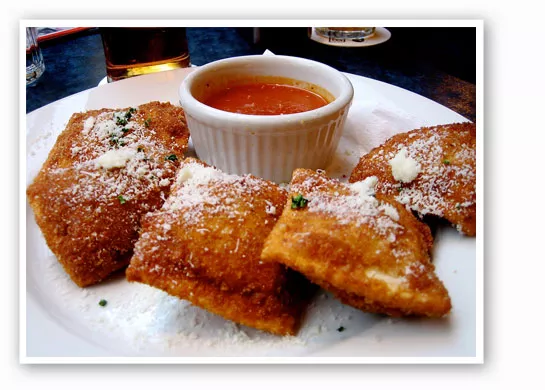 Ahh, toasted ravioli: one of St. Louis' most beloved traditions. Some places just can't get it right, though, and you, dear readers, gave us the scoop on which t-ravs are just not worth it. We counted up the nominations, and now it's up to you to vote for St. Louis' most overrated toasted ravioli. It's a public service, really.
See also: Your Pick for St. Louis' Most Underrated Brunch Is...
And the nominees are:
Rigazzi's (4945 Daggett Avenue; 314-772-4900):
ellenda: Farotto's in Rock Hill - best in the Lou by far. Rigazzi's - terrible.
Mama Campisi's (2132 Edwards Street; 314-776-3100):
Justin Snowden: Mama Campisi's
Mangia Italiano (3145 South Grand Boulevard; ):
Suzie Gilb: Mangia's are good, but overrated. Underrated: Lemp Mansion & Fortel's cheese t-ravs.
Lombardo's (201 South Twentieth Street; 314-621-0666):
tahoetim11: lombardos are way overrated.
Continue to vote.
Gut Check is always hungry for tips and feedback. Email the author at [email protected] or follow her on Twitter.
---