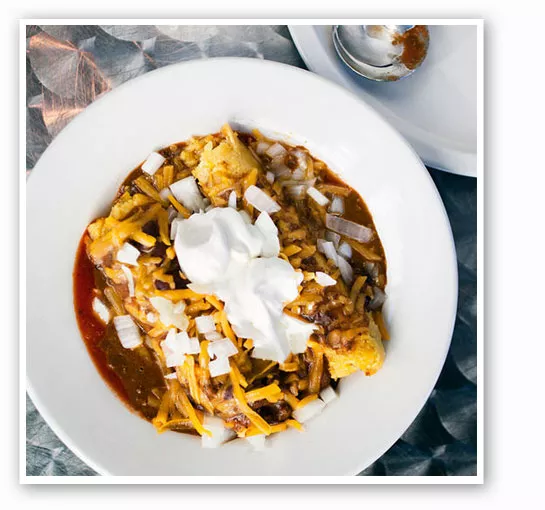 It's chili time! | Jennifer Silverberg
We don't need a calendar to know it's National Chili Month -- just look outside. The first frost on the ground, which means the time is right to dive into a big ol' bowl of chili and hunker down for a hard winter. To help you discover the perfect bowl, here's a list of five great places in St. Louis that do chili right.
See also: Joe's Chili Bowl at Citygarden to Close October 30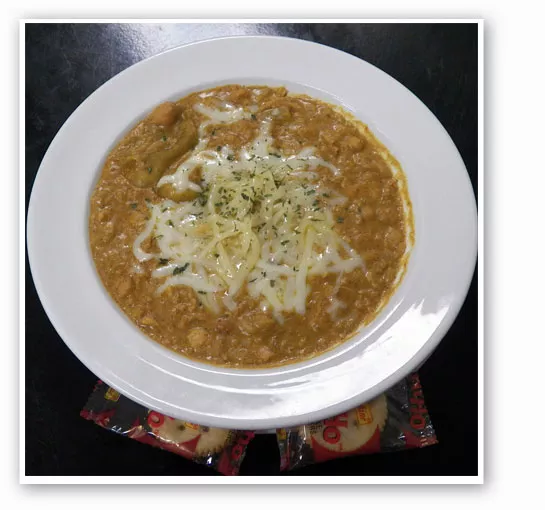 Llywelyn's white chili, with chicken, navy and garbanzo beans, pepperoncini peppers and cream. | Llywelyn's
Llywelyn's (Multiple locations, including: 4747 McPherson Avenue; 314-361-3003)
Llywelyn's is slowly building an empire, with six locations all over St. Louis. Each spot offers something different -- in Soulard you can ride the free trolley to Cardinals and Blues games; Webster Groves always has a great draft list and lots of beer-related events; and the original location in Central West End is, well, in the Central West End. But what distinguishes the franchise as whole is its white chili. It's packed with shredded chicken breast, navy and garbanzo beans, slightly sweet and spicy pepperoncini peppers, and cream. You also get a full basket of assorted crackers to help soak up every last drop.
See also: - Best Happy Hour - 2013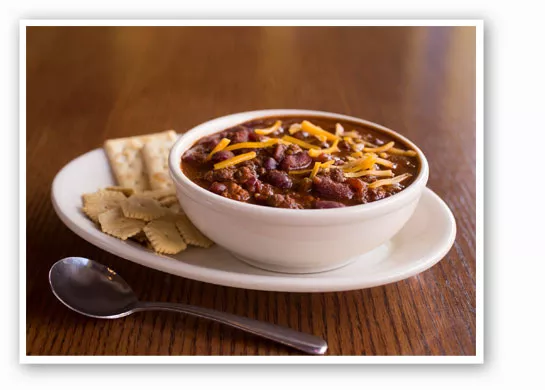 Blueberry Hill (6504 Delmar Boulevard, University City ; 314-727-4444)
Blueberry Hill is the anchor of what we believe to be the Best Mile in St. Louis, the Delmar Loop. Here you'll find rock & roll, excellent burgers and dartboards for miles. Blue Hill's chili is spicy stuff, loaded with kidney beans, green peppers and the top-of-the-line beef used in the burgers. Thanks to the addition of some beer and coffee, this chili has layers of flavor.
See also: - Photos: Chuck Berry Last Night at Blueberry Hill, 10/9/13
The good stuff at Big Ed's. | Laura Ann Miller
Chili Mac's Diner (510 Pine; 314-421-9040)
Complete with vintage décor, including red vinyl chairs and a classic flattop grill, this is a classic diner. Orders are called out amid the din of scraping forks and friendly jabber. Chili Mac's is open for breakfast and lunch only, and many of the dishes revolve around chili. "Chili Mac" (spaghetti noodles smothered in chili), "Double Chili Mac," "Tamale In" (tamale smothered in chili), "Top One" (spaghetti topped with a tamale, smothered in chili), nachos covered in chili, "Mac-a-la-Mode" (spaghetti with two eggs, covered in chili) and finally, the "Slinger." The chili itself is more like a sauce -- no beans, just plenty of spice and seasoning. And it rightfully belongs on everything.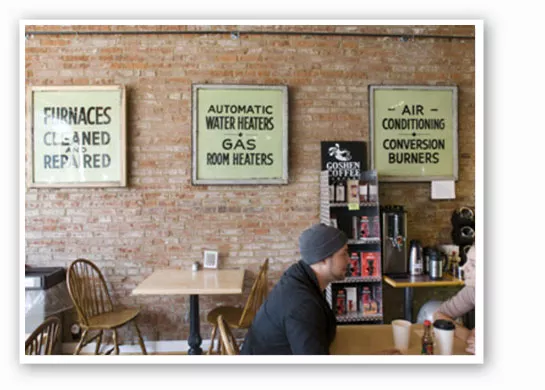 Inside Local Harvest Cafe. | Jennifer Silverberg
Local Harvest (3137 Morganford Road; 314-772-8815)
Local Harvest's vegan chili proves, without a doubt, that you don't need beef or chicken to make a mean batch of chili. Garbanzo and black beans add weight along with tomato and onions, and the spices bring it all together. This is some heart-healthy stuff -- have a bowl and feel good about yourself.
See also: - Soccer Bars and Farmers' Markets: An Updated Guide to Tower Grove
Applegate's Deli (1912 S. Brentwood Boulevard, Brentwood; 314-968-6466)
Applegate's is quick stop, thanks to the cafeteria-style setup that only requires you to pick up a tray and walk down the line of soups. Grab a cup and ladle. It also has individually wrapped servings of cornbread, which is meant to be crumbled up and tossed into the chili. Applegate's has a very thick, tomato-based sauce stewed with kidney beans and thinly sliced onion. Multiple brands of hot sauce are available, which should be applied liberally as the cornbread sinks into the chili. Remember, you can always go back through the line for a second helping.
Gut Check is always hungry for tips and feedback. Email us!
---