Happy Hump Day! Here's the cocktail that will get you through to Friday.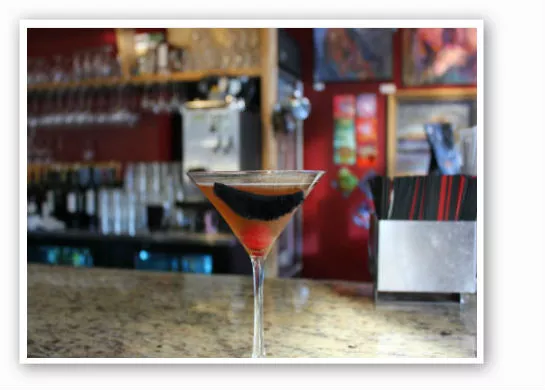 Note the mustache -- key ingredient. | Zach Garrison
The excellent patio at Sasha's on Shaw (4069 Shaw Avenue; 314-771-7274) is currently festooned with jack-o-lanterns, goblins and other Halloween décor, but it's chilly out and we need a drink. Barkeep Amy Bolego has just the ticket -- or, at least she will once she takes a look at what's available behind the bar.
In a burst of creativity, she invents the "Tom Selleck," and there's even a plush mustache attached to the martini glass, so you know it's legit.
See also: Taste's Nameless, Squash Puree-Based Cocktail Is Halloween in a Glass
It just so happens that after a Burlesque Bingo night at Sasha's, many bottles of sponsor Four Roses bourbon (specifically, the 125-year-anniversary release) were blessedly left over. Bolego works quickly, throwing in some Saint Germaine, sweet vermouth, a little Cadamaro (wine-based Amaro), bitters, an orange squeeze and drops in a cherry -- the result is a strong manhattan-like drink with a sweet twist.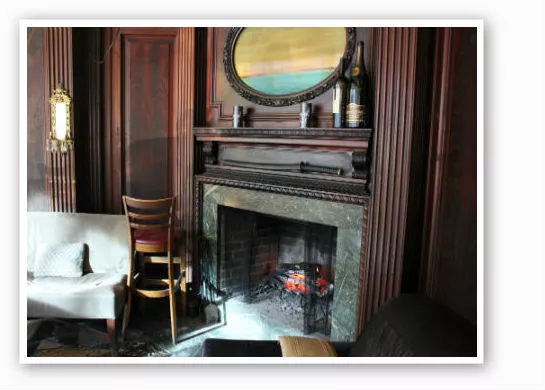 A warm cocktail by the fire, perhaps? | Zach Garrison
Bolego suggests the drink is "perfect by the fire," so we head for a rustic fireplace at the back of Sasha's front room. It's a cold-weather cocktail, and we immediately experience a warm glow as the first sip makes its way down into our heart, melting away the pent-up cynicism -- that of course would be the bourbon; it's definitely strong but not overwhelming.
So why name such a drink after the famously masculine 1970s sex symbol Tom Selleck?
"Because a real man would drink it," Bolego explains.
If you're looking to put some hair on your chest, this might very well be the drink for you.
After the jump, how to make the "Tom Selleck" at home.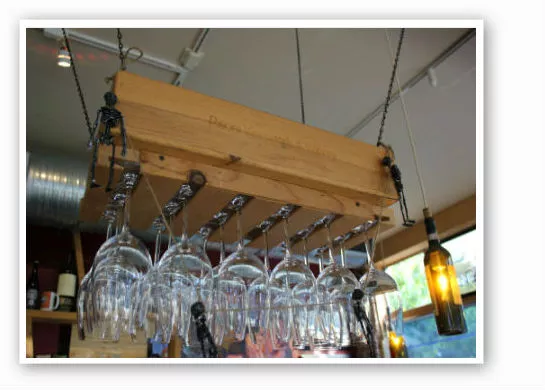 Skeletons and win glasses. | Zach Garrison
"Tom Selleck"
2 oz. Four Roses Bourbon
½ oz. Saint Germaine
splash of sweet vermouth
splash of cadamaro
dash of bitters
orange squeeze
cherry
Gut Check is always hungry for tips. Email us!
---