In honor of our 2013 Best Of St. Louis issue, we're profiling some of the most fascinating winners from the Food & Drink section. The topic of this conversation: Best Craft Brewery. Read the entire Best of St. Louis issue here.
The lineup at Perennial. | Zach Garrison
We are not the only ones who recognized the brilliance that is Perennial Artisan Ales (8125 Michigan Avenue; 314-631-7300) this year. Phil Wymore, co-owner and master brewer, just returned from Denver, Colorado, after attending the Great American Beer Festival (GABF) -- pretty much the biggest beer competition in America. He brought back a silver medal for the brewery's "Barrel-Aged Sump Coffee Stout" (made, as the name suggests, in collaboration with Sump Coffee).
"This year was more exciting because we just started distributing in Denver," says Wymore. "We had a lot of people requesting our beer, so it's been a pull rather than a push."
See also: The Six Best Craft Beer Makers in St. Louis
Co-owner and master brewer, Phil Wymore. | Zach Garrison
Though it the beer tastes as if Perennial has been doing this for decades, the brewery will soon mark its second year of existence. And what a two years its been.
"As far as our growth, in general in terms of production and markets we're in, we've definitely exceeded out expectations," says Wymore. "We're very fortunate to have such great demand for our beer and also to be able to start a business in an industry that's doing very well."
To celebrate, a second anniversary party is slated for this Saturday, October 19, from noon to 11 p.m. At the event you'll find 26 Perennial beers on tap.
"We've held back a lot of the fan favorites throughout the year, and they'll be making a reappearance," says Wymore, including the medal-winning Sump Coffee Stout.
See also: Side Project Brewing Unveils "The Origin"
Meanwhile, Perennial shows no signs of slowing down, and Wymore hopes to stay "focused on doing more of what we do well." That includes expanding the barrel-aging program, taking on more space at their current location to accommodate growth, and of course brewing new beers, like the "La Boheme" -- a barrel-aged wild cherry made with sour cherries from Michigan.
Gut Check inquired about the possibility of ever opening a second tasting room, one that's more centrally located.
"We have thought about it, I'm not sure how seriously, but we have talked about it," he says. "In the end we're a lot more focused on how we do we make more beer, but it's certainly been kicked around."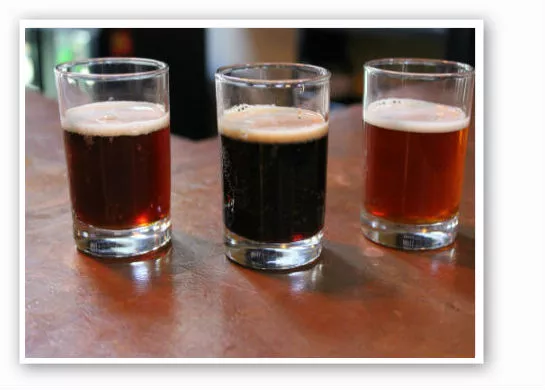 A trio of excellent samples. | Zach Garrison
We were lucky enough to try a few of Perennial's fall beers on tap: "Peace Offering," brewed with roasted squash and maple syrup; "Midnight Rambler," a Belgian stout at 9 percent ABV, is a hoppy stout that goes down incredibly easy; and "Heart of Gold," a sweet wheat wine that packs a punch at 10 percent ABV and was a silver medal winner at last year's GABF.
If you want to try these or any of Perennial's other amazing beers, visit the brewery at the anniversary party, or stop by sometime for flight -- it's definitely a must for all you beer connoisseurs out there.
Gut Check is always hungry for tips. Email us!
---