Happy Hump Day! Here's the cocktail that will get you through to Friday.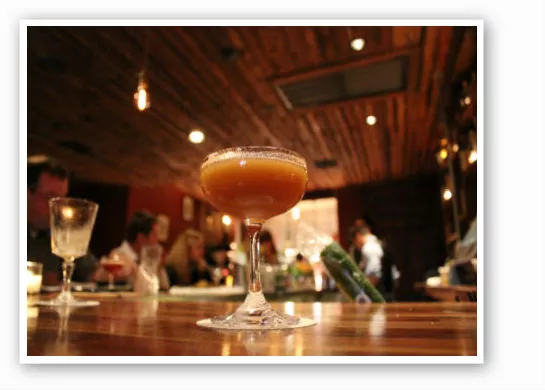 Taste's "TBD." | Pat Kohm
This week, we approached the artists behind the bar at Taste (4584 Laclede Avenue; 314-361-1200) with a special assignment.
Knowing that a new fall menu was on its way, we asked the bartender to make us a cocktail that tastes like Halloween. Without missing a beat, barkeep Kyle Mathis nodded and went to work. The result was truly inspiring.
See also: - Taste Bar's Kyle Mathis Pours Us a Vegas-Worthy Drink - Five Fall Cocktails to Warm the Soul
Though this fall cocktail currently lacks a name -- as Mathis explains, "sometimes the cocktail comes first, and the name comes later" -- it is singular in both preparation and flavor. A creation of Joel Burton, another star bartender at Taste, the drink begins auspiciously with the straining of an acorn-squash puree of a particularly sharp orange hue (which is just cool to watch). After pouring in five-year Plantation rum, Mathis mixes in cayenne pepper and ground cinnamon, adding spice and heat. Rich maple syrup brings a sugary sweetness.
Knowledge is power. | Pat Kohm
All told, the fall cocktail set before us absolutely and deliciously evoked Halloween -- this aroma needs to be captured and turned into a scented candle. Before even taking the first sip, the scent conjured visions of pumpkin pie, one of those cornucopia horns, Halloween candy, and, inexplicably, colorful leaves falling gently to the ground. And then we carefully took our first drink, and everything changed.
Like Mathis predicted and as Joel Burton undoubtedly intended, this drink was "full of fall colors." It's not overly sweet, but just sweet enough, warm and spicy yet smooth and drinkable, this just might the perfect cocktail to enjoy on All Hallows' Eve. Furthermore, this is only a sneak peek at what can expected from Taste as it finalizes its new fall cocktail lineup, which should help you make it through the inevitable freezing temperatures.
After the jump, find out how to make the TBD at home.
Taste's wondrous menu. | Pat Kohm
"TBD"
1 1/2 oz. Plantation Rum 3 spoons of acorn squash puree 2 pinches of cinnamon 1 pinch of cayenne pepper 1/2 oz. maple syrup
Gut Check is always hungry for tips. Email us!
---