Riley's Pub. | Mabel Suen
Here at Gut Check International Headquarters, we take happy hour very seriously. Each week, one of our agents covertly visits an establishment, reports her findings and assigns a grade. This week's Happy Hour Report Card -- Riley's Pub in Tower Grove East.
See also: The Nine Best Neighborhood Bars in St. Louis: 2013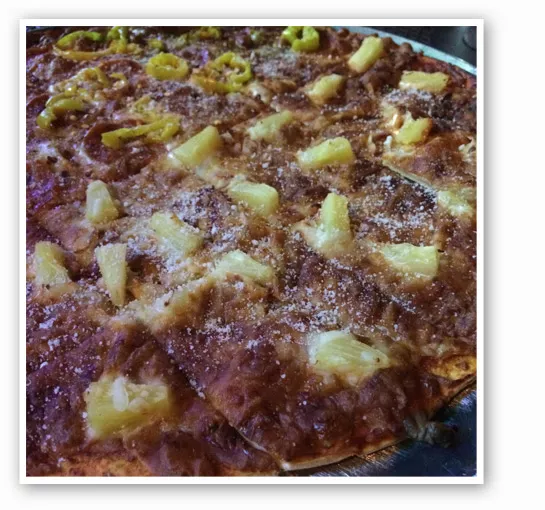 It'll make you love St. Louis-style pizza. | Mary Belzer
The Place: Riley's Pub (3458 Arsenal Street; 314-664-7474)
The Hours: Happy hour is offered Monday and Tuesday from 5 to 10 p.m. with half-price pizzas and drink specials. All-day drink specials are offered Wednesday through Friday.
The Atmosphere: Riley's Pub is a true corner Irish pub, located just east of Grand Boulevard on Arsenal Street. The dim interior sports tall wooden booths, a crowd of apparent regulars and dive-bar decor. Smoking is allowed inside, so we opted for the patio. The outside seating area is small, but offers a beautiful taste of Tower Grove East.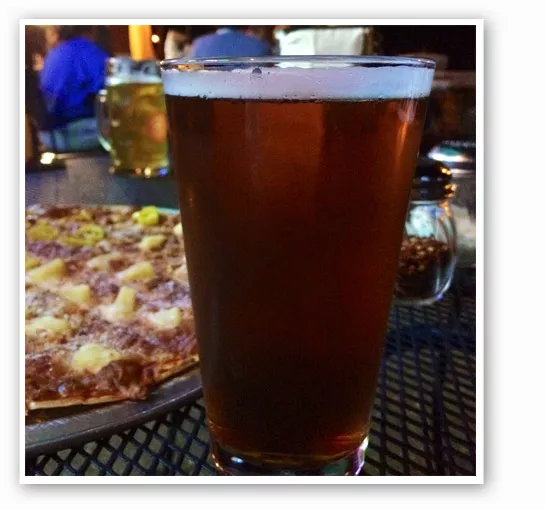 $3 pints? Not too shabby. | Mary Belzer
The Food: On Mondays and Tuesdays, Riley's offers $5 (plus toppings) large St. Louis-style pizzas. We got half pineapple, half pepperoni and banana pepper. Even if you're not exactly a fan of St. Louis pizza, trust us when we say that this was some of the best we've ever had. The cheese was a mostly mozzarella blend, melting nicely into the thin and crunchy crust. The toppings tasted fresh, and the pineapple side had a perfect balance of sweetness and spice from the sauce.
The Drinks: The weekly pizza deal pairs perfectly with $3 pints. Riley's offers a modest but diverse selection of taps, including rotating seasonals and year-round staples from Schlafly, Urban Chestnut and Civil Life.
The Conclusion: The indoor smoking will probably drive us away unless it's patio weather, but the friendly service and beer selection will keep us coming back. Although pizza is the only available food item, it's tasty enough to draw a steady crowd and make it worth the trip.
Grade: B
Gut Check is always hungry for feedback and tips. Email us!